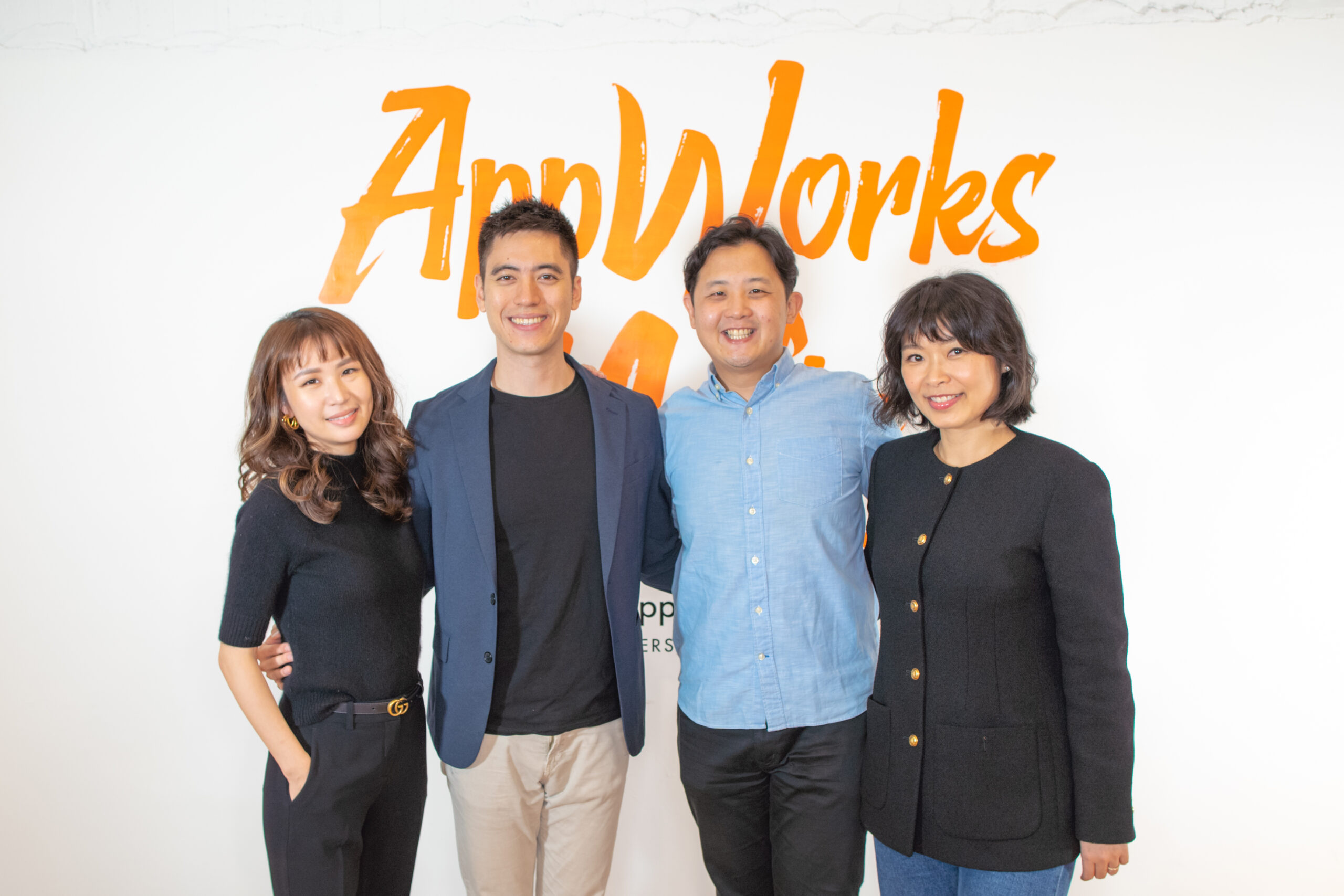 Today, we have some good news and major developments to share. We at AppWorks have recently completed a new round of institutionalization and internal promotion. Following the establishment of Accelerator and web3 arms in 2022, AppWorks has further upgraded our Southeast Asia venture practice and Beacon Funds as business arms. To support this process, we have made a number of promotions, including (L-to-R): Sophie Chiu, Principal for AppWorks Southeast Asia; Jun Wakabayashi, Principal of AppWorks Beacon Funds; Jack An as Associate; and Vanessa Lu as Operations Director.
With over a decade of continuous development, AppWorks offers a dynamic startup community with 472 active startups and 1,522 entrepreneurs, dedicated to providing founders with the capital and support they need to realize their entrepreneurial dreams and promote sustainable growth for the venture community in Taiwan, Southeast Asia, and beyond. This institutionalization process is designed to enhance the professional service capabilities of AppWorks to provide targeted support for entrepreneurs operating in different verticals and geographies.
A Dedicated Southeast Asia Practice
By establishing a formalized Southeast Asia arm and building off the firm's successful track record in the region, AppWorks aims to deepen the firm's presence throughout the region, continue to recruit outstanding startups in Southeast Asia to join the AppWorks Accelerator, and support founders throughout the value creation lifecycle via AppWorks flagship funds. With its unique position in Taiwan, AppWorks bridges opportunities between Southeast Asia and Taiwan's digital economies, providing natural opportunities for market expansion, talent development, and capital-raising for entrepreneurs in both markets. AppWorks' notable Southeast Asia portfolio companies include: Lalamove, ShopBack, Carousell, Tiki.vn, and EdenFarm, among others.
The formalized Southeast Asia arm is overseen by Principal Sophie Chiu.
AppWorks Beacon Funds
The Beacon Funds arm has become an important bridge connecting AppWorks with venture capital peers in Southeast Asia and around the world. Over the past few years, AppWorks has invested in over 20 successful venture capital firms, such as AC Ventures, Openspace Ventures, Ascend Vietnam Ventures, Foxmont Capital, Pantera Capital,  Animoca Ventures, and others—focusing on a variety of different strategies including Southeast Asia regional, country-specific, vertical-specific, and web3 mandates—sharing the firm's knowledge and expertise to source new investment opportunities, generate upround capital for AppWorks portfolio companies, support due diligence, and exchange best practices. Currently, more than one-tenth of all AppWorks investments are sourced from Beacon Funds-backed VC firms. In the future, AppWorks is expected to invest in more than 10 venture capital funds per year to accelerate the growth of the Beacon Funds ecosystem and expand AppWorks' reach.
The AppWorks Beacon Funds initiative is led by Principal Jun Wakabayashi.
To support the institutionalization of the AppWorks ecosystem, we have made the following promotions, recognizing their hard effort and contributions to the firm.
Sophie Chiu (Principal – AppWorks SEA)
Sophie oversees AppWorks' Southeast Asia investment practice, leading efforts to source, invest in, and support outstanding entrepreneurs in the region. Sophie joined AppWorks as an Associate in 2020 and was promoted to Principal in 2023. Before joining AppWorks, Sophie covered public equities for over a decade. She was part of the portfolio management team at Neuberger Berman, focusing on emerging market opportunities. Prior to that, she served as a research analyst at Credit Suisse, JPMorgan, and London-based Autonomous Research. Sophie holds a Master of Finance with distinction from Warwick Business School and BS Finance from National Taiwan University. At AppWorks, Sophie has worked on several notable investments, including 91APP, KKday, Tiki.vn, and EdenFarm.
Jun Wakabayashi (Principal – AppWorks Beacon Funds)
Jun is a Principal leading the Beacon Funds arm—in charge of meeting, helping, collaborating with, and investing in emerging venture capital managers to grow the venture ecosystem in Southeast Asia and web3. Joining as an Analyst in 2017 and then promoted to Associate in 2022 and to Principal in 2023, Jun has been pivotal in turning AppWorks into a household name across the region. By immersing himself in local markets and engaging with both founder and investor communities across Southeast Asia, Jun has established an extensive network that keeps AppWorks top of mind for startups seeking funding, community, and support. Prior to AppWorks, Jun attended NYU's Stern School of Business where he received a B.S. in Finance, and spent the following several years conducting sector-based market research at Focus Reports. Outside of work, Jun is an avid meditator and invests meaningful time maintaining both his physical and spiritual wellness.
Jack An (Associate – AppWorks)
Jack became an Associate in 2023 and focuses on meeting, helping, and investing in promising web3 founders. Before joining AppWorks in 2019 as an Analyst, he co-founded an InsurTech startup and through the experience, he developed a deep interest in product design and user experience, and has since been passionate about these areas. During his time as a founder, he purchased his first BTC as well as ETH, yet subsequently paid dear tuition to the 2017 go-go ICO era. Prior to embarking on the entrepreneurial path, he worked as an underwriter at Chubb Insurance in New Zealand. Jack earned a Bachelor of Music degree from Waikato University, where he studied classical piano and developed a deep appreciation for Mozart. He loves to cook, read, and is a practicing stoic. He's on the hunt for the next web3 application that will onboard millions of users and make the world more open, permissionless, censorship-resistant, and trustless.
Vanessa Lu (Operations Director – AppWorks)
Vanessa is an Operations Director at AppWorks. Before that, Vanessa held the role of Operations Manager at Foxconn Group's Sytrend Startup Foundation, where she spearheaded their incubator, co-working space, and community events planning programs. Prior to that, she covered lead generation and premium customer support for the APAC region at Evernote. Vanessa joined AppWorks in 2018 as Space Director and was promoted to the role of Operations Director in 2023. Vanessa holds a Master Degree in Russian Studies and a Bachelor Degree in Russian Language, both from National Chengchi University. As a devoted mother of a son, she delights in discovering innovative ways to spend quality time with her family, all while ensuring that her work is of the utmost quality.
WE ARE HIRING!
As the AppWorks organization continues to grow, we warmly invite outstanding talent to join us.
Our latest openings include: associate, analyst, crypto native analyst, and fund finance and administration manager.
In addition to providing generous salary packages in line with international industry standards, We have created an open, transparent working environment that rewards hard work and effort—appreciating the contributions of every team member and allowing them to reach their potential. As a collaborative platform, we strive to find consensus among investment and operational decisions from all team members, encouraging constructive feedback and diverse opinions, and reaching alignment with the firm's mission to better serve founders. At the same time, we are striving to create a system that allows colleagues to balance work, life, and family, including unlimited annual leave, flexible remote work, annual health checks, annual employee travel, and providing a 0-6 years old per child annually subsidy of US$12k—as we have welcomed five AppWorks babies over the past three years, reinforcing AppWorks' commitment to supporting the families of our team members.
The lodestar of AppWorks has remained consistent since day one—to help entrepreneurs reach their potential and create more successful businesses, and improve the competitiveness of GSEA's digital economy—bringing together an institutional-grade team under one mission.
"A well-deserved congratulations to Sophie, Jun, Jack, and Vanessa for their promotions—they will play a more prominent role in the next stage of AppWorks' development. Looking ahead, AppWorks can make a more systematic effort to support founders and create greater impact for the development of Taiwan and Southeast Asia. We sincerely welcome more experts to join us, and work together to make the region's startup ecosystem stronger, and into a tech powerhouse admired by the world," remarked Jamie Lin, Chairman, AppWorks.