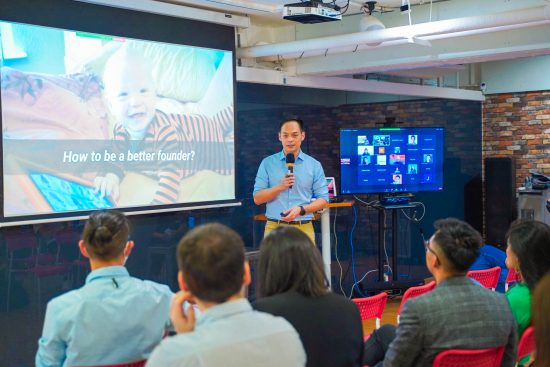 Founded in 2010 by Jamie Lin, AppWorks Accelerator is a startup community created by founders, for founders. We are committed to fostering the next generation of entrepreneurs in Greater Southeast Asia and to accelerating the region's transition into the digital era.
Every six months, we take in founders trailblazing on the frontiers of web3 / DAO, AI / IoT, and Southeast Asia, equipping them with the necessary resources, mentorship, and guidance to get their ventures off the ground.
We know there are many considerations for founders when applying to an accelerator. That's why we've created an FAQ page to help you decide whether or not AppWorks is suitable for your startup.
As of May 11, AppWorks Accelerator #25 is open for applications. You can find important information about the Accelerator experience on our main page.
The FAQs
1. What do I need to know before joining an accelerator in Taiwan during COVID-19? What is AppWorks doing to help founders make the most out of the accelerator before it's completely safe to travel and congregate? How are you helping founders deal with the impact from the pandemic?
The world has seen nothing like the COVID-19 pandemic, and we can confidently say that no founder we know had this on their disaster mitigation plans. But the experience of being a founder is all about learning and adaptation, even when things look dire. We are here to support you to do just that, no matter the circumstances.
Since 2020, AppWorks has designed a hybrid online-offline program with a variety of online activities for both local founders in Taiwan and international founders abroad. As the majority of the population is fully vaccinated in Taiwan, the government is likely to ease the COVID-19 restrictions soon. We will be adjusting online & in-person activities dynamically based on the COVID-19 situation, and make sure that founders have the best experience during the program. At the same time, we also encourage founders participating in AppWorks Accelerator to vaccinate as soon as possible to protect themselves and reduce the risk of infection.
Currently, up to six hours of online and offline sessions per week are provided, ranging from office hours with AppWorks Partners to meetings with mentors and peer founders from all over the region. Such meetings include founder mentoring sessions with veterans of the technology industry who have launched startups from zero to one, and even listed several IPOs. You can rest assured that you will get to meet hundreds of investors, journalists, corporate executives, and other partners who can make a positive impact on your founder journey through our hybrid activities.
If you'd like to leverage AppWorks to test out the Taiwan market or set up a technical team during the pandemic, we can still provide suitable introductions to our network through online activities. However, based on our experience, we recommend that founders invest the necessary time and effort after the government eases the travel restriction to personally understand Taiwan's market and environment if you are interested in doing business in the country.
We will continue to monitor visa and travel restrictions in a timely manner and update you accordingly throughout the application process. It is likely that by the time AW#25 starts in September, travel restrictions will have loosened up, making traveling to Taiwan much easier. We know that physical face-to-face engagement is still extremely effective for building strong relationships, and thus encourage founders who are vaccinated to visit Taiwan and attend the accelerator in person for the most optimal experience.
2. Why wouldn't AppWorks admit founders working outside of web3 / DAO, AI / IoT, or SEA?
We believe that AI and blockchain are based on the good foundation that the internet has built, and the extended data applications and the decentralized model will be a huge disruption that founders must leverage in the next decade. As more talents and energy are pouring into web3 / DAO startups, the blockchain space will create something so immense that will ultimately transform traditional presence in finance, commerce, entertainment, and beyond.
At the same time, SEA's digital revolution is well underway, with a young, ever-expanding, and increasingly affluent middle class driving brisk economic growth across the region. SEA also features one of the world's largest populations at over 650 million people, many of which are digital natives and early adopters of technology, lending itself as a hotbed for entrepreneurship and innovation.
Therefore, this is the focus of our attention for now. In the last 10 years, we've seen the popularity and penetration of mobile internet. If you want to seize the opportunities in the next decade, think about how to leverage these key areas to create the future.
3. How can AppWorks Accelerator help a web3 / DAO founder?
Since we started accelerating and investing in blockchain teams in 2017, we have witnessed the incredible growth and promise of decentralization and its applications in permissionless, trustless, and transparent digital value storage and transfer. Compared to 5 years ago, the web3 world is now much bigger and more mature, with various chains, wallets, exchanges and the likes, serving as the infrastructure with lots of quality development tools available, allowing founders to run lean, experiment, and launch disruptive projects fast. The creation of DAOs is also one revolution that has helped create community-driven organizations enabling participants to have skin in the game.
As our web3 community has grown, so have the opportunities for partnerships, knowledge exchange, and founder-to-founder support. We recognize that developer communities and network effects are critical for web3 / DAO startups, and AppWorks provides this community as a unique value-add for our web3 / DAO founders.
As a web3 / DAO founder, you can expect these from joining AppWorks Accelerator:
a. Grow with one of the largest web3 founder communities in Greater Southeast Asia
Entrepreneurship is a lonely journey. After starting your own business, most of your friends and family won't understand the ups and downs you're experiencing as a founder. If you can share these experiences with fellow founders who are as capable and determined, who understand when you encounter setbacks, you will be more motivated to continue. In addition to about 50-60 other founders accelerating together in the same program, we will hold frequent alumni gatherings where you'll meet many alumni who have gone through the 0 to 1 stage.
The web3 ecosystem within the AppWorks community now consists of 93 active teams with a total of 181 founders. These extraordinary web3 startups include Blocto (AW#19), a mobile portal to the blockchain world featuring seamless integrations with different wallets and web browsers; Lootex (AW#20), a digital marketplace that runs NFT auctions; and Pendle (AW#20), a DeFi yield-trading protocol that enables the tokenization and trading of future yield.
As one of the most flourishing web3 founder communities in the region, we can help support founders working on web3 products / DAOs who want to learn the ins and outs of entrepreneurship through introductions of resources and connections in the startup ecosystem. Moreover, founders can learn together with fellow founders as driven as you about tokenomics, DAO, and community-building.
b. Stay ahead of the game as the ecosystem rapidly evolves and access to premium development partners
In web3, startups developing on the right public chain and working with the right partners can help create synergies and accelerate scaling. Within the AppWorks web3 ecosystem, 90+ teams have developed their products on various public chains, including Ethereum, Solana, Terra, Cosmos, and so on. If you are a founder building on these chains, you can always find a connection within our ecosystem.
AppWorks is proactively building a vibrant ecosystem for web3 startups to explore and connect with each other. We are one of the investors in the public chain Flow, developed by Dapper Labs, the creator of CryptoKitties and NBA Top Shot. If you are interested in developing a new business model on Flow or the chance to talk to various stakeholders in the Flow ecosystem, you can receive more direct resources and support from AppWorks and Flow's collaboration. Founders building things on Flow Chain will be able to enjoy support from Dapper / Flow Team with Flow token grants.
At the same time, AppWorks builds partnerships with essential development tools, platforms, and cloud services such as Animoca Brands, Alchemy, and AWS to make sure that blockchain startups gain adequate support to grow.
4. What does AppWorks look for in applications?
When AppWorks reviews applications submitted by founders, we pay special attention to a founder's North Star. Some questions that might help you think about whether AppWorks is a good fit for you:
Why do a startup?
What problem do you want to solve and why?
What do you believe fundamentally needs to exist in this world that doesn't already?
What kind of future do you want to create and how will you get there?
What have you already done to demonstrate your commitment to tackling this problem?
AppWorks Accelerator's online application covers about 30 topics related to team background, product/service, business model, market analysis and more. It is very detailed and requires time to complete. It also includes a required one-minute self-intro from the founder (CEO).
5. Does AppWorks Accelerator cost anything?
No. AppWorks Accelerator has always been free for founders. We will not charge rent or service fees, nor will we require any form of compensation, such as sweat equity, tokens, options, revenue, or profit-sharing. Our exclusive mission is to help founders.
6. We need funding now, can we get investment by joining AppWorks?
The short answer is you will have much better access to us than non-AppWorks accelerated teams. We will discuss with you and help you figure out at this stage of your startup's journey, if capital can significantly enhance its strength and competitive advantage, and/or there are other more burning issues, e.g. product-market fit, go-to-market strategy, co-founder recruiting, speed, etc. Any AppWorks founder is welcome to start a discussion with us on fundraising anytime. We will do our best to advise and support you with US$212 million in total fund size. 
Please note, AppWorks Accelerator will never require teams to accept our investment before joining the accelerator, nor will teams ever need to provide any form of equity or revenue / profit share in return.
7. I am not a technical founder, or I need to find an engineer to help scale my idea, can I still apply?
Yes, you can. In a manner of speaking, you have come to the right country.
Taiwan graduates over 25,000 hardware and computer science engineers each year and is world-famous for the engineering and computer science mastery that has boosted the quality of international companies like Apple and Acer in hardware and Google and Microsoft in the software category, to name but a few.
We strongly recommend founders who come to Taiwan check out the country's vast human talent resources. Part of the founder journey will be about learning how to hire, and there is probably no better place in Asia to do that engineering hiring than here.
8. My service (or product) has not yet started to make money. Can I still apply?
Of course! There probably isn't a better time to learn in an accelerator than as a founder just starting out. This period before a founder has built a startup into a scalable business model with Product-Market Fit is called the "seed stage". During this period, founders always need more than funding; they need a variety of entrepreneurial-related insights, inspiration from other founders, and room for trial and error. AppWorks Accelerator was built to provide these, and more.
9. I already raised a Series A / I'm profitable, is AppWorks right for me?
The most important thing for us is to identify where a founder is in their journey.
Reaching a funding goal can be a cause for celebration, but it's also a relatively minor part of the growth of a founder. So many more things can go right or wrong, even with a funding round. There are many other facets to master. When we admit founders into the program, it is because we have carefully considered what they need as a founder, and how our resources and network, and Taiwan's unique market and supply chain position in the world, can help them grow.
Joel Leong and Henry Chan at ShopBack had already built a business model and received seed funding in 2015 when they launched in Singapore, before they came to AppWorks Accelerator #13 in 2016.
Joel told us that had the team known about Taiwan's massive US$ 42.2 Billion GMV a year e-economy and how it made it possible to figure out crucial e-commerce and engineering solutions for them, they would have made the move to Taiwan sooner. It demonstrates that funding rounds and business model maturity do not limit founders to learning something new. As long as you think that AppWorks can help you in the entrepreneurial learning process, you should apply.
10. Since I am not a Taiwanese citizen, can you help me obtain a proper visa?
International founders admitted to AppWorks Accelerator, according to your qualifications and needs, AppWorks can help with your application for the Gold Card or Entrepreneur Visa in Taiwan. This enables founders from overseas to concentrate on work in Taiwan without having to travel abroad to sort out troublesome visa issues. We have professionals at the Accelerator who can offer advice on this process.
The Taiwanese government resumed processing Gold Card applications in March 2022. We encourage international founders who are interested in setting up a company in Taiwan to apply for the Gold Card and explore the Taiwan market in-person.
AppWorks will closely track the government policies and provide adequate support as the policy changes.
11. Do I have to set up a company to join AppWorks Accelerator?
Not necessarily, but we would recommend an overseas founder to set up a Taiwan office, especially those of you that are B2B facing. This may better enable you to find business partners and negotiate commercial agreements later. AppWorks has professional accounting and legal specialists who can assist in handling procedures for landing in Taiwan.
As Andrew Jiang, co-founder of Soda Labs (AW#17) told us, when you take the time to physically show up in the market, you get "10x the attention and focus of potential customers and partners" you seek in your business development process.
12. What is the difference between applying during the first round vs. the final round?
The application period is split into two intakes, with interviews and admissions facilitated on a rolling basis. Based on past experience, teams that submit their application earlier tend to have a higher chance of being admitted, and are also immediately granted access to all the resources that AppWorks Accelerator has to offer.
We hope the above FAQ can help you clarify your questions about AppWorks Accelerator. If you seek more clarity, please write to: [email protected] and we will try to answer your questions.
If you're a founder working on web3 / DAO, AI / IoT, or Southeast Asia, you've come to the right place! Applications for AppWorks Accelerator #25 will be open until Jul 21, 2022.