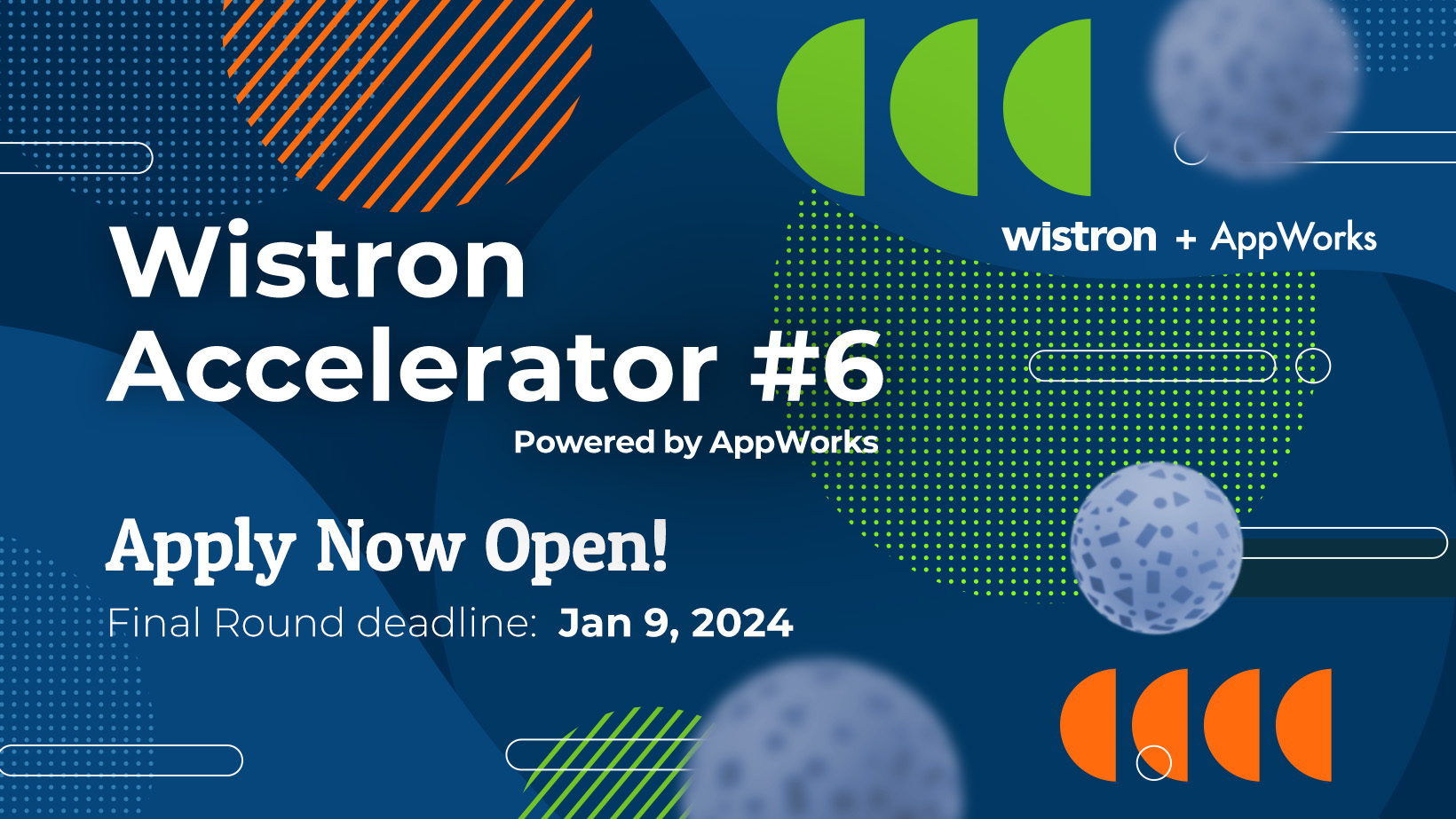 Wistron has been working closely with AppWorks since 2014 and is one of the major limited partners of AppWorks Fund II and Fund III. It also invested in MoBagel (AW#16), ANIWARE (AW#17), LucidPix (AW#18), and other alumni who have graduated from AppWorks Accelerator. Wistron and AppWorks have been working closely together and have a long-term strategic partnership, and launched the Wistron Accelerator in September 2021. AppWorks, itself a leading accelerator in Greater Southeast Asia, provides core logistics and operations support.
We put together some frequently asked questions for startup teams who still had questions about the Wistron Accelerator program after reading the information on the landing page. If you have similar questions, we hope you can find the answers below.
[Wistron Accelerator #6 is taking applications now!]
1. What outcomes does Wistron expect to achieve through the Accelerator program? What kind of support can Wistron provide?
Some domain-specific perks include:
a. Access to C-level Mentors from Wistron subsidiaries/business units
The most significant value of this accelerator is that the C-levels of different business units at Wistron will serve as your Mentors. Startups in the Wistron Accelerator can directly discuss partnerships and business insights with C-level Mentors at Wistron, significantly increasing the chance of collaborative success.
The Mentors participating in the Wistron Accelerator are from the following business units:
Wistron Group (including Innovation Integration Center, and the CVC team)

Wiwynn

WNC 

Wistron ITS 

WMT 
People who have experience working with enterprises know that the CEO or C-level manager is usually responsible for the strategy, and their team is accountable for execution. Therefore, if you can directly communicate with high-level managers, you may significantly increase the chances of developing a strategic partnership, new services, and new business.
In addition, even though startups already have domain knowledge in their focus area, when facing different industries and large enterprises, there is still much to learn, including both hard and soft skills.
In the Wistron Accelerator program, Mentors take on the role to solve the aforementioned issues. During the accelerator period, startups will have in-depth collaboration and interaction with the heads of the designated business unit. Startups can further understand companies' needs, plans, and insights, and learn how to work with large corporations effectively.
b. Exclusive PoC collaboration with Wistron
Startups running B2B businesses know that it takes a long time to successfully onboard corporate partners because of the different organizational nature and the longer decision-making processes. It's very common to take a quarter or even more than six months to kick off a collaboration.
Wistron Accelerator has thoughtfully planned the schedule, process, and goals to speed up the collaboration process. The startups participating in the Wistron Accelerator will directly collaborate with Wistron's business units or subsidiaries to come up with a PoC. During the program, AppWorks will facilitate the discussion and implementation of the PoC. Startups can develop the minimum viable product (MVP) within the four-month timeline and further discuss more in-depth collaboration after the program.
2. What are the important factors you consider when evaluating applications?
The application review process combines AppWorks's experience in mentoring startups and Wistron's industry expertise. We are looking for founders who continuously work on themselves and have a clear North Star in their founder journey, which we believe will help founders overcome obstacles and build up the product's core competitive advantages. 
The following questions can help you think about whether you are suitable to join Wistron Accelerator:
Why did you start your business?

What problem do you want to solve? Why?

What efforts have you made in solving these problems?

How is your product different from existing solutions?

What do you expect from the collaboration with Wistron? What value can you bring to Wistron?
3. Is there a charge for the Wistron Accelerator?  If we need capital now, will we receive investment after joining?
Wistron Accelerator is an entirely free service for founders. We will not ask for rent, service fees, or any types of concessions such as stock, options, revenue, or profit-sharing. At the same time, every enrolled startup will receive a NT$200K subsidy from Wistron, which is not in exchange for any shares.
Wistron has been a bullish strategic investor, in recent years investing more than NT$10 billion with a total of 60 companies in their portfolio. In 2020, Wistron established a corporate venture capital (CVC) team and is actively looking into strategic investments. Startups selected for the Wistron Accelerator will have the opportunity to discuss further collaboration or investment with Wistron CVC, business units, or its subsidiaries during and after the program.
4. Why does Wistron recruit startups only from AI, IoT, cloud, cyber security, education, and medical technology industries?
Wistron is one of the world's leading manufacturers in the ICT industry. In recent years, Wistron has been investing in R&D, tech innovation, and diversified product development, and has also seized on the growing trend of cloud applications. They have successfully integrated a multitude of hardware devices, software services, and cloud applications, and offer technical service platforms and solutions. During this time they have also expanded their business to new fields like education, corporate services, IoT, and medical care.
Through the Wistron Accelerator, Wistron hopes to share its industry experience and rich resources with startups, and to explore innovative opportunities by working on a PoC together. Wistron is happy to be one of the case studies for startups to test their B2B solution. Wistron Group also expects to develop growth opportunities for the next decade through this collaboration.
5. What stage of startups is suitable for the Wistron Accelerator?
We do not have a strict standard on the stage of the startup. But we do recommend startups that have experience working with enterprises or have a few proven PoCs to apply. These startups should be able to better utilize the four-month timeline and can reasonably expect a certain level of results from the program.
If you are still in the MVP stage and have not yet defined your target customers, we would suggest you focus on developing your product first, try to get some initial users, collect feedback, and iterate accordingly. Once you validate the problem you want to solve and know the core advantage of your product, that will be a better time to apply for the Wistron Accelerator.
If you already have a product prototype but have not yet established a company, we recommend that you complete the company setup process first. From our experience, it can help you onboard business partners and initiate collaborations more efficiently. 
AppWorks can provide professional accounting and legal services to help founders set up a company, whether you are from Taiwan or overseas.
6. I am not a citizen of Taiwan. Can you help me get a visa?
Wistron and AppWorks can assist international founders enrolled in the Wistron Accelerator to apply for the Entrepreneur Visa, the employment Gold Card or the Business Visa based on certain conditions. Founders from overseas can concentrate on their work without worrying about visa issues.
We will closely track government border policies regarding COVID-19 and provide adequate support as the policy changes.
7. While participating in the Wistron Accelerator, do we have to stay at Wistron's office all day from Monday to Friday?  Can we participate remotely?
We do not stipulate work locations. Every startup will discuss the meeting frequency, and format with the Mentor on a case-by-case basis. 
If you need coworking space during the accelerator program, you can reach out to Wistron and AppWorks. We can provide free coworking space based on your needs.
8. The application questions are written in English. Will writing in Chinese affect the score?
Wistron Accelerator's application has 26 questions, covering team, product, business model, market analysis, etc. It requires a certain amount of time and effort to fill out. We hope that by this design, we can help every team clarify their current status and the assistance they are looking for.
Filling in the application is like having a health check-up. Founders must think profoundly about their products, market strategies, team and the overall industry environment. Therefore, regardless of if you decide to apply or not, we still recommend you to carefully think about these questions.
We encourage you to answer in English; however, using Chinese will not affect the results. The most important thing is to express your views clearly. Furthermore, we also encourage the founder (CEO) to make a one-minute self-introduction video for us to get to know you better.
9. What is the difference between the first round and final round application?
Wistron Accelerator's admission is on a rolling basis. Based on previous experience, teams that applied earlier had a higher chance of being selected. They could also know the results earlier to have adequate time to plan for the PoC. Therefore, we encourage founders to apply early to avoid high competition during the final application deadline.
We hope the answers mentioned above can help you clarify any questions about the Wistron Accelerator. 
If there are further questions, please send a message to us or write to: [email protected]. We will reply to you as soon as possible.
[Calling founders working on AI, IoT, cloud, cybersecurity, EduTech, and MedTech. The deadline for the Early Bird Round is Dec 5, 2023]