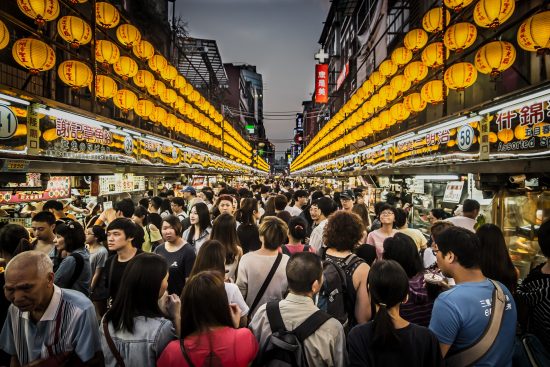 Douglas Crets, Communications Master


Douglas is the English Master in Communication. A marketing strategist and content writer, he spent three years with Microsoft in Silicon Valley managing the global social media marketing strategy for BizSpark, Microsoft's Azure and software program for entrepreneurs. Douglas has a deep love for technology, literature and travel. He holds a Masters in Fine Arts from Syracuse University and a Masters in Journalism from the University of Hong Kong.
Two quarters ago, the future seemed optimistic for Southeast Asia. Economic projections for the fastest-growing of these economies rose to the high single-digits. Broadband adoption was reaching a critical scale. New startups driven by a generation of young founders with international experience were rising to the region's challenges and searching for traction. 
It now seems very likely that the economic consequences of this disease outbreak will be generation-changing. While economic and tech expansion will continue, the ground-truths of the current COVID19 situation show that innovative thinking will have to lead us through the disaster. With sealed off countries, work from home lockdowns, and breakdowns in profit growth in nearly every industry vertical, where can founders turn when it comes to finding solutions in this environment? 
At AppWorks, we are certain that founders will be among the group of people creating solutions that will bring SEA back to normalcy, and as always, we are ready to rise to the challenge.  We have evidence to show that Taiwan can be a country from which SEA founders can re-launch when they are ready. 
Taiwan possesses an e-economy that is not only well-versed in tech usage, but as the largest e-economy in the region, at US$42 billion per year, it has not slowed down significantly during this pandemic. Startup founders have worked with government officials to take an already planned-for mitigation strategy and accentuate it with tech. 
From the installation of vending machines that distribute face masks, to an unprecedented tracing technology through mobile and GPS coordinates, Taiwan has stayed ahead of the pandemic curve. It's economy and its national health statistics have reflected this tech-forward approach. 
In terms of infection rates, the country has year-to-date had the fewest COVID19 cases. While no country has been left unscathed by the economic impact of the pandemic, Taiwan's economists still project Taiwan to reach 2.37% to 2% in GDP growth this year, though this has been bolstered by a NT$ 100 billion injection in main business infrastructure to support the economy. 
The knowledge networks that have kept the country's portion of the supply chain running, and a decade-long history of aiding startup growth, means that smart founders who still have their eyes on expanding through SEA should consider the island as their starting point when this horrifying pandemic eases. 
Taiwan will clearly be among the first countries for startup founders to turn for growth and learning when it becomes possible to move freely around the region again.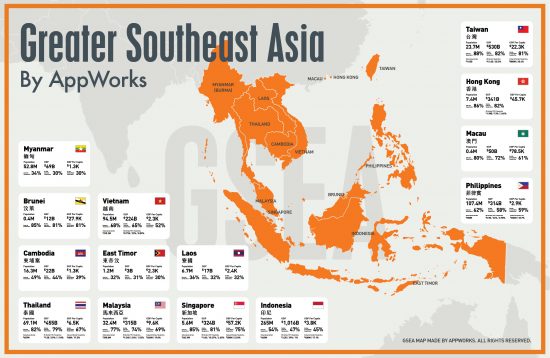 Predecessors define the trend — Taiwan is an undiscovered launch pad for the region
As we wrote last year, SEA founders have long landed on the island to use it as a key market for expansion and leveraging engineering resources. 
Companies originally from Singapore — Shopback, social streaming company M17 and the e-commerce unicorn Carousell — have established engineering and R&D teams in Taipei. 
Companies like AI-driven consumer analytics company Tagtoo (AW#1) and Hong Kong-based Omnichat (AW#16) whose founders participated in the AppWorks accelerator, gained much of their traction by leveraging the Taiwan ecosystem. 
Taiwanese companies like Mooimom (AW#16), purveyor of maternity goods, have used local engineering talent and experience in digital commerce to dominate Indonesia's e-commerce market in that vertical.
All of these companies have used the microcosm of the AppWorks Accelerator and the macro-economy of Taiwan to gain a foothold and expand, through either direct or indirect experience in the semi-annual sessions devoted to Blockchain and AI and the community.
The accelerator and its network offers three critical sets of resources that make Taiwan a strong tech hub for the SEA region.  
A community of peers and experts who can answer questions and give support, while providing opportunities for hiring, funding, and partnerships
Mentorship from seasoned public company executives who launched their own companies over the past 10-20 years
Resources like software and access to supply chain that make entry into a local market easier
Community is an accelerant for learning and scaling
For young founders, a community is a lifeline to growth. In the AppWorks network, 376 operating startups and the 1,113 founders who run them have proven vital for any founder that is trying to solve a hard problem, grow at scale, make acquisitions of talent, or find funding. 
Sometimes this network and community is in-person, but it can also be virtual, as it has been so especially during the COVID19 pandemic. To accommodate founders who are not able to travel to Taiwan, and to enable connection among founders who continue to build during this time, the accelerator team holds virtual office hours and online seminars via Zoom on a regular basis. 
This would be true, in any case, and it has become something of a new manner of doing business. Over the past 3 years, AppWork's community has started to span across tech hubs throughout SEA and become more distributed. Over the past 18 months, the number of these startups infiltrating SEA has grown at a 1.6x pace. 
The types of founders in this network give some insight into what kind of knowledge network is at hand during these virtual calls and virtual meetups. In many cases, former accelerator teams have reached a point where they have started to grow and are raising money to fuel expansion. Their insights can provide valuable feedback for other founders who want to go down the same path. 
Some of these former accelerator teams include: WeMo (AW#12), Taiwan's first shared e-scooters startup, helmed by Jeffrey Wu; Voicetube (AW#7), the largest language edutech startup in Taiwan, which recently raised a US$3.5M A round; Novelship (AW#16), a Singaporean team that raised a US$2M seed round; and Booqed, also of AW#16. This Hong Kong team raised a US$1.68M round.
There are also peers who have made the journey of an acquisition. Kevin Chan of LINE Taxi (AW#11) started his company as a challenge against a fast-scaling, but wayward, Uber, which didn't seem to have grasped the dynamics of the local market. After a few years of development, LINE acquired them. Chan mentors the community in private and public events around Taipei.
Founders like those at Omnichat (AW#16), Allan Chan and Lewis Pong, have found that connections to peers who are at this level have been key to their learning. They started in Hong Kong with their e-commerce marketing solutions startup and then came to Taiwan to join the accelerator and build out the market here. 
Three years after graduation, they have secured Taiwanese companies as clients at a scale larger than those they have in Hong Kong. Chan and Pong recently raised a US$ 800k seed round for further expansion, which will help them launch in Malaysia and Singapore in 2021.  
They have found the virtual and in-person connectedness with their peers have put them in a good place for continuing to build.  
"If we have any kind of question, we can just send a Facebook message and a lot of people will help us," says Allan. "That's amazing." 
Mentorship by leaders of IPOs shaping decades of ecosystem growth
The AppWorks mentor network provides access to 100+ seasoned founders, each with at least 10-20 years of experience in nearly every technology business vertical.
Through an in-person Mentor Day, the accelerator team connects early stage founders to this network in an intimate setting organized around pitching and personal meetings. 
Founders get to meet founders in our investment portfolio like Sui Rui Quek, founder of Carousell; Joseph Phua, co-founder of live streaming social platform M17; Benjamin Wu, co-founder of iChef. 
Equally, they can meet founders who have IPO'd, like Ben Tseng, founder of Net Publishing, a publicly-listed game publishing platform.
Early stage founders can meet with Tai Chi Chuan of Fusion Media, which manages three of the top media platforms in Taiwan; or cryptocurrency founder Alex Liu, who created MaiCoin; and Wang-tun Chou, CIO at Next Bank, which has been granted one of the first virtual bank licenses in Taiwan.
Peggy Cheung, a Hong Kong founder who established photo platform startup KaChick (AW#19) with co-founder Larry Lam, has firsthand experience with this. She came to Taiwan last year and says that the experiences with her mentor, Ming Chen from travel startup KKday, have focused her development efforts.
"My mentor sometimes sees what I can't see in myself and gives me the courage to be bold," she says. "In some cases our discussions saved me time from dwelling into unimportant matters or walking towards directions that make little sense."
Resources
Having this kind of human support makes it easier for founders to extract value and make important connections with the macroeconomics of the country. 
AppWorks alumnus Andrew Jiang, founder of hardware-as-a-service (HaaS) venture builder Soda Labs, was part of cohort #17. He came to Taiwan from Silicon Valley.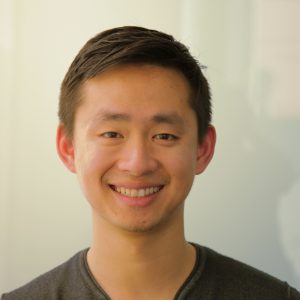 To build out his HaaS startup, he partnered with tech giant Foxconn and hired local engineers. These AppWorks Accelerator-fostered connections solved critical problems in Jiang's mission. 
"We believe Hardware-as-a-Service is a massively undervalued opportunity. Engineers in Taiwan are the most experienced in the world," he says.
"We partner with Foxconn, which has an extensive footprint in Taiwan. When you show up in person, you get 10x the time and 10x the attention that you are able to get via WeChat or a video conference. It is also significantly easier to get agreement when you can build real relationships with your OEM," says Jiang. 
Besides connections, AppWorks provides all the essentials that a startup needs in the early days and that they could otherwise find scattered around the island's tech hubs. 
During the accelerator session, we give founders six months of free co-working space, available 24/7. After they "graduate" from the program, founders can provision seats on an on-demand basis for a fraction of the cost of a regular co-working space. 
There are also business credits supplied to founders from partners at AWS, GCP, and more. Founders, who might not have the resources to build internal teams for design, PR, HR, legal or accounting, can also utilize connections to a team of "Masters" on staff. These industry specialists work on-demand with founders to solve critical operational and strategic challenges.
Separate from the AppWorks offering, the Taiwanese government itself makes it easier for founders to get established on the island. Recently, the government built out a new initiative called Startup Island, geared to help international founders explore Taiwan as a launching pad. Though the COVID19 pandemic has put a freeze on new visa issuance temporarily, the government makes it possible for entrepreneurs to apply for an "Entrepreneurs Visa." 
In December, Taiwan's National Development Fund — a fund of over US$ 18 billion — announced that it is primed to make investments of at least US$180 million in the next few quarters, largely in Blockchain and AI. 
The next steps 
Before the arrival of SARS-CoV-2, it was estimated that the economies of GSEA (ASEAN + Taiwan) would generate US$300 billion in e-economy business by 2025. 
While many economies around SEA find themselves grappling with precipitous falls in GDP, with many eyeing security strategies that will seal off their borders and preserve resources for their citizens indefinitely, Taiwan will remain a willing partner to SEA founders seeking to find a foothold here. 
We expect that when life returns to what will likely be a new form of normal, the nation and our accelerator will be open, and willing, to help founders from all around the region. 
AppWorks will launch its application for its accelerator for blockchain and AI founders from SEA in May, so track our page for future announcements.