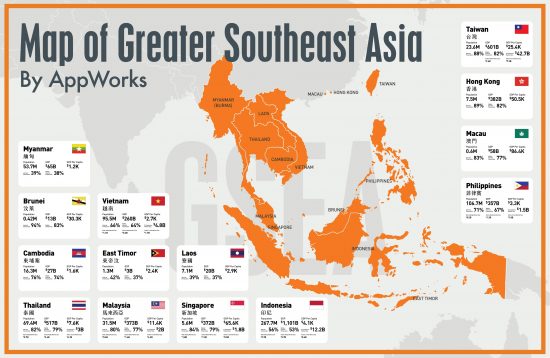 Douglas Crets, Communications Master
Douglas is the English Master in Communication. A passionate marketing strategist and content writer, he spent three years with Microsoft in Silicon Valley managing the global social media marketing strategy for BizSpark, Microsoft's Azure and software program for entrepreneurs. Douglas has a deep love for technology, literature and travel. He holds a Masters in Fine Arts from Syracuse University and a Masters in Journalism from the University of Hong Kong. One day, he hopes to travel around the world for a year.
The latest Map of Greater Southeast Asia's digital economies, which we develop at least once every quarter, is indicating to founders in Greater Southeast Asia that the rise of mobile broadband in economies where GDP growth is accelerating past 6 per cent is setting the stage for amazing improvisation in tech use and commercial problem-solving.
It may come as a surprise to some, but Taiwan can play a pivotal role in that innovation surge. I have written a few thoughts about this to show you what we mean.
As the supporter of the largest accelerator-born community in the region focused on tech founders, our team watches closely these developments. Our portfolio companies and the 1113 founders and 376 active startups of our Accelerator alumni network are living examples of the magnet that Taiwan has become for founders in this region.
Starting small, in a huge region called GSEA
We refer to this region as Greater Southeast Asia (GSEA), positioning it as ASEAN + Taiwan, inclusive of such territories as Hong Kong and Macau, and East Timor. The nomenclature is driven by our observation of consumption habits and statistical data, as you can see in the map below, which hangs in our accelerator space.
We include Taiwan in this grouping because its economic evolution has become something of a beacon for SEA founders who want to build beachheads around the region. Let's start with a single statistic to understand why.
The total e-commerce economy market size in Taiwan is USD$42 billion. This is almost 66 per cent of the size of the entire GSEA combined.
Founders who emerge in GSEA and come to Taiwan to grow stronger
This unique attribute of Taiwan is a magnet. There is also a push factor in ASEAN nations. That mechanism is prompting SEA founders to seek out a tested, developed market for their ideas.
This movement is observable through growth statistics that suggest a plethora of pent up consumption demand driven by tech adoption and through example companies that have done it. Let's start with the country data.
Five countries in GSEA show growth in GDP per capita of over 6 per cent, as of last year. They are Cambodia at 6.83 per cent; Laos at 6.72 per cent; Vietnam at 6.5 per cent; the Philippines at 6.47 per cent; Myanmar at 6.45 per cent. Indonesia and East Timor show growth of 5.2 per cent and 5 per cent, respectively.
In Vietnam, a country of 95 million people, many early-stage startups are rapidly developing — Sky Mavis; Axie Infinity; Triip.me (AW#18). Engineering talent that moved overseas and went to tough schools like Harvard have now come back and are starting new companies by the dozens.
In Indonesia, we have seen the growth of five unicorns, including Gojek and Bukalapak. In other areas, it's not so straightforward.
Google recently released yearly results from a long-term study that looked at the potential for SEA's growth.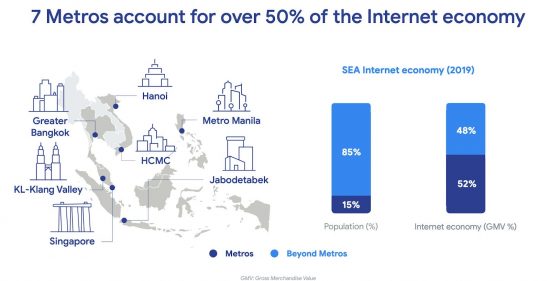 Today, seven urban centres drive over 50 per cent of the internet economy in the countries depicted in GSEA. The "beyond metros," or rural areas of a few SEA countries, account for 85 per cent of the population, but only 48 per cent of the Internet economy, as you can see from the picture below.
While use cases may exist for tech, and while consumer demand may be growing, it's harder to really scale in some emerging markets without solid strategies and consistent talent.
Even though the creativity and innovation ideas are off the charts, many things like stagnant offline players, unavailability of engineering talent, government red tape and just pure infrastructure fragmentation stand in the way of "moving fast and breaking things," so to speak.
SEA founders are coming to Taiwan is because they see a microcosm of development opportunities in Taiwan that they can take back to the rest of Asia, after getting focused here.
"Taiwan was a great gateway to Chinese-speaking countries [in SEA]," says Triip.me founder Hai Ho (AW#18). "There are [also] 200,000 and growing Vietnamese living in Taiwan. There are more daily direct flights between Taiwan and Vietnam, too. It is a good market."
AppWorks startups are gaining momentum in Taiwan
Over 376 AppWorks startups have continued to scale and expand by staging in Taiwan through our Accelerator or by becoming one of the AppWorks portfolio companies. Over 1,113 founders in our network have helped the country become a focal point for this region's growth.
These companies demonstrate just how nimbly a company locating in Taiwan can grow, figure out e-commerce strategies, and even acquire other companies and engineering teams while nurturing a huge market inside and outside of Taiwan.
Shopback (AW#13), the e-rebates payment platform founded by Henry Chan and Joel Leong in Singapore, came to Taiwan to scale up their e-commerce knowledge and market deployment.
Shopback has reported annualized sales figures of USD$500 million a year. It has operations in Singapore, Taiwan, Malaysia, Indonesia and the Philippines.
Some other investments include 91APP (Taiwan's Shopify); Carousell, which has localised to Taiwan by building an office here (it's also localised in several other ASEAN markets).
Taiwan is also the kind of place where you can build a company, or two, and IPO them, in a relatively quick time. For example, Jerry Kuo, one of the two siblings that started Kuobrothers, IPO'd in 2016. Jerry then IPO'd a second company that grew out of the original Kuobrothers Group, called MobiX, earlier this year.
There's also M17, started by Singaporean Joseph Phua. M17 started as a dating app company called Paktor and was based in Singapore. Joseph merged that company with a Taiwanese company called 17 Media to form what is fast becoming a massive social entertainment company that focuses on live-streaming. A recent acquisition of competitor MeMe Live has brought M17's live stream market share to over 60 per cent in SEA's developed markets. That wasn't the only M17 procurement, though.
M17 bought AppWorks Accelerator alum FBbuy, a company that developed an innovative way for people to buy items on Facebook. If someone simply typed in "+1," in a comment, the scanning app would move the coveted item being discussed into a shopping cart. Joseph acquired that company and integrated it into a live-streaming commerce app called HandsUp.
Early-stage is also heading to Taiwan
There are also a number of early-stage companies with inherent exposure to SEA who have heeded the call to come to Taiwan.
At our upcoming Demo Day #19, over 65 per cent of the cohort will have originated or started their startup ideas in GSEA. Two female founders offer some examples.
Annie Zhang, from Hong Kong, will pitch Matters Lab as a decentralised platform for media and content sharing, which enables content providers to generate their own immutable content and get paid for it. They've generated about 25,000 customers in seven months.
Telepod founder Jin-Ni Gan, a Malaysian living in Singapore, will also pitch. At a recent mentor day, she showed off her miniEV startup already operating in seven markets in the region.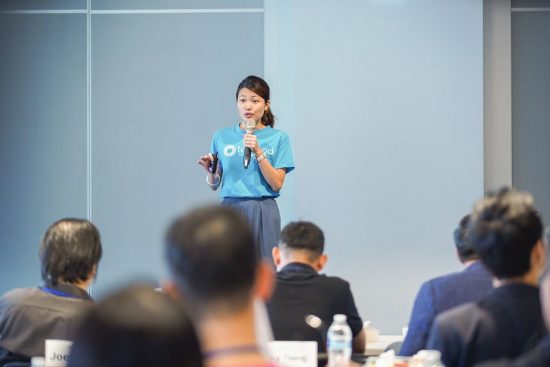 Her last slide was a photo of kids without shoes walking down a dirt road that cut through what looked like smoke from a jungle fire at a rubber plantation.
"My childhood was similar to this one," she said, and then ended her pitch with the message that tech and creativity have a strong potential to make this life better for billions of people.
That's a story that is familiar to many founders here in Taiwan, and it's one that will only scale rapidly in time. As the region grows, the probability that mission-driven founders who are intent on building fast-moving scalable startups will see that Taiwan is a launchpad for the regional market.
Another quick look at the GSEA market landscape should give founders, and investors, something to think about.
Out of the five countries mentioned earlier that have GDP growth north of 6 per cent, three of them — Cambodia, Laos, and East Timor — have mobile internet penetration rates under 40 per cent.
Myanmar, which has 21 million Internet users, only provides Internet to 36 per cent of its population. Nearly all of those users — 99.8 per cent — get their Internet through mobile phones.
In emerging market economies, a glut of software and tech availability is enabling founders to test use cases for new technology and consumer products. Often, these use cases employ leapfrog innovations that are further ahead than the traditional infrastructure or tech use cases in developed markets.
After spending six months in Taiwan, XFers (#18) teamed up with Zilliqa in Singapore to launch a stablecoin. The lack of avenues for remittances makes the mobile form factor an attractive device for gaining access to capital and tapping into new virtual banks and blockchain technologies. Going forward , data seems to indicate that this innovation in SE Asia driven by a connection to Taiwan will be more prevalent. And it will continue to shape fintech and more.
If you are a founder working on AI and / or Blockchain, you can stay updated on our Accelerator application process and news by visiting our AppWorks Accelerator page. Our next application process starts very soon.