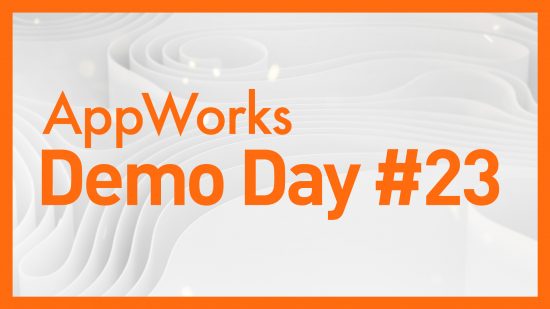 TAIPEI, TAIWAN—On December 21, 2021, AppWorks Accelerator held its 23rd demo day virtually, unveiling 23 startups operating across the frontiers of AI/IoT, Blockchain, and Southeast Asia. The event is held in collaboration with AWS Activate, with support from Google Cloud, Flow, and Alchemy, and promptly follows the firm's in-person demo day held on December 15 specifically for those teams in the batch targeting the Taiwan market.
As one of Greater Southeast Asia's longest running independent accelerator programs, AppWorks Accelerator built off the success of AW#22's fully virtual Demo Day earlier this year, attracting innovative founders from around the world. The event will be broadcasted live across the firm's Facebook page and YouTube channel at 09:00am Taipei Time (GMT +8).
AW#23 officially kicked off in September 2021, featuring 34 teams and 66 founders from 16 different home markets, including Australia, Hong Kong, India, Russia, Singapore, Taiwan, Thailand, the United States, the United Kingdom, and Vietnam. Reflecting the global embrace of digital work, 67% of the teams are internationally-based outside of Taiwan.
As an early mover in Blockchain and NFT investments, AppWorks proudly presents 11 DeFi- and NFT-related projects to showcase their products on the virtual demo day, leveraging the firm's extensive experience in cryptocurrency to provide guidance and best practices in the space. Eight startups addressing dynamic opportunities in the Greater Southeast Asia region were represented in the batch, targeting verticals such as D2C brands, gaming, proptech, retail & e-commerce enablement, and more.
AppWorks is currently accepting applications for AppWorks Accelerator Batch #24, accepting qualified founders in AI/IoT, Blockchain/NFT, and Southeast Asia-related startups. AW#24 will be held from March to July 2022. The accelerator is equity- and cost-free, providing practical and hands-on mentorship to guide founders in achieving better product-market fit, win key business partners, and become a better founder.
For AW#23, the accelerator featured the following companies:
[Web3]
[AI & IoT]
[SEA]
The AppWorks Ecosystem Galvanizes in the New Digital Age
As one of Greater Southeast Asia's largest accelerator programs, AppWorks holds its Demo Day twice a year, welcoming investors and business leaders seeking partnerships with carefully selected digital innovators from across the region and around the world. With the addition of AW#23, there are now 435 active startups and 1,402 founders in the community. Both the total funds raised and valuation have more than doubled in the last year. The AppWorks community now accounts for US$13.9 billion in annual revenues, creating over 20,000 high quality jobs in the digital economy.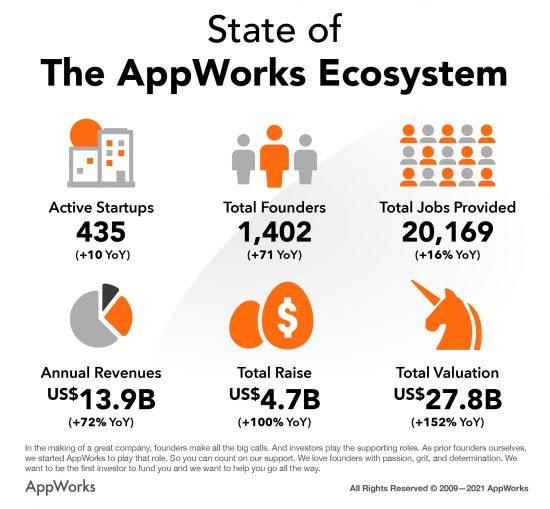 "Our mission has always been to help founders be the best they can be, capitalize on mega paradigm shifts and maximize their impact on Taiwan and Southeast Asia. At this current stage, we are most optimistic about the disruptive potential of AI, blockchain/NFT, and SEA (ABS). We are at the cusp of the web3 revolution. 20 years from now, a few of the web3 startups or "DAOs" will become killocorns, and dozens will turn into hectocorns. Many of them can and will be born out of Taiwan and Southeast Asia. When that day comes, I am not sure where today's tech giants or financial empires will be. Many might have fallen like what AOL, Yahoo and Nokia did. There's really no better time to be a founder. AppWorks will be here to help them on this long journey, become the best founder they can become and build the most impactful startups/DAOs they can build," said Jamie Lin, Chairman and Partner of AppWorks.
【We welcome all AI, Blockchain, NFT, or Southeast Asia founders to join AppWorks Accelerator】
AppWorks
Founded in 2009, AppWorks is a leading startup community and venture capital firm built by founders, for founders. We are committed to backing the next generation of entrepreneurs in Greater Southeast Asia (ASEAN+Taiwan) and helping them facilitate the region's transition into the digital age. Just as how mobile and the internet completely transformed the status quo, we believe the current era of technology is currently being defined by major three paradigm shifts: AI, Blockchain, and Southeast Asia (ABS).
As such, whether it's mentorship, investment, or talent, AppWorks has established a one-stop-shop for ambitious founders willing to bet against the consensus and drive a change they want to see in the world. We help startups build disruptive businesses from even an inkling of an idea into world-class enterprises through our three primary lines of service: Accelerator, Funds, and School.
More information: appworks.tw
AppWorks Accelerator
AppWorks Accelerator is a launchpad for bold and ambitious entrepreneurs targeting Greater Southeast Asia (GSEA). Every six months, we take in startups with strong potential, equipping founders spanning all walks of life with the necessary resources, mentorship, and guidance to get their ventures off the ground.
There are now a total of 435 active startups and 1,402 founders in the AppWorks Ecosystem. Collectively, all companies produce a turnover of US$ 13.9 billion, an annual increase of 72% compared to the same time last year, and provide 20,169 jobs, 16% more than the year prior. Altogether, the Ecosystem raised a total of US$ 4.7 billion, an annual increase of 100%, with an aggregate valuation reaching US$ 27.8 billion, growing 152% YoY.
More information: appworks.tw/accelerator

AppWorks Funds
AppWorks manages three venture capital funds totaling US$ 212 million. We've attracted a diverse array of LPs who believe in our vision, including Taiwan Mobile, Axiom Asia Private Capital, Fubon Life, Wistron, Cathay Life, and Taiwan's National Development Fund. We fund 20 deals a year, now with more than 70 names in our portfolio, including leading startups in several verticals such as Lalamove, Dapper Labs / Flow, Animoca Brands, 91APP, Carousell, ShopBack, Tiki, 17LIVE, and KKday, while having produced 5 IPOs, 2 IEOs, 1 hectocorn, 2 decacorns, and 4 unicorns.
More information: appworks.tw/investments

AppWorks School
Established in 2016, AppWorks School has strived to cultivate a pipeline of skilled engineers to help our community meet the technical demands of tomorrow. Quality talent has always served as the bedrock of innovation, yet shortages still remain the foremost challenge that tech companies in GSEA face today.
Within five years, AppWorks School has graduated 352 aspiring software engineers; 90% of these graduates went on to pursue successful software development careers in prominent companies such as momo, 91APP, KKBOX, WeMo Scooter, and Gogoro. AppWorks School currently provides five courses: Android, iOS, Front-End, Back-End, and Data Engineering.
More information: school.appworks.tw