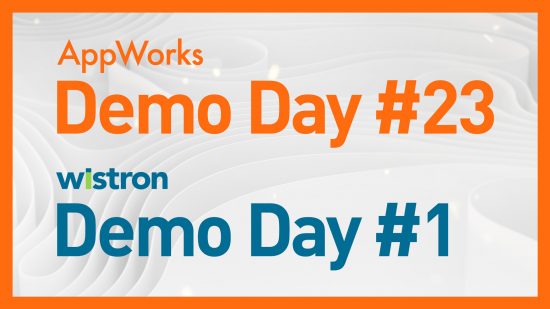 AppWorks' highly anticipated Demo Day brings the best of both AppWorks Accelerator #23 and Wistron Accelerator #1.This particular demo day will feature 21 (16 + 5) startups, with many in the NFT / blockchain space to give you a glimpse into our digital future. Among these rising stars, we'll also have international teams joining us from Singapore, the US, and Hong Kong.
This past half year, AppWorks Accelerator recruited 34 teams across AW#23, of which 8 are focusing on NFTs specifically, while 5 teams are focusing on DeFi / other blockchain solutions, 11 teams on Southeast Asia, and 14 teams on AI/IoT. It is one of the largest and most diverse batches to-date, with 66 founders in total who span across 16 different nationalities. Over 20% of them are women and 45% of the founders are serial entrepreneurs.
We're also pleased to officially unveil the first batch of Wistron Accelerator. Over the past 6 months, AppWorks has been working with Wistron, one of the world's leading ICT manufacturers, to identify and cultivate startups that can help the organization charter new avenues of growth over the next decade, whether that's through technology partnerships or PoCs.
You can find a brief introduction to each pitching team and founder below:
AppWorks Accelerator #23
1. Numbers
A decentralised photo network for creating community, value, and trust in digital media
Sherry Chung | [email protected] | numbersprotocol.io
2. DeFITs
Institutional-grade investment strategies-as-a-service & licensed crypto hedge funds
Vins Lai | [email protected] | defits.capital
3. ROJU
Jump rope fitness app
Pak Cheung | [email protected] | roju.app
4. Partipost
Crowd influencer marketing and commerce platform
Tony Jen | [email protected] | partipost.com
5. Nuli
Asian female fitness app
Candice Wang | [email protected] | nuli.app
6. GranDen
New mateverse social gaming app
Dochin Lai | [email protected] | granden.rocks / parazen.world
7. DimOrder
Point-of-Sale, eCommerce, delivery, financing, supply platform for restaurant
Ben Wong | [email protected] | dimorder.com
8. Hooky Finance
One-click DeFi and crypto debit card
Reno Duh | [email protected] | hooky.fi
9. Voutyque
Immersive online marketplace platform for premium brands
Michael Liang | [email protected] | voutyque.com
10. Foptics
Technology enabled D2C eyewear brand
Raynald Zhang | [email protected] | foptics.club
11. Cardbo
An AI-driven digital payment management tool
Ryan Hu | [email protected] | LINE ID: @cardbo
12. Toko
AI tutor for English speaking
Jennifer Liu | [email protected] | tokotutor.com
13. Gather Stars
AI enhanced business communication
Jim Idle | [email protected] | gatherstars.com
14. Dress As
Pinterest for fashion
Howard Chan | [email protected] | dress-as.com
15. AnyoneLab
A SaaS service empowering Asian creators to become entrepreneur
Kate Tiao | [email protected] | anyonelab.com
16. ĒSEN
One-stop family medicine platform for social elites
Wilson Tsou | [email protected] | esenmedical.com
Wistron Accelerator #1
1. AuthMe
AI-driven anti-fraud identity solution
Andy Lee | [email protected] | authme.com
2. BeeInventor Limited
IoT solutions for Smart Construction
Harry Chan | [email protected] | beeinventor.com
3. BSOS Tech
Liquidize Real-World Assets with Blockchain
Daniel Huang | [email protected] | bsos.tech
4. Poseidon Network
Hybrid Storage Cloud
Light Lin | [email protected] | poseidon.network
5. 3drens
3drens aims to provide smart mobility solutions with our vehicle intelligence platform
Oeo Yu | [email protected] | 3drens.com
If you are an investor or corporate representative and need more detailed information about the teams or want to connect with AppWorks Accelerator #23 or Wistron Accelerator #1 founders, please email us at [email protected].
【If you are a founder working on a startup in SEA, or working with AI, Blockchain, and NFT, apply to AppWorks Accelerator. to join the leading founder community in Greater Southeast Asia.】