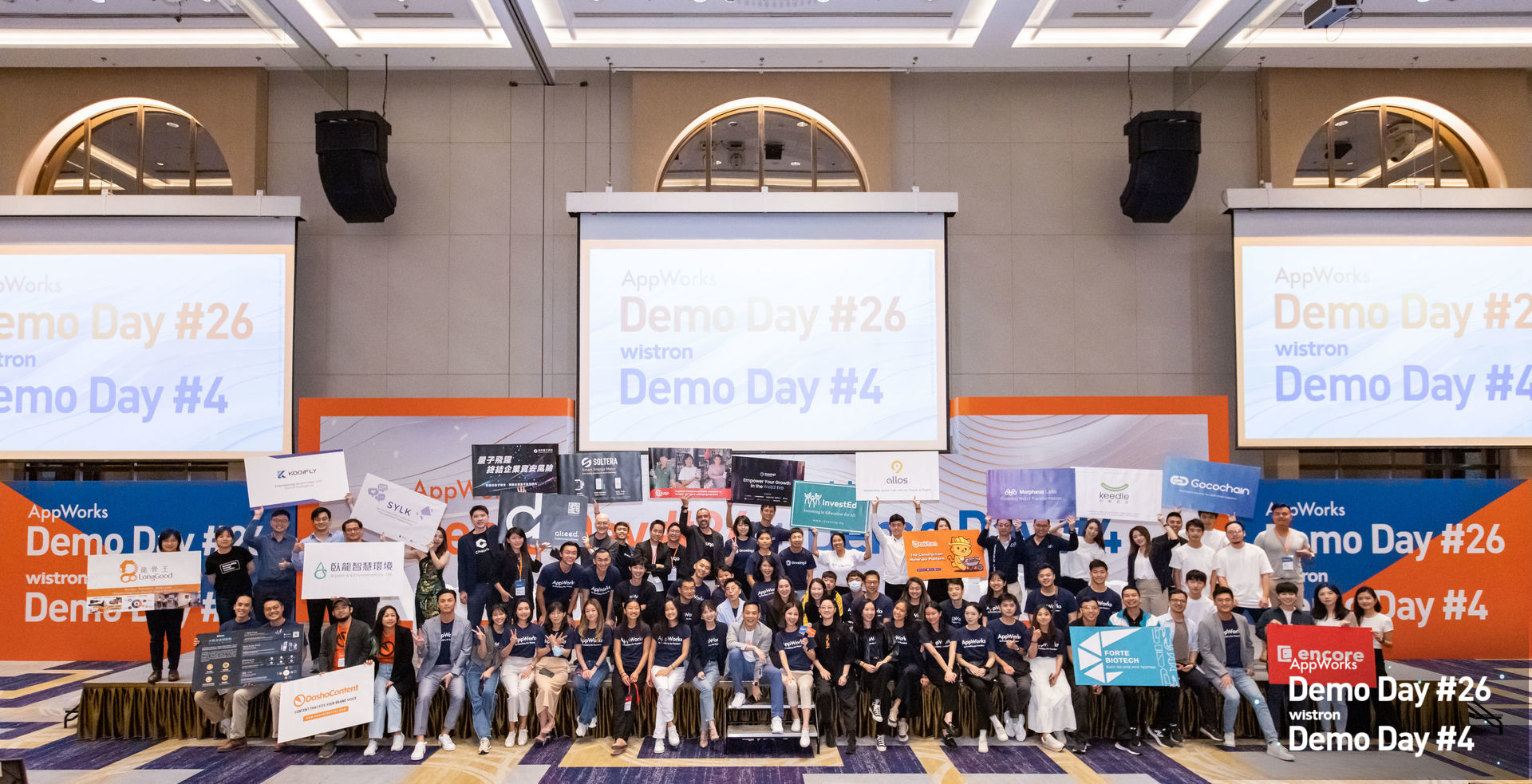 AppWorks Accelerator today held its 26th demo day, unveiling 14 startups targeting Southeast Asia markets and innovative web3 models. The event was held in tandem with Wistron Demo Day #4, which featured five startups in the AI and IoT spaces.
AppWorks Accelerator #26 (AW#26) demo day featured a total of 14 teams on stage, with 10 from Southeast Asia, reflecting AppWorks commitment to the region. As a batch, AW#26 founders hail from 15 different countries, including Taiwan, the Philippines, Indonesia, Vietnam, Singapore, Hong Kong, and Australia—with 37% of which being serial entrepreneurs. The batch included companies innovating in the fields of AI, education, healthcare, IoT, logistics, and web3, among others.
Of particular note, the majority of AW#26 startups focus on B2B models. This includes Vietnam-based Quqo, a digital supply chain solution developer for SMEs and mom-and-pop shops; and Tokban, a marketplace for construction materials in Indonesia connecting local hardware stores with suppliers, which achieved US$5 million in revenue in 2022. In the web3 space, Growing3 has developed on-chain digital marketing solutions that reduce customer acquisition costs by 79% and improve the conversion rate by 376%; and Morpheus Labs, which has created an open platform that helps businesses integrate web3 tools through cross-chain low-code solutions, acting as the official partner of well-known cloud companies throughout the APAC region.
For 2023, the global economy has demonstrated durability, as the world has largely adjusted to sudden and elevated higher interest rates and an end to easy money while staving off the threat of recession. The OECD has raised estimates for world economic growth to +2.7%, reflecting a positive outlook for investment and growth. Under this context, AppWorks sees its A.B.S. (AI, Blockchain, Southeast Asia) strategy as uniquely suited to capture opportunities in this macro environment. During this cycle, AppWorks has strengthened its Beacon Funds strategy, partnering with local venture capital firms to tap into emerging opportunities in Southeast Asia and create synergies between the region and Taiwan.
"The bullwhip effect stemming from sudden and elevated rate hikes is only just now hitting private markets, impacting founders and investors alike across Greater Southeast Asia. Startup and technology hotspots like Singapore, Indonesia, and Taiwan have experienced a material pullback in investment activity, whereas markets like Vietnam and the Philippines exhibited some degree of insulation, reflecting the sheer nascency of these ecosystems. We're now seeing a complete reset on how startups are viewed and valued, with investors displaying a renewed focus on profitability, margins, and overall business fundamentals," said Jun Wakabayashi, Principal of Beacon Funds, AppWorks. "We believe this shifting paradigm will not only help existing founders clean house and recalibrate their business models, but also forge a new generation of bold and ambitious entrepreneurs looking to tackle the plethora of pain points emerging as the rising tide of free-flowing capital recedes. There is never a better time to be a founder than now."

Jun Wakabayashi, Principal of Beacon Funds, AppWorks
AW#26 demo day featured the following companies:
In partnership with AppWorks, Wistron Accelerator has been running since 2021 and has featured 24 teams so far, focusing on companies in AI, cloud, healthcare, information security, IoT, and other cutting-edge sectors. Wistron Accelerator allows startups to conduct Proof of Concepts within real-world scenarios in Wistron Group and together explore avenues of growth over the next decade.
Wistron Demo Day #4 featured the following companies:
"Entrepreneurship is a long and unique journey of learning by doing and often from failures. What may appear as a miraculous overnight success is often the result of 5-10 years in the relentless making. Today's tech giants all have endured arduous times in the past, with the support of investors and partners playing a big part in their path to victory. With our 26th batch, AppWorks Accelerator has brought yet another carefully selected group of future star founders to the broader venture community, and we're proud to continue to play a part in nurturing these changemakers over the next 10 years," said Jamie Lin, Chairman, AppWorks.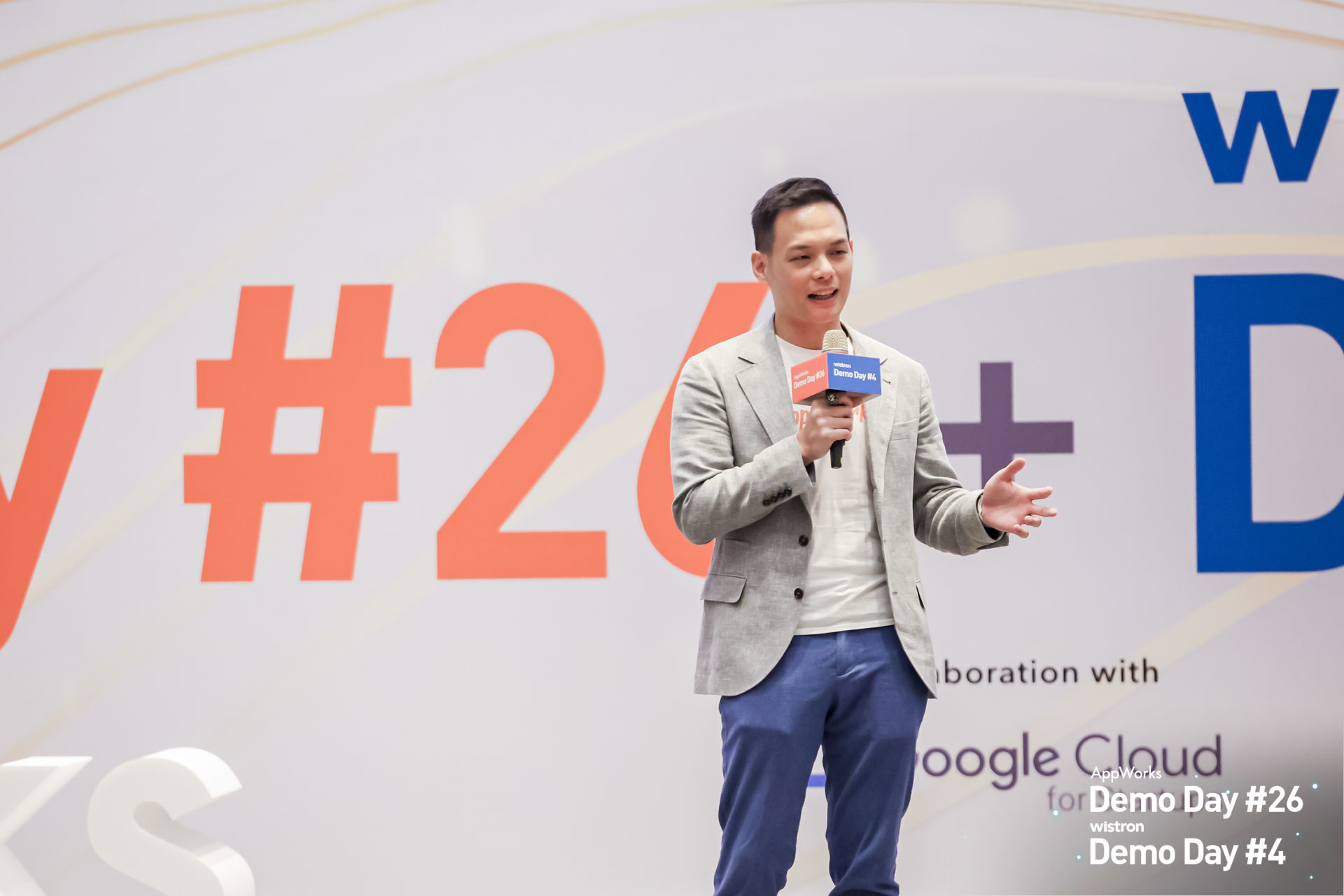 Jamie Lin, Chairman, AppWorks
With the addition of AW#26, there are now a total of 490 active startups and 1,589 founders in the AppWorks Ecosystem. These companies collectively generate US$15.3 billion in revenue, employ 24,000 individuals, and have raised US$5.7 billion with an aggregate valuation reaching US$31.8 billion.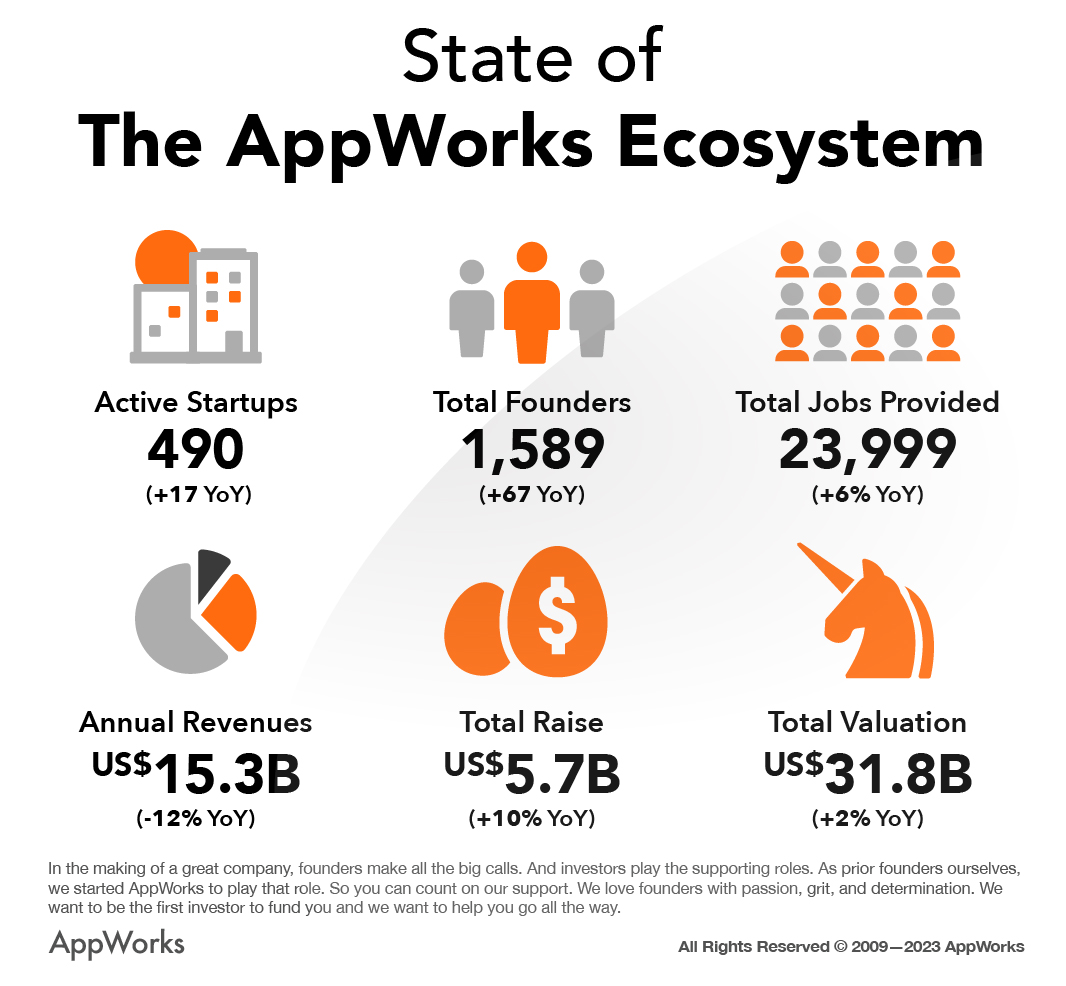 AppWorks #27 is currently recruiting for its cohort, with applications closing on July 10, and will launch in September 2023. AW#27 will offer founders intensive exchange and learning activities in Taiwan and Southeast Asia to learn from entrepreneurs throughout the region. These include exchanges with fellow founders, office hours with mentors and AppWorks partners, demo days with investors from Taiwan and Southeast Asia, and customized market exploration itineraries. The batch will help entrepreneurs connect with AppWorks' founder and alumni network to support and learn from each other.
AppWorks
Founded in 2009, AppWorks is a leading startup community and venture capital firm built by founders, for founders. We are committed to backing the next generation of entrepreneurs in Greater Southeast Asia (ASEAN+Taiwan) and helping them facilitate the region's transition into the digital age. Just as how mobile and the internet completely transformed the status quo, we believe the current era of technology is currently being defined by major three paradigm shifts: AI, Blockchain, and Southeast Asia (ABS). 
As such, whether it's mentorship, investment, or talent, AppWorks has established a one-stop-shop for ambitious founders willing to bet against the consensus and drive a change they want to see in the world. We help startups build disruptive businesses from even an inkling of an idea into world-class enterprises through our three primary lines of service: Accelerator, Funds, and School.
More information: appworks.tw
AppWorks Accelerator
AppWorks Accelerator is a launchpad for bold and ambitious entrepreneurs targeting Greater Southeast Asia (GSEA). Every six months, we take in startups with strong potential, equipping founders spanning all walks of life with the necessary resources, mentorship, and guidance to get their ventures off the ground.
There are now a total of 490 active startups and 1,589 founders in the AppWorks ecosystem. Collectively, all companies in the ecosystem generate annual revenue totaling US$15.3 billion and have created 23,999 jobs (+6% YoY). Altogether, the ecosystem raised a total of US$5.7 billion (+10% YoY), with an aggregate valuation reaching US$31.8 billion (+2% YoY). The AppWorks web3 ecosystem now has 120 startups and 279 founders. AppWorks web3 companies generated revenue totaling US$1.6 billion, and raised US$990 million (+8% YoY), with an aggregate valuation of US$13.1 billion (+5% YoY).
More information: appworks.tw/accelerator


AppWorks Funds
AppWorks manages three venture capital funds totaling US$212 million, collaborating with investors who share our vision, including leading enterprises in sectors spanning technology manufacturing, finance, and media and telecom. We invest in startups ranging from Seed Round to Series C and fund around 20 to 30 deals a year, now with 100 names in our portfolio, including leading startups in several verticals such as Lalamove, Dapper Labs/Flow, Animoca Brands, 91APP, Figment, Carousell, ShopBack, Tiki, 17LIVE, and KKday, while having produced five IPOs (Uber, GameSparcs, Kuobrothers, Pcone, 91APP), four IEOs, one hectocorn, two decacorns, and five unicorns.
More information: appworks.tw/investments


AppWorks School
Established in 2016, AppWorks School has strived to cultivate a pipeline of skilled engineers to help our community meet the technical demands of tomorrow. Quality talent has always served as the bedrock of innovation, yet shortages still remain the foremost challenge that tech companies in GSEA face today.
AppWorks School has trained over 800 aspiring software engineers; 90% of these graduates went on to pursue successful software development careers in prominent companies such as Taiwan Mobile, momo, 91APP, KKBOX, WeMo Scooter, and Gogoro. AppWorks School currently provides Coding Bootcamp, Campus Program, Upskill Program, and Corporate Training Program with courses in several domains: Android, iOS, Front-End, Back-End, Data Engineering, Automation Test, System Design, and Blockchain.
More information: school.appworks.tw
AppWorks Event Coordinator: 
Michelle Lin | +886-928-038-997 | [email protected]
For Media Inquiries:
John | +1-614-441-5191 | [email protected]