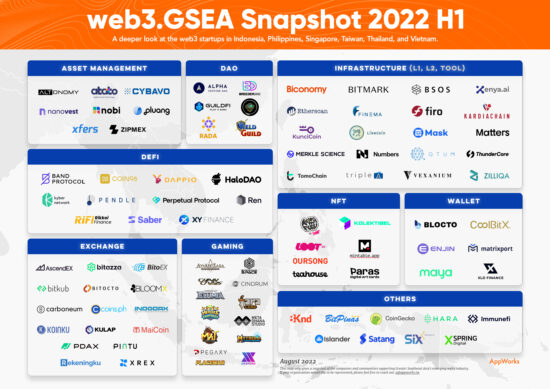 Jack An, Analyst (安良方 / 分析師)

Jack is an Analyst covering AppWorks Web3 Arm. Before joining the team, he was a co-founder and early team member at two InsurTech startups, where he developed a passion in user experience and product development. Previous to his startup journey he worked as a commercial property underwriter at Chubb Insurance in New Zealand. Jack graduated with a Bachelor of Music from Waikato University where he studied classical piano. He loves to cook, read and is a practicing stoic.
Looking back at the first half of 2022, it is understandable that many investors turned bearish— with the global economy entering a cycle of raising interest rates, capital markets shedding market cap, and currencies around the world getting hit by the one-two punch of inflation and depreciation against a strong US Dollar. Despite these macro uncertainties, founders and developers have not succumbed to such sentiments, demonstrating strong determination and resilience to continue building and reiterating. Thanks to their efforts, the global web3 ecosystem continues to flourish with new ideas and business models. Looking at the bigger picture, this winter will pass. Web3 remains one of the biggest paradigm shifts over the next 10 to 20 years, and Greater Southeast Asia (ASEAN + Taiwan) will play a critical role as one of the world's most exciting and dynamic markets. More than ever, now is the best time for founders to take the entrepreneurial plunge.
We are optimistic about the long-term outlook for web3, and believe that now is the best time to start a web3 project, based on our experience transcending market cycles. Since AppWorks was founded in 2009, and launching our semi-annual AppWorks Accelerator in 2010, we have built a startup ecosystem and founder community home to 457 active startups and 1,448 entrepreneurs. In 2018, AppWorks Accelerator entered the web3 arena, and launched AppWorks Fund III the same year to invest in web3 startups in Greater Southeast Asia and beyond. At present, 93 active startups, or more than 20% of the AppWorks ecosystem are in web3, launched by 181 founders pushing things forward in this pioneering space.
Within AppWorks' web3 ecosystem, there are many exciting projects created during the last bear market cycle in 2018 and 2019. For example, Dapper Labs, which was founded in 2018, successively launched the Flow blockchain and built NBA Top Shot to become one of the most successful NFT developers, ushering in 2021's NFT Summer. Despite the prevailing headwinds in the first half of this year, Flow's trading volume and active accounts hit new all-time highs in June. Meanwhile, Animoca Brands acquired The Sandbox in 2018 and developed a blockchain version, making The Sandbox a trailblazer in the blockchain game arena.
Users and Founders Continue to Flock to Web3
In contrast with the last bear market, interest in web3 has continued to grow unabated—both in terms of user adoption and innovation. Whether it be DeFi, NFTs or DAOs, we continue to see founders building projects that adhere to the core ethos of web3—decentralization, permissionless, trustlessness, and transparency—and has entered the mainstream consciousness of society. According to statistics by Messari, DeFi continues to be the largest application in crypto. In April 2022, the market cap of DeFi (excluding stablecoins) stood at roughly US$70 billion, accounting for 10% of Layer 1 tokens; while in Q1 2022, global NFT secondary sales exceeded US$10 billion for the first time; and assets locked up in DAO treasuries reached US$11 billion in April of this year, of which 60% were locked up in the top 15 DAOs.
Compared to other markets, Southeast Asia offers fertile ground for the development of Web3 projects. Southeast Asia is home to nearly 700 million people, of which 440 million are active online users, and an additional 60 million users have logged on since the beginning of the pandemic. Southeast Asia is also home to the world's youngest, most dynamic, and most open-minded digital native population. The numbers say it all, with Southeast Asia boasting a median age of 30 years old, a per capita GDP growth rate four-times the global average, and a digital economy estimated to reach US$1 trillion by 2030.
Another reason to be optimistic about the development of web3 in Southeast Asia is the potential for digital leapfrogging. Out of Southeast Asia's 700 million people, more than 70% of them remain unbanked or underbanked—with limited access to financial services. This provides optimal conditions for the mainstream adoption of DeFi, cryptocurrency investment, and crypto asset management. In providing financial services to the public, users will bypass traditional banks and go directly to web3.
Web3 development in Southeast Asia has already demonstrated remarkable growth potential, including the development of many consumer-oriented applications in web3. According to the Chainalysis 2021 Global Crypto Adoption Index report, Vietnam, Thailand, and the Philippines are ranked 1st, 12th, and 15th in the world in terms of cryptocurrency adoption. Meanwhile, in terms of the proportion of crypto holders to total population, according to statistics by TripleA, crypto has reached a penetration rate of 20.27% in Vietnam, 6.47% in Thailand, 6.13% in the Philippines, 4.92% in Singapore, and 4.45% in Indonesia, ranking 1st, 12th, 14th, 18th and 20th in the world respectively. In terms of the development of NFT applications, Southeast Asia has also taken a leading position. According to statistics by Statista, Thailand is home to 5.65 million NFT holders, with Vietnam at 2.19 million, and Indonesia at 1.25 million, ranking 1st, 5th, and 8th in the world respectively.
These favorable conditions have provided a boost to Southeast Asia's nascent web3 startup ecosystem, attracting a steady inflow of international funds and driving the active deployment of Web3 giants across the region. According to a report by White Star Capital, there are currently 627 web3 startups headquartered in Southeast Asia. During the first half of 2022, Southeast Asian web3 startups have attracted US$979 million in investment allocations, with this year's investment total on pace to surpass 2021's US$1.45 billion.
Despite a tepid fundraising environment, the first half of 2022 saw a number of notable web3 financings throughout the region. For example, Indonesia's leading cryptocurrency exchange, Pintu, completed a US$113 million Series B round of financing, with total app downloads exceeding four million; Indonesia's Pluang, which offers cryptocurrency investment services, added an additional US$55 million their Series B, bringing the total round size to US$110 million, and now boasting 3.5 million users. Meanwhile, Vietnam's Axie Infinity became the first NFT series with sales exceeding US$4 billion; BreederDAO, an NFT asset production platform in the Philippines, closed US$10 million in Series A financing, led by a16z and Delphi Digital, which also marked a16z's second web3 investment in the Philippines after Yield Guild Games (YGG) in August 2021; and Philippines cryptocurrency exchange PDAX completed a US$50 million Series B financing. Global players have also zeroed in on Greater Southeast Asia—Circle, the issuer of stablecoin USDC, acquired CYBAVO, a Taiwanese company specializing in cryptocurrency private key management security solutions; while Binance Labs announced a strategic investment in Vietnam's DeFi platform Coin98.
As the high tide of the capital market receded, tourists watching the excitement from the shore and competitors wading without bathing suits retreated from the waters. For founders who really want to make a dent in the universe, the current market is in fact the best time to start a web3 project. American writer Mark Twain famously said: "History doesn't repeat itself, but it often rhymes." In the history of technological development, many great companies were born or came into prominence during bear cycles, for example, Amazon and Google after the .com bubble burst in 2000; Facebook after the 2008 financial crisis; and Tesla after the 2018 debt crisis. For web3 founders, a bear cycle is the BUIDL cycle. When the next wave of mass adoption comes, Greater Southeast Asia will be a must-win market for determined web3 founders.
Appendix: Notable Web3 Founders in Greater Southeast Asia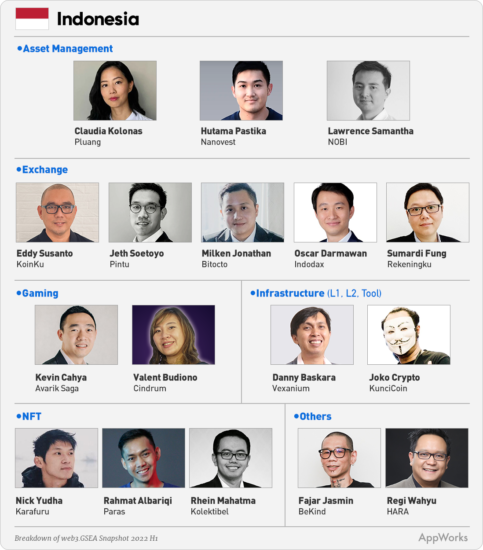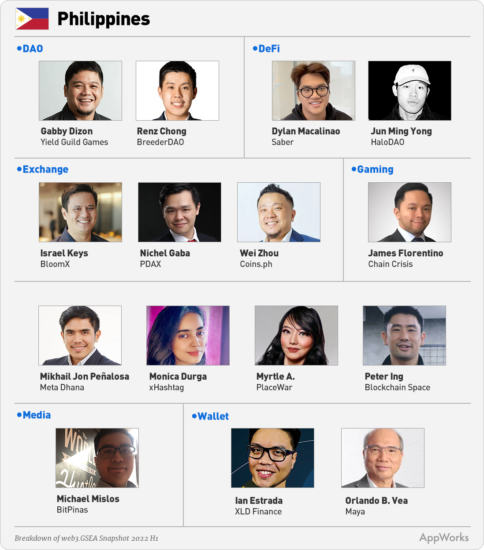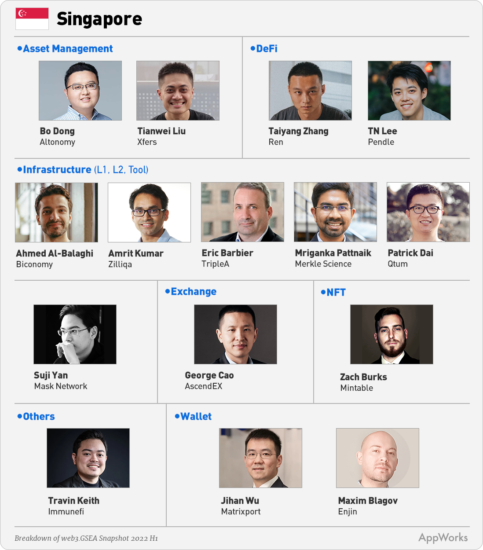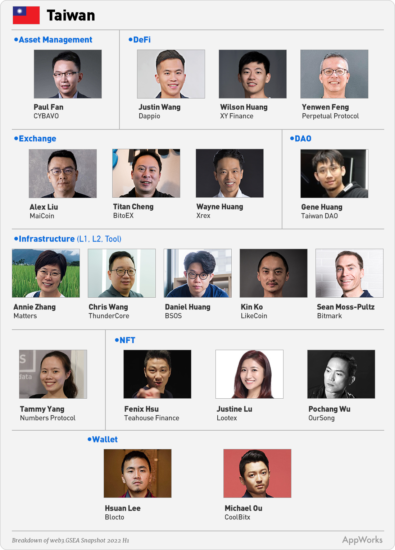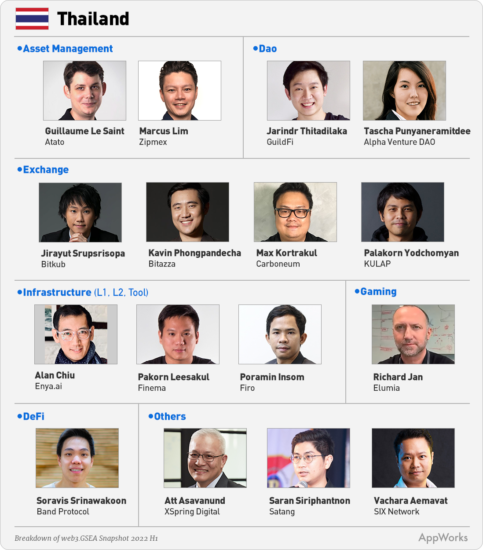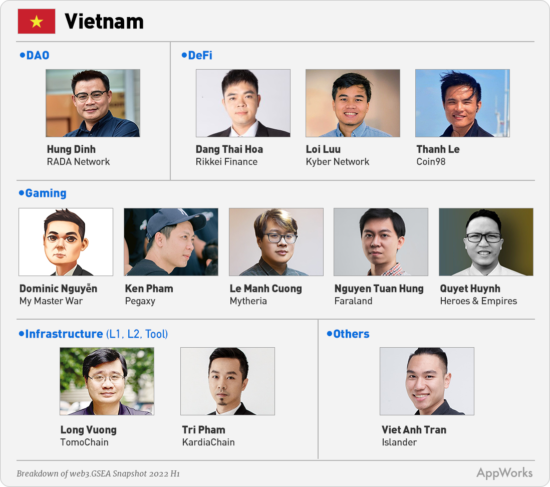 web3.GSEA Snapshot 22H1 is brought to you by AppWorks. For any comments for the author, please contact us at [email protected]
If you're a founder working on web3 / DAO, AI / IoT, or Southeast Asia, you've come to the right place! Applications for AppWorks Accelerator