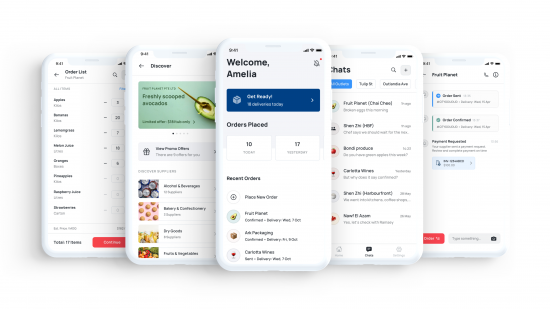 Editor's note: We are excited to officially announce AppWorks' investment into Tinvio's $12M series A round. Looking forward the cooperation with Tinvio's outstanding team in the future. The press release from Tinvio as below:
・The capital will be primarily used to expand the team's technology and growth functions, as the company doubles down on B2B real-time payments, credit financing, and other trade services
・Series A round led by AppWorks and backed by MUFG Bank with participation from existing investors Sequoia Capital's Surge, Global Founders Capital, Partech Partners
・Headquartered in Singapore and operating across Asia, Tinvio is a B2B transactions platform that helps merchants and suppliers manage orders, invoices, and payments via a chat-led interface
Tinvio, a B2B transactions platform for merchants and suppliers in Asia, has raised US$12 million in Series A funding led by AppWorks Ventures and backed by strategic investor MUFG Innovation Partners (MUIP), with participation from all existing investors Sequoia Capital India's Surge, Global Founders Capital, and Partech Partners. The Series A round brings the company's total raise so far to US$18.5 million. The fresh capital will be used to accelerate product development on its financial technology stack, and fire up growth engines to scale the platform across new segments and markets.
"In Southeast Asia, a lot of startups are going after the 70+ million SMBs across the region. Tinvio's focus on modernizing B2B trade with a seamless user experience has seen it onboard and digitalize thousands of merchant and supplier teams without disrupting their daily routines or procurement workflows. Despite COVID-19, we still see great growth momentum, led by increasing network effects, leaving Tinvio well positioned to dominate this category." — Jessica Liu, Partner at AppWorks Ventures
Over 5,000 businesses have already been activated in Singapore, Indonesia, Thailand, and other Asian markets, a 4x growth since the seed round. Despite the recurring COVID-19 operational restrictions on the company's majority F&B customer base, retention rates have trended exceptionally high and transaction volumes have also quadrupled over the past year.
"We have an ambitious roadmap that reimagines how SMBs transact — how quickly they make or collect payments, how easily they get financed based on a multitude of data points, how effectively they manage their cash cycles to not just survive, but grow faster. B2B trade digitization is ridiculously challenging, but everything we build for these businesses, from our proprietary checkout to real-time fund flows to risk assessment, we're breaking new ground in user experience and engineering." — Ajay, Founder / CEO at Tinvio
Tinvio helps SMBs manage orders with their suppliers through a chat-led interface. Today, these businesses in F&B and other traditional supply chains still process orders over WhatsApp or phone calls, while payments remain outdated – cash, paper cheques, or manual bank transfers. This makes it tedious for the merchants to keep track of orders, invoices, and payables; while suppliers burn a frustrating amount of time on collections, reconciliations, and cash-cycle management. This also makes credit scoring and financing inaccessible, in turn restraining these SMBs from operating more efficiently.
Tinvio's focus to date has been building a user experience that makes it incredibly easy for merchants and suppliers to transact. The chat-led interface enables SMBs to exchange messages, orders, invoices, and payments in just a few taps. This year, the company also made first strides into modernizing traditionally offline trade payments, by bolting on digital payments collection and reconciliation solutions. For example, merchants receive in-app payment requests and can select one of several local payment methods at checkout, while suppliers can efficiently track all orders and payables in a single dashboard.
Tinvio localizes the payments solutions for its operating markets by building modularized integrations with regional payment gateways. This allows the company to focus on user experience, and scale the payments stack beyond borders in a capital-light model. MUIP's strategic investment in this round also unlocks new opportunities to offer transaction financing, credit card issuing, and other merchant banking solutions through direct partnerships or special purpose vehicles with subsidiary banks.
Tinvio was founded in Singapore in July 2019 by Ajay Gopal, and has expanded to a distributed team of over 60 builders and enablers. Ajay founded Tinvio on the heels of his experience as a fintech investment banker at Credit Suisse in London, where he led IPO and M&A transactions for payment technology companies in Europe. Before that, he held product ownership in Loop Commerce, a PayPal-backed startup in Silicon Valley. He had also co-founded a startup that was acqui-hired while in university."The first time I ventured into payments was at Loop, where I observed how a brilliant user experience built on Braintree's payments stack created and dominated a new category in consumer commerce. As a banker, when I covered Mastercard and Visa, I quickly realized there was a shifting focus from consumer cards to B2B real-time payments. I remember being dialed into earnings calls, frantically jotting key points on this massive market opportunity being completely underpenetrated (despite being worth trillions of dollars globally), and questioning how I could make a solid impact in this category. Fast forward to Tinvio, we're building user experience that makes it incredibly easy for merchants and suppliers in Asia to transact." — Ajay, Founder / CEO at Tinvio
About Tinvio
Tinvio is a B2B transactions platform that helps merchants manage orders, invoices, and payments with suppliers via a chat-led interface. Tinvio is built around the idea that every merchant and supplier should be able to work smarter together. Through clean design, agile engineering, and genuine support, we unlock capabilities that make them more productive and profitable.
【If you are a founder working on a startup in SEA, or working with AI, Blockchain, and NFT, apply to AppWorks Accelerator to join the largest founder community in Greater Southeast Asia.】