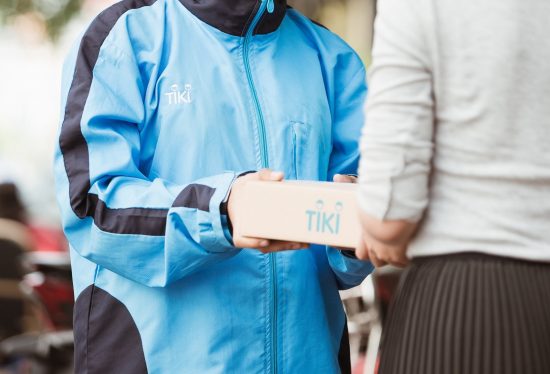 Editor's note: Congratulations Tiki on closing their latest round of financing, we are thrilled to back Tiki. Looking forward to collaborating with the team in the future. The press release from Tiki as below:
Tiki, the all-in-one e-commerce and supply chain has announced the completion of $258 million investment into Vietnam with its 5th funding round.
Led by AIA Company Limited, this investment also had the participation of a global, diversified set of experienced investors in e-commerce and digital economies such as Mirae Asset-Naver Asia Growth Fund, Taiwan Mobile, AppWorks, Yuanta Fund, and STIC Investments – one of the largest investment firms in South Korea, also Tiki's current shareholder.
Despite global market uncertainties, especially in the context of the Covid-19 pandemic in the last 2 years, Tiki has consistently achieved double-digit growth. In Q3 2021, significant sales increases were recognized within most of the marketplace's products and services. The fresh grocery delivery service TikiNGON set a new record with an exceptional year-over-year growth of 2,000%. TikiNOW 2H, the super fast delivery subscription service, tripled its active user base. TikiPRO, the scheduled delivery, and installation service also enjoyed a 150% increase in gross merchandise volume y.o.y.
During the pandemic, users appreciate Tiki's continuous effort to double its selection and triple its product categories, particularly in TikiNGON's menu, a timely response to customers' urgent need of fresh/grocery delivery. For merchants and businesses, the e-commerce platform also ramped up its TikiNOW express delivery offerings, logistics capabilities, a competitive listing fee as well as other value-added services. Tiki is also known as the pioneer in adopting innovations like automation and robotics, which helped double its fulfillment capabilities.
Tiki dedicates the $258 million investment to logistics and "Make in Vietnam" technologies – which are two cornerstones in its value propositions as a leading digital platform. The investment not only emphasizes Tiki's vision of being an integrated infrastructure of choice for all customer and business needs but also reaffirms the commitment of Tiki to grow Vietnam's digital economy.
On the digital services front, Tiki collaborates with AIA to develop an insurtech platform offering a wide portfolio of insurance products and financial services, aiming to help customers save significant time and effort in a 10-year comprehensive exclusive agreement. The project will be officially kicked off upon the launch of AIA's health insurance products on Tiki, tentatively by the end of this December. With this solution in place, customers will be able to consult insurance offers as well as make insurance claims directly right on the platform.
"We always have a unfazed conviction and passion about the potential and growth of Vietnam's e-commerce and digital economy. The $258 million investment dedicated only to Vietnam proves Tiki's long-term commitment to building world-class infrastructure, whether they are technologies, supply chain capabilities, talents development, and jobs creation… to turn potential into reality, hence creating sustainable values for Vietnamese users and businesses. We are humbled and greatly appreciate our investors who share the same vision, and the trust they place in Tiki's members, Vietnam market, and talents" – said Tran Ngoc Thai Son, Founder, CEO of Tiki.
"This unique and first-to-market partnership starts a new era of personal life insurance in Vietnam. Together, united by a shared vision to deliver seamless health and protection to Vietnamese families, we will focus on three distinct areas: Lifestyle benefits and innovative distribution; distinctive digital health & wellness offerings, and other financial & e-commerce propositions. We believe with Tiki's existing assets and market leadership, we can bring an accessible and enhanced customer service proposition to make a positive difference in the lives of the people of Việt Nam. We are very excited to extend AIA's Vietnam's market leadership and work together with our partner, Tiki." – said Wayne Besant, Chief Executive Officer of AIA Vietnam.
"We have a very positive outlook for Vietnam's economy, digital transformation, and e-commerce growth. In particular, as a leading local e-commerce company in Vietnam, Tiki is providing differentiated and valuable services to Vietnamese consumers. Tiki has been improving the credibility and convenience of Vietnam's e-commerce market through its high-quality products offering and fast and accurate delivery. Today, we are witnessing the rapid advancement of technology-led disruption of the consumer sector and we see Tiki as one of the companies that can lead this wave and growth in the area. Further to Tiki, Mirae Asset and Naver plan to more aggressively expand its investment in Vietnam's advanced tech companies in the future." – said Jikwang Chung, Managing Director, Mirae Asset Capital, the strategic investment arm of Mirae Asset.
"We are extremely excited to be part of Tiki's growth journey. We look forward to the partnership between Taiwan Mobile/Momo(*) and Tiki, and aim to provide the best products and services to our customers." – Tim Lee, Vice President, Taiwan Mobile.
"STIC Investment first invested in Tiki since Series C in 2018 and keeps supporting them by an additional investment each year. Tiki's customer loyalty, high-quality product, and delivery, as well as proven operational performance, gave us strong confidence for this round. We are always willing to have a long-term partnership with companies in Vietnam with the strong management team, sustainable competitive advantages, and high growth potential." – said Hongjin Kim, Managing Director, STIC Investments.
"AppWorks are proud to support Tiki on their journey going forward. Tiki has been a long-term infrastructure builder for 11 years in order to provide better service to its customers. With the rapid growth of Vietnam's eCommerce, customer satisfaction is the foundation of competitiveness. We believe Tiki will nail it with their innovation and execution." – said Jessica Liu, Partner at AppWorks.
Founded in 2010, with 11 years of establishment and development, Tiki has become the leading e-commerce Vietnamese platform with up to 4.000 employees and 20 million registered customers. Tiki ecosystem includes the e-commerce marketplace Tiki with up to 30 diverse categories, Tiki Trading – a retail subsidiary with millions of authentic products, and TikiNOW Smart Logistics – an integrated supply chain platform owning 20 Fulfillment Centers and Warehouses with a total area of nearly 80.000 m2.
With a strong commitment to delivering authentic products at competitive prices, together with fast delivery, Tiki has achieved remarkable milestones with numerous awards, including The most trusted e-commerce marketplace (Nielsen, 2019), Top 10 Best Brands in Vietnam (YouGov, 2020), and Top 1 E-commerce Brand with best customer experience (KPMG, 2020).
(*) Momo mentioned is the leading e-commerce platform in Taiwan.
About Tiki:
Tiki is a leading all-in-one commerce platform in Vietnam, including the trusted e-commerce marketplace, TikiNOW Smart Logistics – an integrated supply chain platform, and Tiki Trading – a retail subsidiary.
Tiki stands for "Tim Kiem" (Searching) and "Tiet Kiem" (Saving), which is also the vision and mission for the business: becoming a destination where customers can search for anything they want, save their time and budget.
【If you are a founder working on a startup in SEA, or working with AI, Blockchain, and NFT, apply to AppWorks Accelerator to join the largest founder community in Greater Southeast Asia.】