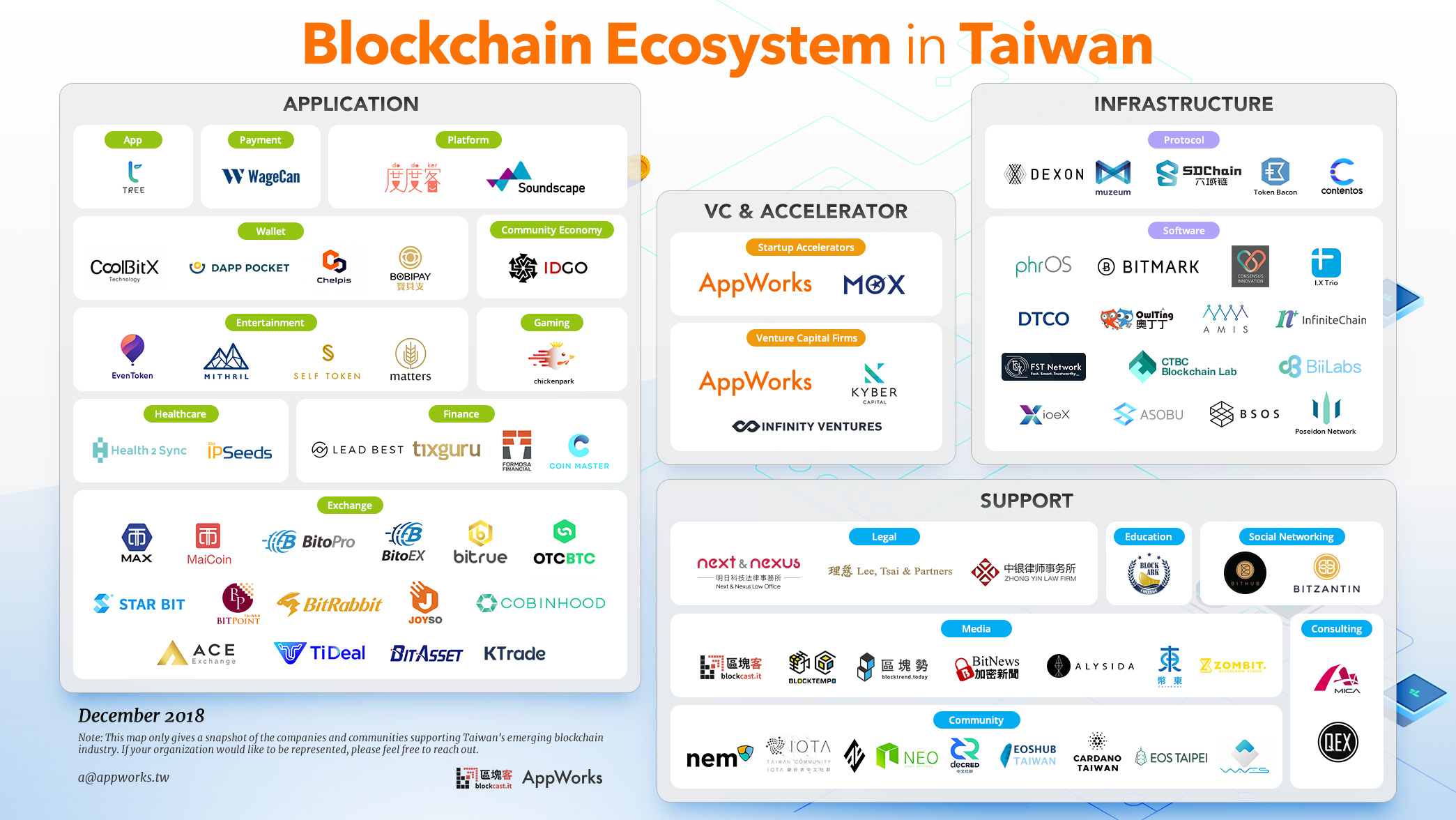 This map was produced by AppWorks in conjunction with local blockchain media Blockcast. Apart from conducting primary research, we used information from our own respective networks, communities, and investment partners, and pored through local and international news. The map will be updated every quarter to adequately capture the sheer pace at which the industry is evolving.
Jun Wakabayashi, Analyst (若林純 / 分析師)

Jun is an Analyst covering both AppWorks Accelerator and Greater Southeast Asia. Born and bred in America, Jun brings a wealth of international experience to AppWorks. He spent the last several years before joining AppWorks working for Focus Reports, where he conducted sector-based market research and interviewed high-level government leaders and industry executives across the globe. He's now lived in 7 countries outside US and Taiwan, while traveling to upwards of 50 for leisure, collectively highlighting his unique propensity for cross-cultural immersion and international business. Jun received his Bachelors in Finance from New York University's Stern School of Business.
Sprouting from a few stray meetups and small projects, Taiwan's blockchain ecosystem has grown tremendously in the past few years. The activity in the space can be traced back to as far as 2013 when MaiCoin, one of the island's first digital asset exchanges supporting fiat-to-crypto trading, was established.
It was also around the same time that Taipei Bitcoin Meetup, arguably the earliest congregation of blockchain evangelists and crypto enthusiasts in Taiwan, began. And just for reference, Bitcoin's price hadn't even crossed US$250 at this point.
The Taipei Ethereum Meetup wouldn't come into existence until two years later on October 13, 2015 – just a few months after Ethereum's mainnet went live. Fast forward to today, the group now boasts of 1,935 members, along with representations from major blockchain foundations like EOS, NEM, Iota, Cardano, and Neo.
Overall, an end-to-end ecosystem that extends far beyond just blockchain fanatics and hardcore developers has now emerged in Taiwan.
Block by block
We've witnessed a swell of companies and decentralized organizations focusing not only on a whole suite of different applications from healthcare to gaming and entertainment, but also on a spectrum of underlying infrastructure to support them.
Projects like Muzeum and Contentos are tailoring their protocols to the needs of specific segments, in this case creatives and content creators, respectively. Dexon, which is initiated by the team behind crypto exchange Cobinhood, is looking to create a new home for decentralized application (DApp) makers through the allure of its permissionless, infinitely scalable distributed ledger technology
In line with global trends, several local and international crypto exchanges have emerged to serve the growing trading volumes of digital currencies. Homegrown exchanges such as BitoEX, Joyso, and MaiCoin are leading the charge on the domestic front, offering their unique value proposition to woo traders and users alike. For example, BitoEX, the creator of crypto trading platform BitoPro, has partnered over 3,000 convenience stores in Taiwan, allowing customers to seamlessly purchase crypto with fiat currency.
While many were fighting tooth and nail to get ahead in the gold rush, some innovators have opted to supply the picks and shovels instead to fuel the race. Established in 2014, CoolBitX created a credit card-sized hardware wallet for storing cryptocurrencies. It connects to any iOS and Android smartphones via bluetooth. To date, CoolBitX has sold 100,000 wallets worldwide.
Formosa Financial, on the other hand, has created a one-stop online shop to manage digital assets. It aims to help bridge the gap between the many financial products offered by traditional banks and the ones currently available in the crypto space.
Pillars for funding, legal advisory, community building, education, and, of course, the media have also propped up to support the industry's evolution. Accelerators like MOX and our very own AppWorks have constructed programs to specifically cultivate the development of blockchain founders and create a supportive environment to fast-track growth.
Seventy percent of the organizations on the map were actually established in the past two years. Unsurprisingly, we saw the biggest growth – 271 percent – in the number of blockchain-focused companies in 2017, where year-end crypto prices reached astronomical heights.
The hysteria has since dissipated, and the majority of cryptocurrencies have now dropped 90 percent below their all-time highs, leaving in its wake a cold, brittle winter that will likely see a dearth of new projects starting in the next few years – at least compared to the feeding frenzy that we saw in 2017.
History in the making
Despite the slump, the core building blocks of Taiwan's blockchain industry are holding fast.
Interest and enthusiasm in the underlying technology are still strong among the country's developer community and overall talent pool. Popular local job website 104 has dozens of domestic and international enterprises collectively posting nearly 300 open blockchain-related roles, showing a huge growth compared to the few openings available in early 2017.
Moreover, the atmosphere at the top remains cautious but optimistic. The Financial Supervisory Commission (FSC) is set to release definitive guidelines for initial coin offerings/security token offerings by mid-2019. It's likely to inherit a similar stance as the Securities and Exchange Commission in the US to treat most, if not all, ICOs as security offerings.
Although regulators maintain a hardened stance on fraud prevention and anti-money laundering measures, the FSC has stated that it has "no intention of curbing the creativity and productivity associated with cryptocurrencies if they are not used as securities."
Blockchain might be starting to slip out of mainstream fashion, but that's not necessarily a bad thing. With distractions like hype and price out of the way, developers can now get some serious work done under the hood.
There's still a lot of progress to be made surrounding issues like privacy, security, scaling, interoperability, and usability. If these concerns are left unsolved, they will only impede the technology's widespread commercial implementation.
Looking ahead in 2019
With the crypto markets finally cooling down, we don't anticipate much activity in the space in 2019 – at least as it relates to the birth of new projects.
Undercapitalized startups and those that missed the ICO boom will likely struggle to make ends meet. And those left standing will be battening down the hatches, cutting off excess fat, and increasingly turning back towards conventional financing channels (i.e. VCs/banks) to ride out the bear market.
Taiwan's investor landscape has responded accordingly, with VC firms such as IVP, CDIB Capital, and WI Harper already started investing in blockchain/crypto startups.
In light of these market conditions, we will see a lot of international and domestic blockchain/crypto startups across the value chain displaying a newfound interest in Taiwan as a source of affordable but no less qualified talent. Where Taiwan has been traditionally overlooked for its economic brawn, it will now make up for with brains – cost-efficient brains, to be exact.
The island's technological sophistication and favorable corresponding operating costs will also serve to optimize companies' bottom lines, especially those working at the infrastructure level like mining and protocol development.
Although we're unlikely to see many – if any – commercial implementations this year, DApp development will continue at a moderately healthy pace, particularly as Taiwanese decision-makers begin to solidify their stance in blockchain and release definitive regulatory guidance on ICO/STOs.
Taiwan is also among only a handful of markets around the world to have created a fintech regulatory sandbox. That means blockchain/crypto startups have a much more forthcoming environment to experiment with and find market validation without the burden of potential legal consequences.
The Blockchain Ecosystem in Taiwan map was produced in conjunction with blockcast.it. Moving forward, we will be updating it every quarter to adequately capture the sheer pace at which the industry is evolving. For any questions or comments, or if you would like to have your organization included on the map, please email [email protected]
【If you're a startup currently or prospectively employing AI / Blockchain, be sure to apply AppWorks Accelerator's AI & Blockchain only batch.】