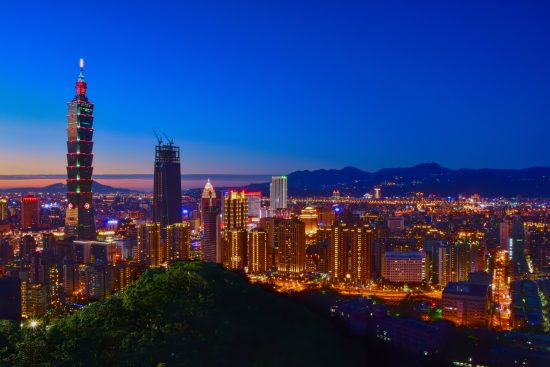 Natalie Lin, Analyst (林楓 / 分析師)

Natalie is an Analyst covering AppWorks Accelerator and Greater Southeast Asia. Before joining the team, she worked in the search engine marketing and email marketing teams at Zappos, America's leading shoes and fashion online retailer, where she primarily focused on KPI management, campaign optimization, and project management. Born in Canada and raised in the Middle East, Natalie returned to Taiwan for high school before moving to the US for college and work. She received her Bachelors of Marketing at Case Western Reserve University in Cleveland, Ohio. Outside of work she likes to read, travel, and play video games.
As a founder thinking about Taiwan, engineering talents and a sizable and well developed digital ecosystem are normally at the top of mind. But increasingly entering the mix now is Taiwan's growing AI capabilities. It is a result of both industry trends and government policies. In her inaugural speech given in May, re-elected President Tsai Ing-wen mentioned six core strategic industries for Taiwan that included an acceleration of AI and IoT while highlighting the future of digital and data.
In order for an AI ecosystem to flourish, both the government and the private sector must embrace and work to build it. In October 2019, the National Center for High-Performance Computing co-worked with Quanta Computer, ASUS, and Taiwan Mobile to build TAIWANIA 2, a supercomputer built for AI, which offers its cloud service through Taiwan Computing Cloud (TWCC). Since its commercialization, TAIWANIA 2 has driven over 300 projects from industries, academia, and research organizations. 10 million GPU computing hours have been utilized, AI training time has been reduced by 90%, and the efficiency of deep learning has been raised 498 times. The added capacity far exceeds the current computing demands of Taiwan's AI industry, seamlessly aligning with the country's national strategy.
As Taiwan gradually becomes a major AI center for the development of Greater Southeast Asia (ASEAN + Taiwan), tech companies are starting to pay attention. Microsoft has already promoted their AI Infinity program to recruit talents and set up R&D centers. In addition to covering commercial AI solutions, think tanks are being set up and Microsoft is also cooperating with National Chengchi University to open AI business courses for enterprises to understand how to implement AI to accelerate transformation within their company.
Although the new virus that broke out in the first half of 2020 halted some commercial activities and significantly impacted many existing industries, the epidemic did not stop the development of Taiwan's AI ecosystem. In the process of updating the 2020 H1 Taiwan AI Ecosystem Map by AppWorks Accelerator, we found that in the last 6 months, there have been several trends worth noting: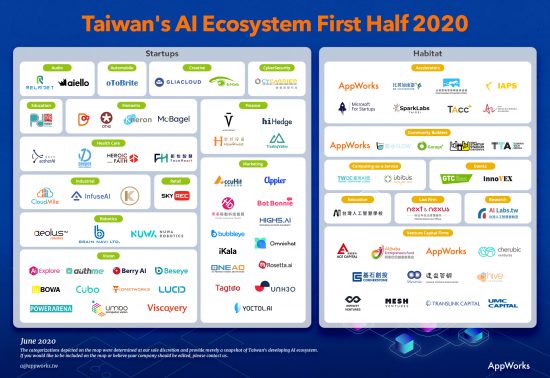 The retail industry was forced to go online during the pandemic, giving digital marketing a platform to shine
During the pandemic, consumer behavior has changed. Their shopping habits accelerated from going to physical stores to switching to online channels instead. How companies can stand out in the online world has become a new learning curve for retailers. This epidemic will not only accelerate the speed of digital transformation of the traditional retail industry, but also give rise to smart retail, which integrates online and offline experiences as their focus.
In the past few years, we've noticed that AI innovation focusing on digital marketing operations have sprung up. By using AI technology to accurately do ad placements, track user journey and behavior, and analyze the collected data, companies are able to outline consumer profiles and thus more accurately predict consumer shopping preferences and price orientation, creating personalized shopping experiences for each visitor.
Even visitors that don't end up converting or placing an order provides a gem of data analysis. Companies can use AI and big data to target this group of potential customers who have yet to make a transaction by carrying out remarketing campaigns to improve conversion rates and overall marketing performance.
The opportunities are endless under this trend, especially for startups. In February 2020, MarTech startup Accuhit, which just raised a NT$ 70 million pre-A round, provides both subscription-based use and project-based consulting to analyze customers' historical purchasing behavior and make predictions. Omnichat (AW#16), an alumni of AppWorks Accelerator, specializes in a marketing automation subscription service that provides multi-channel conversational commerce focusing on ecommerce clients. The platform has an average conversion rate 3x to 7x higher than the overall trend in ecommerce. They recently completed a seed round earlier this year, led by AppWorks Funds.
An explosive introduction of AI applications in healthcare
Alongside digital marketing, AI is also thriving within the medical field. According to Global Market Insights, the global healthcare AI market will reach US$ 13 billion by 2025, with an average annual compound growth rate (CAGR) of 40.6% from 2019 to 2025. Over the past six months, particularly during this pandemic, AI usage in improving the efficiency of medical consultation and disease screening is at an all-time high.
Taiwan has accumulated years of experience in the development of AI in healthcare. Since medical AI algorithms require a large amount of labeling data in order to train the model, as early as 2018 the Ministry of Science and Technology (MOST) co-worked with National Taiwan University, Taipei Veterans General Hospital, and Taipei Medical University to open the first pathology database for cross-institutional annotated medical images in Taiwan. These kinds of developments not only help physicians accelerate medical image interpretation and improve the consistency and accuracy of diagnoses, but also shorten the time for patients to seek medical treatment and reduce invasive examinations.
In the startup ecosystem, we also see a rise in the development of AI in healthcare startups. We see applications like developing AI technology for over a billion pixel image analysis and high-performance computing (AI HPC) with AI Explore; medical imaging AI platform services with aetherAI; medical staff assistance to interpret Computer Tomography (CT) scans for cerebral hemorrhaging with Deep01; and during this epidemic, Heroic-Faith developed a smart respiratory monitoring system.
A friendly ecosystem for AI startups is gradually taking shape
As more AI startups plan on expanding to other markets, Taiwan is considered a hotbed in terms of startup accelerators, education, and research for AI founders to leverage the ecosystem. On the accelerator side, AppWorks Accelerator was established in 2010 and focuses on recruiting AI / IoT and Blockchain founders only since August 2018 (AW#17). So far, it has recruited 89 of these startups, with 44 of them being AI and 16 of them being IoT. Together these startups are well positioned to further accelerate Taiwan's burgeoning AI ecosystem.
In addition to AppWorks, there are many other accelerators supporting the AI ecosystem in Taiwan. Microsoft for Startups, Sparklabs Taipei, Taiwan AI x Robotics Accelerator, and more are all community builders that recruit AI startup teams. Under this AI wave, other accelerators that aren't focusing on AI have also found success in recruiting AI startups, such as TAcc+ and BE Accelerator.
In VC, investment in AI companies have also grown year-over-year, providing financial assistance to AI startups looking for growth or expansion opportunities. For example, AppWorks Funds is a VC focusing on the three themes of AI, Blockchain, and Southeast Asia. Other well-known VCs in Taiwan include ACE Capital, Cherubic Ventures, TransLink Capital, and more have also greatly invested in AI in the past 2 years. Related Taiwanese investments to AI startups include CloudMile, Umbo CV (AW#9), Cubo AI (AW#16), and MoBagel (AW#16).
In Taiwan's thriving AI ecosystem, new AI developments can be seen in various well-known technology exhibitions and forums. At the annual COMPUTEX conference, there's a new startup-themed exhibition called InnoVEX that has attracted many talented AI founders to sign up to build bridges with investors and enthusiasts from all over the world. This year due to the pandemic, COMPUTEX was cancelled for 2020 and InnoVEX changed to #InnoVEXOnlineDemo. NVIDIA also held their famous AI conference NVIDIA GTC (GPU Technology Conference) in Taipei in 2018, providing opportunities for all stakeholders to meet and each other. GTC Taiwan 2020 is expected to be held this year in Taipei.
Taiwan AI Academy and Taiwan AI Labs are still Taiwan's representative institutions in the field of AI education and research, respectively. They continue to inject talent and innovation to Taiwan's AI development. There was a tragic loss for the community of Taiwan's AI ecosystem as Sheng-Wei Chen passed away earlier this year. He was the CEO of Taiwan AI Academy and founded the organization that has cultivated more than 6,000 talents for Taiwan in the span of 2 years. His contributions include progressing the mission of transforming industries with AI, making data science known as his north star, and growing AI talent. He and his work will forever be remembered by Taiwan's AI growing community.
Taiwan's AI Ecosystem Map First Half 2020 is produced by AppWorks and updated every six months. If you have any comments or suggestions, please send us an email at [email protected].
【If you are a founder working on a startup in SEA, or working with AI / Blockchain, apply to AppWorks Accelerator to join the largest founder community in Greater Southeast Asia.】