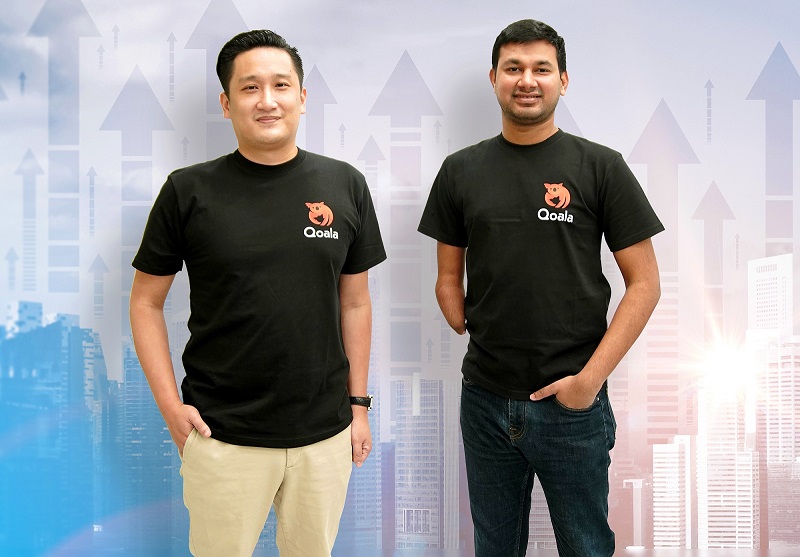 Sophie Chiu, Principal (邱敬媛 / 協理)

Sophie is a Principal leading the Southeast Asia Arm, that is responsible for meeting, helping and investing in great founders in the region. She joined AppWorks as an Associate in 2020 and was subsequently promoted as a Principal in 2023. Prior to AppWorks, Sophie had 10 years of public equity experience. She was part of the portfolio management team at Neuberger Berman, focusing on emerging market opportunities. Prior to that she served as a research analyst at Credit Suisse, JPMorgan, and London-based Autonomous Research. Sophie holds a Master of Finance with distinction from Warwick Business School and BS Finance from National Taiwan University. Her passion and expertise, however, extend far beyond just researching companies and industries. She is also an author of two published poetry books and holds a keen interest in human psychology and human behavior.
Qoala is an InsurTech company that has experienced remarkable growth, now boasting a presence across three Southeast Asian markets: Indonesia, Thailand, and Malaysia. Harshet Lunani and Tommy Martin, Qoala's co-founders, possess strong insights and a deep understanding of the pain points found throughout the insurance industry value chain. Although this industry seems mature and proven in developed markets, its complexity and strict regulation have made it challenging for technology adoption. Meanwhile, the correlation between insurance penetration and economic growth is not guaranteed, which presents an inherent risk. However, it is precisely this challenging path that attracts committed and insightful founders like Harshet and Tommy. Their dedication to making a difference is a key reason why we are placing faith in them and Qoala to continue growing and transforming the insurance landscape in Southeast Asia.  
Dedicated builders driven by ambition and unwavering vision
For some people, life is full of hero's journeys. They will always end up on a challenging path. At first, it may seem to be deemed by fate. Eventually, it becomes a deliberate choice as a less traveled or seemingly impossible path usually bestows the richest life experiences and most fruitful outcome or even profoundly impacts the world. This is what Harshet has been through and shaped his experience as a founder. 
Hailing from a small town in India without much privilege, Harshet learned the lesson of survival from a young age. He left home to study in a (non-privileged) boarding school from age 8 to 17, where he became 'battle-tested': rigorous daily routines, necessary social skills to survive among teenagers living 24/7 together, being a top player in cricket, and remarkable academic performance. His grit and determination eventually secured him a sponsored master's degree in math at University of Oxford and job offer in London, working at Merrill Lynch and then Lehman Brothers. However, Harshet joined these two banks during the Global Financial Crisis in 2007-2008. So, he soon witnessed how a seemingly large and impregnable financial institution could collapse overnight, and how it had an impact on so many individuals losing their life savings. This seeded a deep-down entrepreneurial desire for Harshet to build something that could make the world a more secure place. After working in finance, Harshet joined BCG and later Endeavor, where he gained access to large corporations and startups to learn about business models and entrepreneurship. When he had the chance to help BIMA, an InsurTech startup from Ghana, launch in Indonesia, Harshet immediately jumped on the opportunity. 
As the General Manager of BIMA for four years, he set up the entire business from scratch, growing the business to US$1.5M scale with 80 employees in Indonesia. Unlike when he started his career in finance, this time, Harshet experienced the storm face-first. Smartphones were experiencing massive penetration in Indonesia and Gojek had just reached unicorn status. Harshet foresaw the inevitable dead-end of BIMA's business model based on selling insurance products from phone balances. Unable to convince the Ghana headquarters, Harshet remained resolute to continue his journey on InsurTech but instead building something on his own. This is a field where he built tremendous expertise and track record, and recognized the potential to create significant value for stakeholders and individuals alike, resonating with the vision of the world he wanted to build. However he knew he had to take the lead role in creating such a business, and ultimately left to launch Qoala in 2018.
Before Qoala, there was actually a first attempt that fell short called Kelola. Undeterred, he met with Tommy Martin, the investor behind Kelola, who has a strong background in fintech. Tommy's experience as an engineer at Nokia, business consultant at Accenture and EY, and product and marketing lead at Traveloka offered a holistic perspective that complemented Harshet's skills. They quickly found that they had great compatibility and set sail to start Qoala together. Tommy's expertise in product development and business strategy has been crucial in enabling Qoala to build products that cater to the intertwined interests of all users and stakeholders in the industry. Tommy, like Harshet, had witnessed the transformative power of a successful business firsthand through his parents, who turned their family's fortunes around through entrepreneurship. So that Tommy could be the first generation in his family to live a comfortable life and even study abroad. However, watching his parents conquer their life ambitions helped Tommy form a deep-down desire to build something on his own too. Tapping into his entrepreneurial DNA, Tommy felt compelled to take an 80% pay cut and go against his parents' wishes by returning to Indonesia. This unwavering determination serves as his guiding light, and he is committed to building a business that can change people's lives and create his own path. 
Strategic approach to innovation and staying ahead of the curve
The partnership between Harshet and Tommy has proven to be a powerful combination. Harshet's experience building BIMA allowed him to identify the tremendous potential of the next paradigm shift, while Tommy's insights into major digital platforms enabled Qoala to establish its initial product-market fit through a collaboration with Traveloka. This success was no mere coincidence; the duo had devised a methodical roadmap for expanding Qoala's presence within the existing value chain. They first targeted areas with high traffic and data concentration, which allowed Qoala to develop unique products. With these products in hand, they focused on building critical distribution channels, eventually becoming vital partners for insurers. This entire process has been tech-enabled, and as the momentum grew, Qoala expanded into Thailand, a larger market essential for a VC-backed company's growth.
Today, the rest is history. Qoala achieved fourfold growth in gross written premium over the past two years, with a primary footprint spanning three markets. However, the ambitious founders show no signs of stopping. They are now exploring an additional step in the growth flywheel by testing direct-to-consumer (D2C) channels with the data and know-how accumulated over the past four years. Although still in early stages, Qoala possesses all the necessary elements to capture the market quickly as consumers become more mature and educated. It is hard not to be inspired by visionary founders who always stay ahead of the curve. 
SEA a nascent landscape for InsurTech to make their mark
While advanced APAC countries boast an average insurance penetration rate of 9%, Southeast Asia's figures have remained relatively low at 1-3% for Indonesia, Vietnam, and the Philippines. In comparison, India demonstrates a higher penetration rate of 4-5%, despite having a lower Gross National Income (GNI) per capita. While the mandatory auto insurance requirement in India is one primary driver of adoption, there's also an intrinsic hidden risk: The correlation between insurance penetration and economic growth is not guaranteed. Or we should say, the correlation depends on many external factors such as money supply and stock market capitalization as demonstrated by several academic studies (Chang et al., 2012, Pradhan et al., 2016, Dash et al., 2018).
The insurance sector is a tough space. A green field like Southeast Asia has huge uncertainties, while mature markets have left limited room for startups to disrupt. In high penetration countries such as the US, Taiwan, Hong Kong, and South Africa, market structures are relatively unshakeable due to stringent regulations and high barriers to entry. Drawing from our experience in Taiwan, we have observed that most digital players face challenges in scaling their businesses. For consumer-focused ideas, the market size often has an actually lower ceiling than expected, limiting growth potential. Meanwhile, enterprise-focused initiatives struggle to expand as enterprise customers possess substantial bargaining power and resources, which enable customers to implement digital solutions independently.
That silver-lining is the digital-native mindset of Southeast Asia. From Qoala, we've seen that insurance companies in the region are increasingly open to collaborating with digital solutions, while digital platforms (such as Shopee, Traveloka, Tiki, etc.) are motivated to monetize their traffic through financial products. Additionally, individual consumers in the region have also embraced digital technologies, making them more receptive to innovative insurance offerings. 
AppWorks is here to support great entrepreneurs in the region
Success in this market requires visionary founders with a deep care for users across the entire value chain. Harshet and Tommy, the founders of Qoala, have demonstrated this through their exponential growth. Their methodical approach, combined with their complementary founder qualities resulted in amazing growth traction and market expansion. Most importantly, they are both ambitious and driven by their ultimate north star. As a firm believer in supporting great entrepreneurs, AppWorks is proud to back Harshet, Tommy, and the Qoala team, and we look forward to contributing to their journey with our ecosystem of 400 active startups and over 1,400 likeminded founders.
If you are a founder working on a startup in SEA, or working with AI and web3, apply to AppWorks Accelerator to join the largest founder community in Greater Southeast Asia.