Jun Wakabayashi, Analyst (若林純 / 分析師)

Jun is an Analyst covering both AppWorks Accelerator and Greater Southeast Asia. Born and bred in America, Jun brings a wealth of international experience to AppWorks. He spent the last several years before joining AppWorks working for Focus Reports, where he conducted sector-based market research and interviewed high-level government leaders and industry executives across the globe. He's now lived in 7 countries outside US and Taiwan, while traveling to upwards of 50 for leisure, collectively highlighting his unique propensity for cross-cultural immersion and international business. Jun received his Bachelors in Finance from New York University's Stern School of Business.
By now everyone is sure to have heard about Uber's sale of its Southeast Asia business to Grab. For some, the deal portrays the classic underdog story, a sort of david and goliath-esque plotline with the local hero successfully fending off a Western conquistador. For others, Uber's fate had long been set in stone with the new executive leadership in place and their intent for a 2019 IPO, and of course a gentle nudge by shared investor Softbank. Whichever narrative you choose to read, let me be clear, above all else this is a win for Southeast Asia.
With this deal, Grab has not only validated the Southeast Asian market, but validated the appeal of home-grown startups in the region. Let me explain what I mean. Once a consumer startup achieves product-market fit and starts scaling across international markets, it's competitive advantage is usually derived from two primary factors: capitalization (funding) and localization (understanding and tailoring to customers' needs). For a segment with as razor-thin margins as ride sharing, especially in this part of the world, the weight between the two hovers roughly around 80/20, according to a former executive at Uber.
Indeed, Grab was able to outpace their Silicon Valley counterpart on both fronts. Think about that, a native Southeast Asian startup was able to outgun the world's most valuable tech startup and arguably the pioneer of ride-hailing in terms of both money and execution. Almost makes you wonder what other startups in this region are capable of.
Money Talks
One of the primary concerns of VCs is the ability for their portfolio companies to attract follow-on capital and eventually drive towards a liquidity event. This is a pervasive sentiment among investors, but especially so in Southeast Asia where the startup ecosystem is still comparatively young, with the majority of funding focusing on early stages. Thus, simmering investor anxiety often revolves around whether or not native startups can attract capital to support later stage growth, especially from sources outside the region.
Well, the story of Grab's funding cycles says it all:
2013: US$ 5.3M (Vertex)
2014: US$ 230M (Softbank, Tiger Global, GGV)
2015: US$ 350M (Didi, CIC)
2016: US$ 750M (Softbank, Didi Chuxing, Honda)
2017: US$ 2B (Softbank, Didi Chuxing, Toyota)
Collectively, Grab has been able to nab close to US$ 4B in funding to-date at a US$ 6B valuation, wooing several international investors such as Softbank, Tiger Global, Honda, and Didi. When you stack that amount against the US$ 700M that Uber had invested in Southeast Asia, the story of Grab's ability to maintain a competitive edge against its Silicon Valley counterpart becomes much more evident.
The extra ammo gave Grab the means to rapidly launch in more cities, while maintaining massive subsidies and marketing campaigns to sign on more drivers and riders.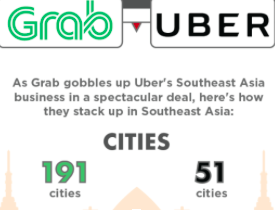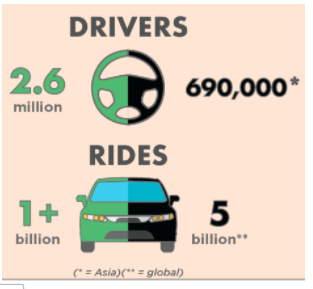 Source: Tech in Asia
Granted, Uber could've very well allocated more time and resources in Southeast Asia, but it would've been hard to justify given all the other battles that the company was fighting both internally and externally in 2017. Now, with new executive leadership and fresh sights on an IPO in 2019, Uber's sell-off is certainly a sensical move and leaves the company with a rather material 27.5% stake conceivably worth US$ 1.6 billion–and counting!
If nothing else, the landmark deal signifies a tip of the hat towards Grab and the value proposition upon which it was built, which was completely designed by Southeast Asians, for Southeast Asians right from the outset.
Layman Tactics
Interestingly enough, the localization aspect is what has been emphasized the most among news outlets, despite ultimately having a much smaller impact on Grab's dominant market positioning. But, for good reason, as it's a much easier theme to sell and actually inherently much more interesting.
When Grab's co-founders Anthony Tan and Hooi-Ling Tan first conceived the startup in 2012, they had set out to solve one simple, yet pervasive problem: make taxis safer and more reliable (hence the company's original name MyTeksi).
Starting off with taxi hailing allowed them to not only leverage existing taxi fleets and scale very quickly across the region, but also brand themselves as a more low-end, budget-friendly type of service compared to Uber who entered the market from the opposite spectrum with private cars. This more "approachable" perception was further bolstered by Grab's support of cash payments, which was critical in gaining early traction given Southeast Asia's largely unbanked and lower-middle class population.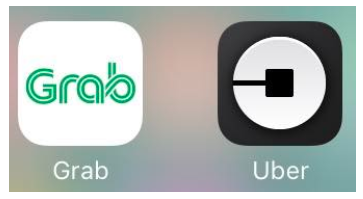 Grab & Uber iPhone Apps
In extremely congested cities like Jakarta or Hanoi where the quality of your livelihood often depends on the amount of time sitting in traffic, Grab (along with their Indonesia rival Go-Jek) was quick to offer motorbike-hailing services throughout 2014 and 2015, whereas Uber was slightly slower to enter the space.
The Grab app itself also featured minor tweaks that appealed to local consumers such as passenger-driver texting channels, automated translations, and in-app safety mechanisms. Although rather trivial in the grand scheme of things, these features highlight the team's ability to empathize with their user base and anticipate their needs, both now and in the future.
Southeast Asia is set to boast a US$ 200 billion digital economy by 2025, according to the latest report by Google and Temasek. But it's also an extremely heterogeneous and fragmented region. Grab has proven that home court advantage and local knowledge are critical assets when it comes to unlocking the region's riches.
Innovation Through Reinvention
The story of Grab's ascension actually aligns quite well with historical precedent. Asia has been borrowing concepts from the West and reinventing them to fit local context for centuries. Japan has been the foremost example of that, having imitated and subsequently reinvented everything from French Education to American corporate efficiency.
In the tech world, these trends have stayed consistent. Tencent's WeChat has completely metamorphosized from a mere messaging app into an all encompassing lifestyle platform offering shopping, payments, and entertainment–all in one app! Meanwhile, China's popular delivery startup Meituan-Dianping has already plotted out its entry into the ride-sharing segment.
We see Grab currently moving in a similar direction. In terms of transport, they've matched every one of Uber's service offerings, and then some. Now, they're expanding into a whole suite of services including food delivery, mobile, and micro-loans, all effectively built on the back of their expansive regional ride-sharing network.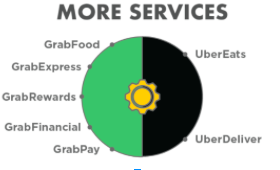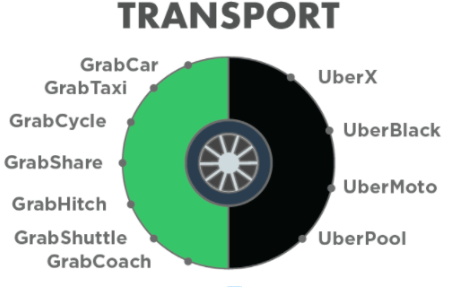 Source: Tech in Asia
Meanwhile, Indonesian rival Go-Jek, currently valued at roughly north of US$ 3B, has already branched into lifestyle services including on-demand cleaning, beauticians, auto repairs, and massages, in addition to their iconic bike-hailing platform.
It's clear that these two Southeast Asian startups have taken the concept of ride-hailing and reconstructed its core vertebrae into an entirely new genre that seamlessly fits the region's needs, while still eliciting the appeal of world-class investors.
If there was any residual doubt about the competitive capabilities of Southeast Asian startups and the viability of the market following Sea's public debut on the NYSE last year, hopefully they're now put to rest with the advent of "Gruber."
IMPACT 2018 is an annual tech conference that will feature CEOs and founders of GSEA's most valuable startups such as Grab. Be sure to sign up now.