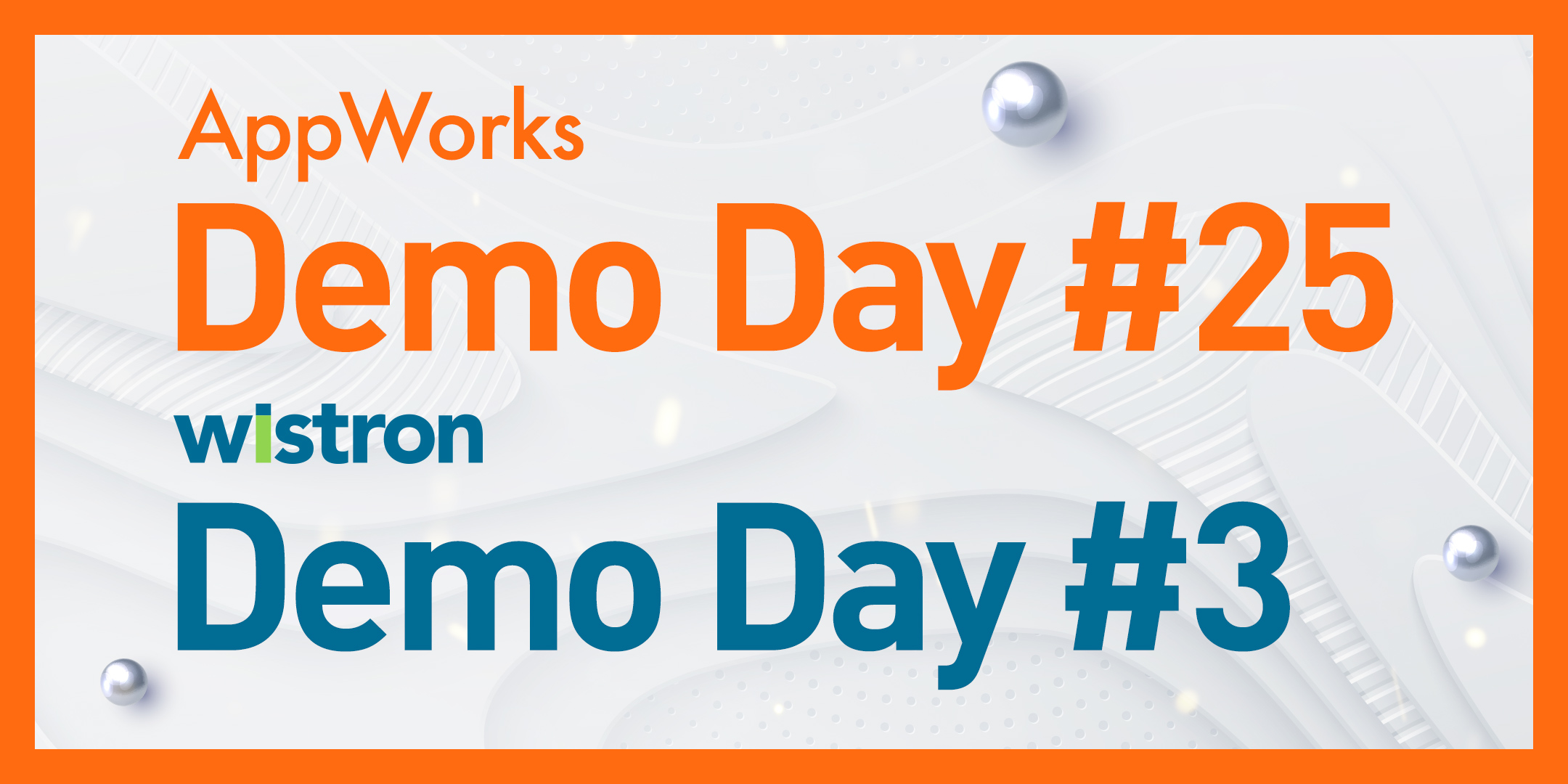 AppWorks' highly anticipated Demo Day brings the best of both AppWorks Accelerator #25 and Wistron Accelerator #3.This particular demo day will feature 20 (15 + 5) startups, with 5 teams in the web3 space to give you a glimpse into the innovative application of blockchain technology and the decentralized future. At the same time, many teams from the AI / IoT field are utilizing frontier technologies to transform our business and life. Among these rising stars, we'll also have international teams joining us from Hong Kong, Singapore, the Philippines, Canada, France, and the US.
This past half year, AppWorks Accelerator recruited 31 teams across AW#25, of which 12 are focusing on web3 specifically, and 10 focusing on AI / IoT. There are 76 founders in total who span 15 different markets including Taiwan, Indonesia, Singapore, Malaysia, Philippines, Hong Kong, US, Canada, France, Ukraine, and Kazakhstan, etc., and more than one-third of which are serial entrepreneurs.
We're also pleased to introduce Wistron Accelerator #3. Over the past year, AppWorks has been working with Wistron, one of the world's leading ICT manufacturers, to identify and cultivate startups that can help the organization charter new avenues of growth over the next decade, whether that's through technology partnerships or PoCs.
You can find a brief introduction to each pitching team and founder below:
AppWorks Accelerator #25
1. ARTOGO: Immersive digital experiences for art, culture, and communities in the metaverse
Howard Yang | [email protected] | artogo.tw
2. Seneca ESG: ESG workflow automation software for corporates and financial institutions
Jonathan Ha | [email protected] | senecaesg.com
3. Fitscovery: Online marketplace for fitness activities
Michael Jiang | [email protected] | fitscovery.com
4. Skilio: Skills-based hiring platform for Gen Zs
Felix Tan | [email protected] | skilio.co
5. AI Guided: AI/IoT-based visual guiding system for the visually impaired and elderly
Florence Chan | [email protected] | ai-guided.com
6. Cast LMS: Canva for e-learning
Agno Almario | [email protected] | castlms.com
7. Bee Prepared: Software as a career coach
Carmen | [email protected] | beeprepared.info
8. BintanGO: Financial solutions, productivity, and monetization tools for creators
Jason Lee | [email protected] | bintango.com
9. Storeberry: Omni-channel retail SaaS solution
Cyrus So | [email protected] | storeberry.ai
10. Dynacyte 動感細胞: Next-generation bioreactors to democratize biotechnology
Alan She | [email protected] | dynacyte.com
11. Elite XP: GameFi platform for web2 and web3 games
Justin Wong | [email protected] | elitexp.io
12. Protoworld: Open metaverse for the next-gen creators
Ziii | [email protected] | protoworld.io
13. Hive Keychain: Non-custodial crypto wallet for gamers and content creators
Quentin Correa | [email protected] | hive-keychain.com
14. Niomon: Crypto wallet for web3 gamers
Jay Leung | [email protected] | niomon.io
15. OlaWealth: Web3 trading intelligence app
Jason Chan | [email protected] | areix-ai.com
Wistron Accelerator #3
1. QTCOMM 酷堤康: Solving tax issue in SEA
Tiffany Hsiao | [email protected] | indochat.co.id
2. Cyclops AR: Mobile based AR/AIoT solution for the industrial workplace
Benny Siu 蕭子聰 | [email protected] | cyclops-ar.com
3. Black solution Nanotech: Graphene nanocomposites for thermal dissipating and RF interference suppressing
Zach Wu 吳豐宇 | [email protected] | blacksolnano.com
4. Super Chain: Turn data into sales revenue by AI
Cat Yung | [email protected] | super-chain.tech
5. R2C2: A robotic operating system for collaboration
San Wong | [email protected] | r2c2.ai
If you are an investor or corporate representative and need more detailed information about the teams or want to connect with AppWorks Accelerator #25 or Wistron Accelerator #3 founders, please email us at [email protected] 
We welcome all web3 , AI / IoT, or Southeast Asia founders to join AppWorks Accelerator.
We welcome all AI, IoT, cloud, cybersecurity, EduTech, and MedTech founders to join Wistron Accelerator.