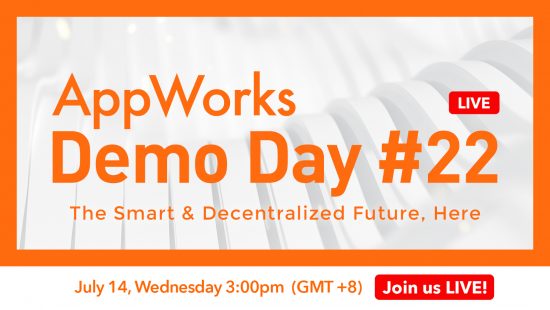 AppWorks Demo Day #22 will take place this afternoon at 3:00pm (GMT+8). Tune into our livestream on YouTube or Facebook.
You can find a brief introduction to each pitching team and founder below.*
1. ALIA
AI financial advisory app
Nadia Amalia | nadia@chatalia.io | http://www.chatalia.id
2. AREA 02
Sneaker resell marketplace platform in Asia where users can easily buy, sell, and trade
Cory Chen | cory.chen@area02.com | https://www.area02.com
3. Credidi
AI credit scoring service using transaction data
Vincent Liaw | vincent@credidi.ai | https://credidi.ai
4. Fika
Asia's female-focused AI social & dating app
Denise Sandquist | denise@keepfika.com | https://keepfika.com
5. Find Recruiter
Recruiter marketplace for Asia talent
Lawton Lai | lawton@findrecruiter.com | https://www.findrecruiter.com
6. Giftpack
AI-powered corporate gifting CRM
Archer Chiang | archerwindy@giftpack.io | https://giftpack.ai
7. Homexin
Platform which solves problems for hospitalized families
Jonathan Hsiao | jonathan@homexin.com.tw | http://www.homexin.com.tw
8. KOLpass
MarTech platform for micro/nano influencers
Pierce Hung | pierce@kolpass.org | http://www.kolpass.org
9. MedHyve
AI-powered procurement tools and dashboards for medical institutions
Gabriel Henry J. Lopez | gabriel@medhyve.com | https://medhyve.com
10. PillTech
B2B healthcare marketplace
Vireak Chea | vireakchea@pilltech.com.kh | https://pilltech.com.kh
11. Sendjoy
Cameo for Asia
LC Lim | liangchun@sendjoynow.com | www.sendjoynow.com
12. Sensay
AI-powered English speaking homework tool for educators
Caren Chen | caren@oksensay.com | http://www.sensay.tw
13. ShowHue
AI visual tool for eCommerce
Hannie Liu | hannie@showhue.com | http://www.showhue.com
14. Spaceship
Smart logistics platform
Wun Chi Lam | chilam@spaceship.hk | http://www.spaceship.hk
15. Swugo
The subscription service that makes any bike an electric bike
Samuel Ijsselmuiden | samuel@swugo.com | http://www.swugo.com
16. TANG app
International peer-to-peer payment app
Rebecca Kersch | rebecca@tangapp.org | http://www.tangapp.org
17. Waku
F&B and catering platform
Anthony Gunawan | anthony@wakuliner.com | http://www.wakuliner.com
18. WTH Foods
Plant-based meat alternatives
Stephen Co | stephen.co@wthfoods.ph | https://www.wthfoods.ph
*If you are an investor or corporate representative and need more detailed information about the teams or want to connect with AW#22 founders, please email us at a@appworks.tw.
Interested in joining the largest founder community in the region? Applications are now open for >> AppWorks Accelerator #23