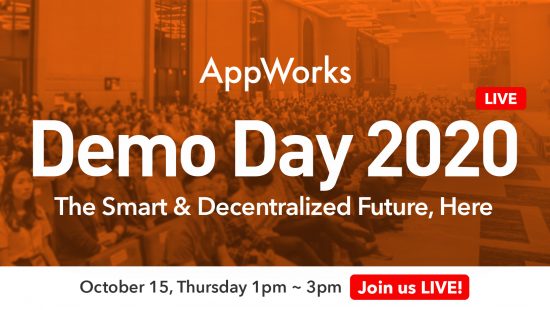 AppWorks Demo Day 2020 將於今天 (10/15) 下午隆重登場,防疫考量下,為控制現場人數,這場活動將會是 Invite-Only,開放給投資人與產業相關人員。無法親臨現場的朋友,可以到 AppWorks Facebook Page 觀賞本次活動的實況轉播。
若你也想登上 AppWorks Demo Day 的千人大舞台,展現自己的產品與商業模式,AppWorks Accelerator 現正招收 AI / Blockchain / SEA 團隊,歡迎加入我們!
以下是將在 AppWorks Demo Day 2020 出場的 23 支新創團隊簡介:
AppWorks Demo Day 2020 will take place this afternoon. As COVID risks persist, social-distanced seatings will be implemented at the event and therefore this event is a by-invitation-only dedicated to investors & corporate representatives. If you're unable to physically attend the event, you can catch the livestream on AppWorks Facebook Page.
If you are a founder working on an AI / Blockchain / SEA startup and want the opportunity to pitch your product and business idea to over a 1,000+ people at the AppWorks Demo Day, join us by applying to AppWorks Accelerator. We look forward to receiving your application!
The following are brief introductions of the 23 startup teams at AppWorks Demo Day 2020:
1. Steaker
Digital asset management platform for pioneers.
Wilson Huang | w@steaker.com | https://steaker.com/
2. Mighty Jaxx
Blending physical and digital collectibles in gaming.
Jackson Aw | jacksonaw@mightyjaxx.com | http://www.mightyjaxx.com/
3. AHEAD Medicine
AI-assisted blood cancer diagnosis supporting tool.
Andrea Wang | andrea.wang@aheadmedicine.com | https://aheadmedicine.com/
4. Poseidon Network
Edge computing solutions for IoT equipment.
Light Lin | service@poseidon.network | https://poseidon.network/
5. Lootex
Build the basics for future gaming through blockchain technology.
Justine Lu | justine@lootex.io | https://lootex.io/
6. FULY.AI
Trading tools with the lowest risk strategy.
Rex Chen | rex@huijun.org | https://fuly.ai
7. Aiello
Conversational AI SaaS for Service industry.
Vic Shen | vic@aiello.ai | http://www.aiello.ai/
8. Dance Clout
Dancer community powered by AI choreography model.
Jerry Chang | jerry@danceclout.com | https://www.danceclout.com/
9. Cognicept
Injection of human intelligence into robots on demand.
Michael Sayre | michael@cognicept.systems | https://cognicept.systems/
10. iAuto
Safe, sustainable, scalable, and smart SDT solutions and automation services.
MY Lin | mylin@iauto-tech.com | http://www.iauto-tech.com/
11. TUTEEMI
The platform that bridges foreign tutors and locals.
Camila Saenz | Camila.rsaenz@gmail.com | http://www.tuteemi.com
12. Astra
Facial recognition to help businesses manage distributed workforce.
Gary Kao | gary@astra.cloud | https://www.astra.cloud/
13. Pelith
Comprehensive blockchain-based technical and financial solutions.
Jack Lai | jack@pelith.com | https://pelith.com/
14. CatCatmed
Revolutionizing pet products.
Jay Tam | jayctam86@gmail.com | https://www.louiscatlitter.com/
15. Polymerize
AI model to revolutionize material innovation and discovery in the polymer industry.
Kunal Sandeep | kunal@polymerize.io | https://polymerize.io/
16. Glints
Tech-enabled local and cross border recruitment.
Fred Ng | fred.ng@glints.com | https://glints.com/
17. Tera Thinker
AI-based adaptive learning platform.
Jason Yang | chunyou0830@gmail.com | https://terathinker.com/
18. Minastir Technologies
AI-powered asset management solutions for financial institutions.
Michael Poulsen | mp@minastir.com | https://minastir.com/
19. Divao
Passwordless and Single Sign-on powered by Cryptography.
Alice Lo | alice@divao.io | http://divao.io
20. Sparksine
Mandarin book summaries app and website.
Issac Wong | isaac@sparksine.com | https://www.sparksine.com
21. Turing Certs
Issuing tamper-proof verifiable certificate for students.
Jeff Hu | jeff.hu@turingchain.tech | https://certs.turingchain.tech/
22. WASAI Technology
High-speed and high-accuracy genome sequencing platform.
Calvin Hung | calvinhung@wasaitech.com | https://www.wasaitech.com/
23. dp smart
Six-lens panoramic one-click live streaming camera.
Kevin Chiang | Kevin.chiang@dpsmart.com.tw | https://dpsmart.com.tw/
In collaboration with: