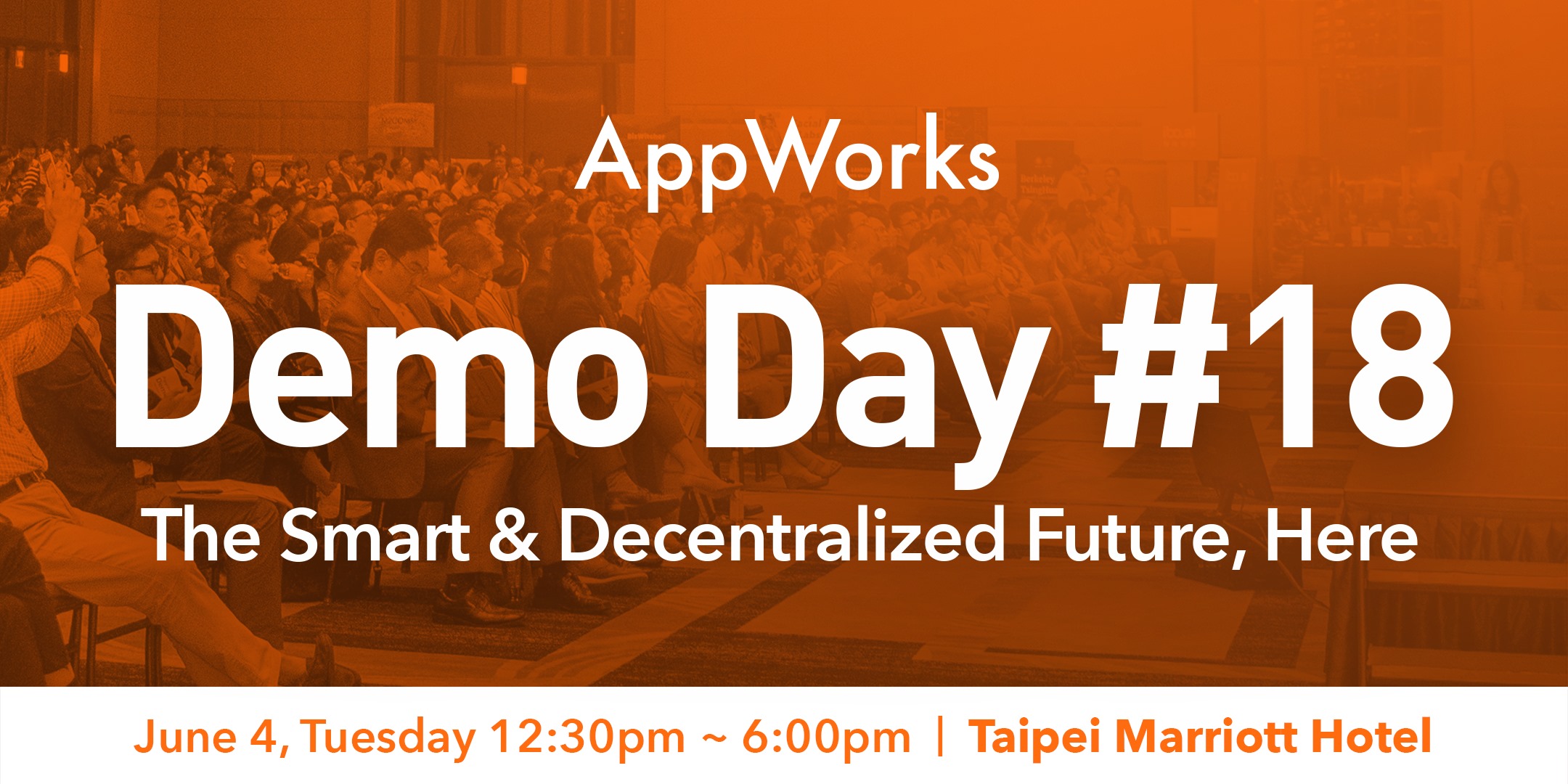 AppWorks Demo Day #18 將於今天 (6/4) 下午隆重登場,無法親臨現場的朋友,可以到 AppWorks Facebook Page 觀賞本次活動的實況轉播。
若你也想登上 AppWorks Demo Day 的千人大舞台,展現自己的產品與商業模式,AppWorks Accelerator 現正招收 AI / Blockchain 團隊,歡迎加入我們。
以下是將在 AppWorks Demo Day #18 出場的 25 支新創團隊簡介:(下載完整版)
AppWorks Demo Day #18 will take place this afternoon. If you're unable to physically attend the event, you can catch the livestream on AppWorks Facebook Page.
If you are an AI / Blockchain startup and also excited about the opportunity to pitch your product and business idea to over a 1,000 people on the AppWorks Demo Day stage, join us by applying to AppWorks Accelerator. We look forward to receiving your application!
The following are brief introductions of the 25 startup teams at AppWorks Demo Day #18: (Download for full version)
1. Lucid
An AI vision solution to empower dual or multi camera devices to see and capture 3D depth.
Han Jin | jeff@lucidinside.com | https://lucidinside.com/
2. Xfers
A fintech compliance, and licensed platform for fintechs to launch in southeast Asia within a week.
Tianwei Liu | founders@xfers.io | https://www.xfers.com/sg/
3. Peeksoft
Portfolio Management for Retail Investors.
Mike  Liu | mike@peeksoft.co | https://peeksoft.co/
4. Aversafe
Credential issuance and verification platform to reduce forgery and counterfeiting of credentials and licenses.
Andrew Duck | andrew@aversafe.com | https://www.aversafe.com/
5. Botbot.AI
Enterprise productivity solution that automates workflows and processes with conversational interfaces.
Chelsea Sim | chelsea@botbot.ai | https://botbot.AI
6. LikeCoin Foundation
LikeButton plugin to turn likes into tangible rewards for bloggers and independent journalists.
Kin Ko | kin@like.co | https://liker.land
7. Formosa Financial
Treasury management platform for companies holding crypto-assets and digital assets (including security tokens).
Ryan Terribilini | ryan@formosa.financial | https://www.formosa.financial/
8. Triip
A decentralised platform where users can exchange travel data for best deals directly from local suppliers.
Ho Viet Hai | hai@triip.me | https://www.triip.me/
9. Forbole Limited
Top-tier validator on proof-of-stake blockchains.
Terence Lam | terence@forbole.com | https://www.forbole.com/
10. Rely
A 'buy now pay later' service that enables customers to buy what they want today and split the purchase amount into three payments without any interest or fees
Hizam Ismail | mdabbas@rely.sg | https://www.rely.sg/
11. Real Estate Doc
Space and lease management platform for transaction digitization and source-of-truth data analytics.
Ivan Lim | ivan.lim@realestatedoc.co | https://realestatedoc.co/
12. MUDDY.IO
SaaS booking system designed for beauty service merchants to better manage customer relationships and day to day operations.
Donna Chiu | donna.chiu@muddy.io | https://muddy.io
13. Springdel
AI-Powered IoT & Mobile Device Management Software Platform for B2B Mission Business Critical Devices.
Calvin Chung | calvin@springdel.com | https://www.springdel.com/
14. Pikabu
AI dating platform focusing on helping users interact with the help of an AI chatbot in the form of a cute dog.
Zoomuel Tzeng |  zoomuel@gmail.com | https://pikabu.cc
15. USPACE
A platform that provides a private parking sharing system.
Allen Song | allen@uspace.city | https://www.uspace.city/
16. LuxTag
Enterprise solution provider that helps manufacturer to deter counterfeiting and fraud through blockchain technology.
Jeff McDonald | sheng@luxtag.io | https://luxtag.io/
17. Pand.ai
AI chatbot that uses deep learning for NLP (Natural Language Processing) to answer questions more accurately.
Shin Chuang | shin@pand.ai | https://pand.ai/
18. BitTrust
A new authentication solution for helping our clients save time and reduce risk when checking user's identity.
Andy Lee | andy@bittrust.id | https://bittrust.id
19. WORD UP
We empower schools with A.I. based personalized learning with their own content, so their students can prepare exams with better efficiency.
Ian Chen | ian@wordup.com.tw | https://www.wordup.com.tw/about
20. GripBeats
GripBeats® is an AI wearable technology which allows users to make music through predefined motion and touch gesture controls.
David Wexler | wexler@gripbeats.com | https://www.gripbeats.com/
21. Datax
A data crowdsourcing platform for businesses to collect & enrich data through public contributors.
Kevin Wong | kevin.wong@datax.io | https://datax.io
22. Parami
A natural language chatbot for e-commerce.
Derek Chuen | derek@parami.ai| https://parami.ai/
23. Tuple 
A platform that provides an end-to-end solution by CDP.
Gaspar Lin | anmol@tuple.tech | https://www.tuple.tech/
24. JOYSO
Blockchain development solutions/services for enterprises.
Will Chen| tom@joyso.io | https://joyso.io/
25. EvenToken
EvenToken is a Decentralized Crowdfunding Platform for curators.
John Sie | johnsie@accuvally.com | http://www.eventoken.io/