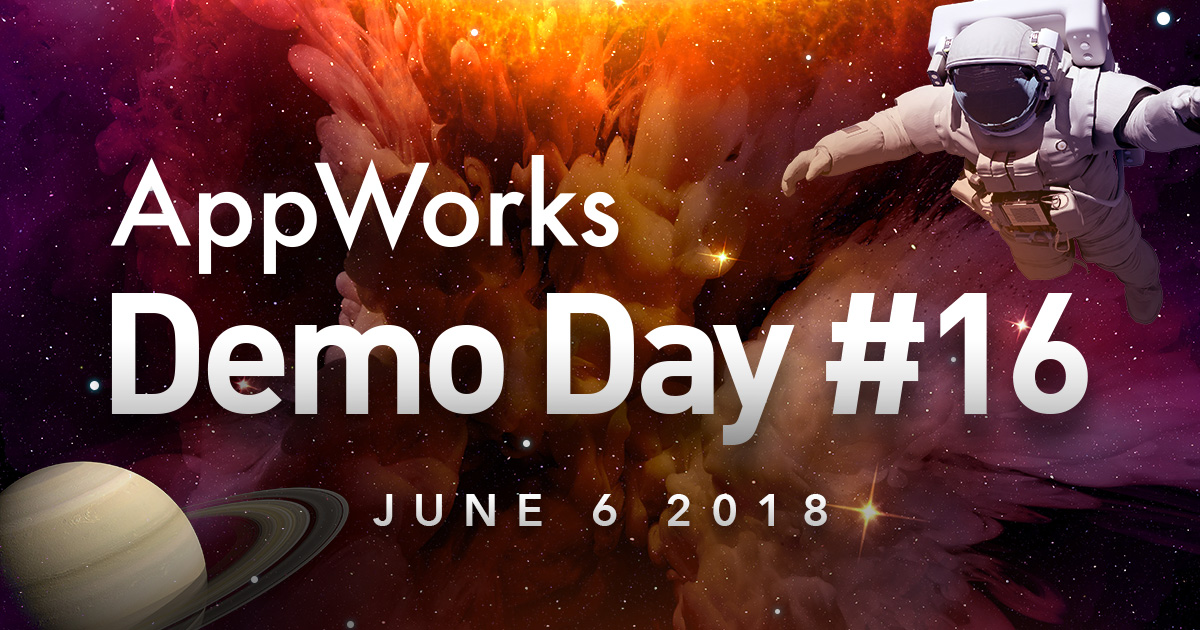 AppWorks Demo Day #16 將於今天 (6/6) 下午隆重登場,無法親臨現場的朋友,可以到 AppWorks Facebook Page 觀賞本次活動的實況轉播。
若你也想登上 AppWorks Demo Day 的千人大舞台,展現自己的產品與商業模式,AppWorks Accelerator 現正招收 AI / Blockchain 團隊,歡迎加入我們。
以下是將在 AppWorks Demo Day #16 出場的 28 支新創團隊簡介:
AppWorks Demo Day #16 will take place this afternoon. If you're unable to physically attend the event, you can catch the livestream on AppWorks Facebook Page.
If you are an AI / Blockchain startup and also excited about the opportunity to pitch your product and business idea to over a 1,000 people on the AppWorks Demo Day stage, join us by applying to AppWorks Accelerator. We look forward to receiving your application!
The following are brief introductions of the 28 startup teams at AppWorks Demo Day #16:
1.Cubo
Cubo is an AI smart baby monitor. A third eye for new parents, it proactively keeps your baby away from danger in real-time. The world's first AI+IoT team to build an AI smart baby monitor that will disrupt the baby monitor market.
單康寧 | kn@yunyun.cloud | tw.getcubo.com
2.42Race
42Race motivates people to run via their virtual running games. They have achieved 50,000+ runners and S$1+ million in revenue within 18 months.
Zhou Mi | zhoumi@42race.com | http://web.42race.com
3.Keybot
Keybot helps property managers automate access for rental showings, maintenance, and short or long term renters, without wifi.
Divyesh Panchal | Divyesh@keypls.com | http://www.getkeybot.com
4.Easychat
A messenger for e-shops to increase conversion rate by real-time visitor discovery, analysis, selling, and customer service. Asia's first SaaS live chat messaging technology company. Focused on sales and customer service. A young, energetic, and innovative team.
Alan Chen | alan.chan@easychat.co | http://www.easychat.co
5.OrderLOOKs
They create animated cartoon faces for users (Emoji in GIF), customers just need to provide photos and then checkout on their website. They can share the GIF in Line & FB.
Edward Tse | etswforce@gmail.com | http://www.orderlooks.com
6.台灣代駕
The first designated-driver service app in Taiwan, targeting safe and professional service. From service online, they served more than 10,000 customers.
Zack Liu | zack@twdd.com.tw | http://www.twdd.tw/index
7.Cardable
Cardable is an e-commerce startup which consolidates the best promotions and coupons on their platform to help consumers save on their shopping.
Ray Ow | ray@getcardable.com | http://www.getcardable.com
8.dipp
An A.I. visual marketing platform delivering high-performing creative to improve brands' digital marketing ROI, and to help brands sell the right products to the right people with the right content.
Jennifer Chen | jennifer@withdipp.com | http://www.withdipp.com
9.Branch8
Sellers want to sell on as many marketplaces as possible, but it comes with additional work. Branch8 helps online sellers list and manage their products on multiple e-commerce marketplaces.
Matt Li | matt@branch8.com | http://www.branch8.com
10.酮好
Largest online health community in Taiwan for low carb ketogenic diet. Over 300 people regained their health or reversed type-2 diabetes in just 1 year.
撒景賢 | james@keto.tw | http://www.facebook.com/groups/ketoisgood
11.MOOIMOM
A maternity and baby products e-commerce platform that is currently the biggest lifestyle maternity brand in Indonesia.
James Chou | james@tnpgroup.co | http://www.mooimom.com
12.烘焙找材料
An online store for baking ingredients & supplies that helps consumers seamlessly meet all their baking needs.
Ken Chen | kens9261004@gmail.com | http://www.heybaker.com
13.動區動趨
An online blockchain media platform devoted to the development of the blockchain industry. They first aimed at investors, and then extended to all stakeholders exploring this technology.
郭家綸 | harrykuo@cryptoxlab.com | http://www.blocktempo.com
14.My Room Abroad
A housing rental platform connecting international students with certified landlords in Greater Southeast Asia.
Vincent Mechele |  vincent@myroomabroad.com | http://www.myroomabroad.com
15.Partido
A dating app that focuses on engaging more fruitful conversations by combining gamification, games, and dating.
Danny Yao | dannyyaou2@gmail.com | http://www.partido.asia/v2
16.Poweather
Poweather is a community where people crowdsource local weather conditions.
Tim Chen | tim@poweather.com | http://www.poweather.com
17.Velodash
Velodash Group Ride is an all-in-one group ride app that tracks and exchanges everything a cyclist needs to know during a group activity, from individual location, live stats, real-time distance, to team ranking. Built by a team of cyclists, designers and developers, Velodash solves problems with technology to make cycling fun and safer.
Molly Huang | molly@velodash.co | http://www.velodash.co
18.Novelship
Novelship is a buy and sell platform of exclusive fashion, coveted products for Southeast Asian consumers, and ensuring authenticity.
Chris Xue Yu | chrisxue@novelship.com | http://www.novelship.com
19.AHOY
A telephony integration service and app.
Henry Lin | henry@yohalabs.com | http://www.sayahoy.info/zh
20.Saver In The Box
Saver In The Box makes iPhone repair easier. They offer a DIY kit that contains everything you need to fix it yourself, as well as an on-demand repair service.
李唐韶 | saver@saverinthebox.com | http://www.saverinthebox.com
21.YOSGO
A selling tool helping companies easily set up referral / group programs.
Jeff Sun | jeff@yosgo.com | http://yosgo.com
22.Rosetta.ai
Provides plug-and-play recommendation engines and unified APIs enabling businesses to develop their own recommendation engines.
Daniel Huang | daniel@rosetta.ai | https://www.rosetta.ai
23.小農飯盒
They cooperate with local farms, food material suppliers, and local restaurants to provide an eco-friendly lunchbox booking service online.
傅爾健 | julianfu@ogbento.com | http://www.facebook.com/ntuogbento
24.Triplisher
A social travel sharing platform aimed at generating 50 percent in cost savings for all travelers.
Sean Huang | sean@netexboom.com | http://www.triplisher.com
25.The Eater
A platform which helps restaurants and bistros make their marketing impression more precise. They built a chatbot for users to search restaurants they want, while analyzing their preferences.
Tobby Kuo | tobby168@gmail.com | http://www.facebook.com/ntueater
26.Charge Smith
A platform that provides an end-to-end charging solution for electric vehicles.
Andy Chen | andychen@chargesmith.com | http://www.chargesmith.com
27.MoBagel
A SaaS platform for data science solutions. Using Decanter AI engine as its core technology, MoBagel enables businesses to combine their domain knowledge with AI to build fully automated data science solutions that is tailored to the respective industry and specific applications of each business.
Samantha Chen | sa@mobagel.com | http://www.mobagel.com/tw
28.Bank of Culture
Bank of Culture is a event planning and creative marketing company which focuses on traditional culture. They aim to solve the problem of culture loss.
邵璦婷 | aitingshao@bankofculture.com | http://www.bankofculture.com
AppWorks Demo Day #16 感謝以下合作夥伴: