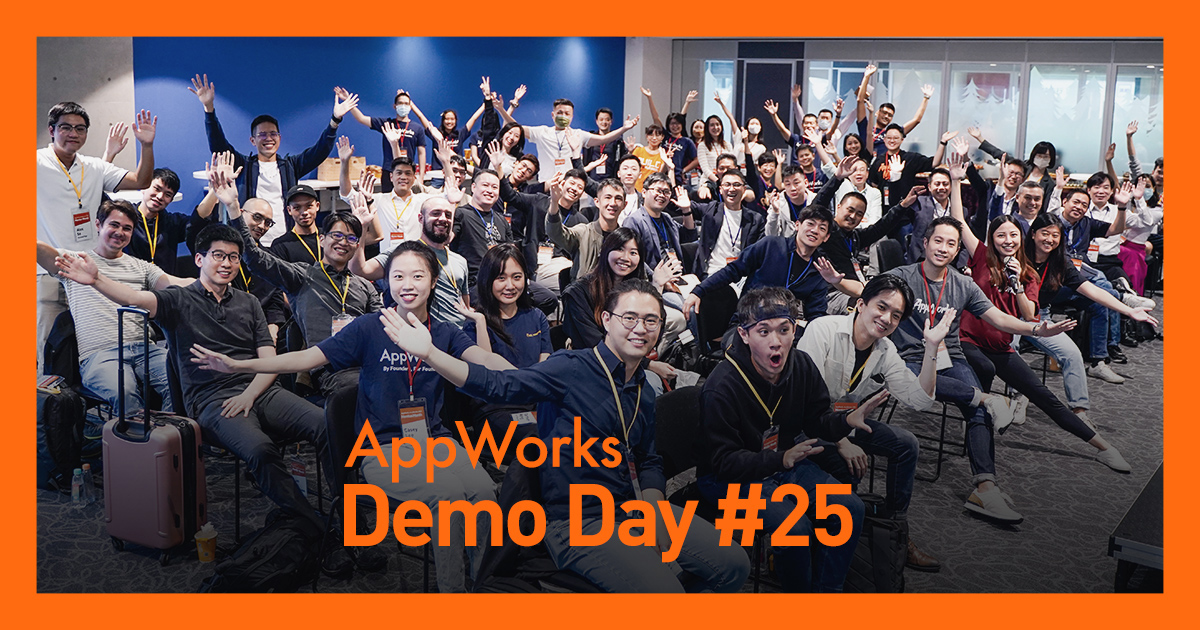 TAIPEI, TAIWAN—On December 13, 2022, AppWorks Accelerator held  its online version of its 25th demo day, in parallel with a physical demo day taking place in Taipei, Taiwan on the 15th, unveiling 23 global startups operating across the frontiers of web3, AI/IoT projects, and Southeast Asia-focused startups.
As one of Greater Southeast Asia's longest-running independent accelerator programs, AppWorks Accelerator brings together founders building innovative businesses for Taiwan's digital renaissance, the global web3 revolution, and Southeast Asia's emerging digital economy. The demo day connects founders with local, regional, and global investors, as well as support founders connecting with talent, potential business partners, and the media. The event was broadcasted across the firm's YouTube channel at 11:00am Taipei Time (GMT +8) for general audiences. There will also be a demo day event held on December 15 which will feature startups entering or building for the Taiwanese market.
AW#25 officially kicked off in September 2022, welcoming 31 teams led by 76 founders from 15 different home markets, including the Philippines, Indonesia, Malaysia, Singapore, Kazakhstan, Hong Kong, the United States, and beyond—with nine Taiwan-based teams. The batch included 10 female founders (13%) and 29 serial founders (38%). 39% of the batch's founders are building projects in the web3 space.
For AW#25's global demo day, the accelerator featured the following companies:
"With persistent macro uncertainty in the headlines, we believe that now is the best time to start a new venture as the value creation cycle resets—and the quality of AW#25 founders reflects this sentiment," said Jessica Liu, Partner, AppWorks. "Whether it be web3 projects targeting global audiences or Southeast Asian startups building out the region's digital economy, founders are crafting new and innovative business models. We are proud of the accomplishments of the AW#25 batch, and will continue to support them in their endeavors as they grow and scale."
As one of Greater Southeast Asia's largest accelerator programs, AppWorks holds its Demo Day twice a year, welcoming investors and business leaders seeking partnerships with carefully selected digital innovators from across the region and around the world. With the addition of AW#25, there are now 472 active startups (+37 YoY) and 1,522 founders (+120 YoY) in the community. The AppWorks community now accounts for US$15.2 billion in annual revenues (+9% YoY), creating over 23,390 high quality jobs in the digital economy (+16% YoY). In the firm's rapidly growing web3 practice, the AppWorks ecosystem includes 106 active web3 startups, led by 221 founders from around the world.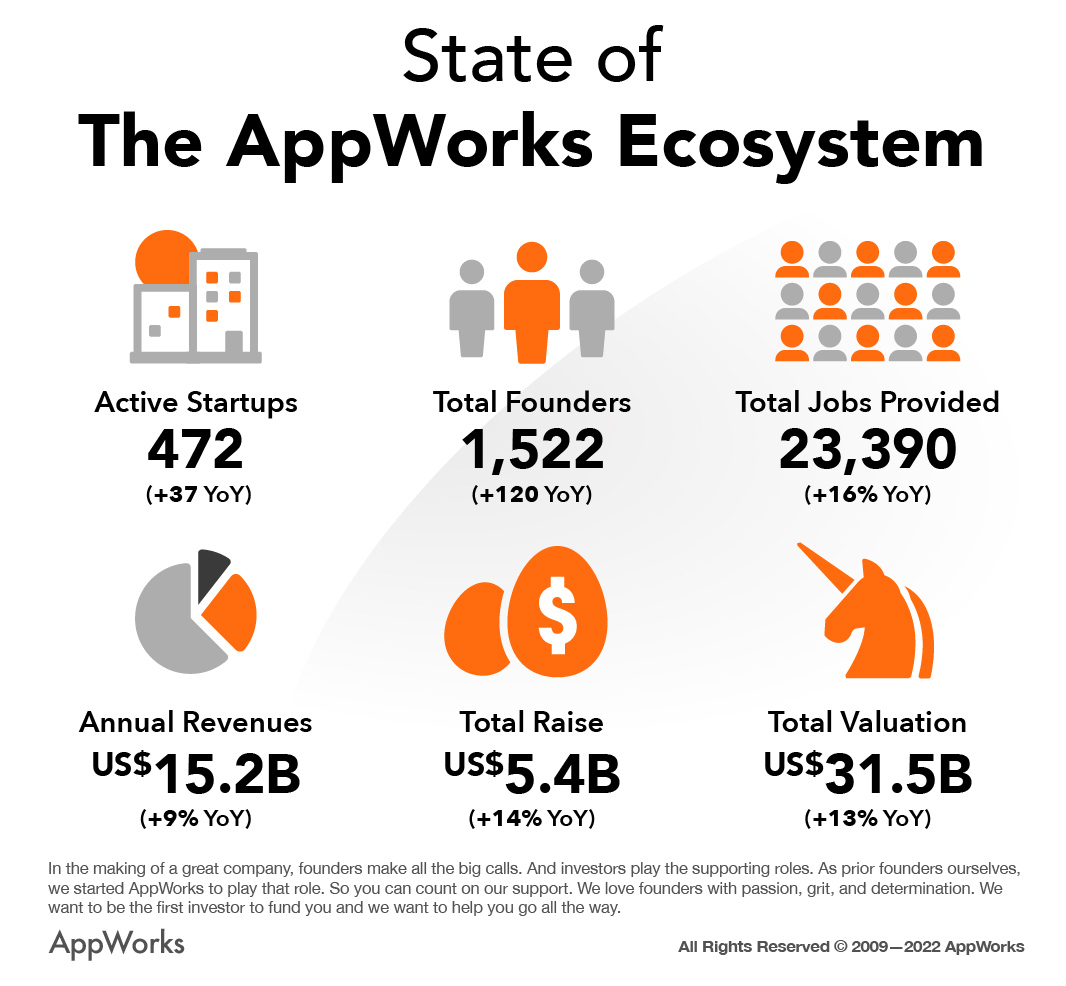 Original file for download: State of The AppWorks Ecosystem (December 2022)
The AppWorks Accelerator features founders working on global web3, AI/IoT-related, and Southeast Asia-focused startups, and is held twice a year. The accelerator is equity- and cost-free, providing practical and hands-on mentorship to guide founders in achieving better product-market fit, win key business partners, and become a better founder.
About AppWorks
Founded in 2009, AppWorks is a leading startup community and venture capital firm built by founders, for founders. We are committed to backing the next generation of entrepreneurs in Greater Southeast Asia (ASEAN+Taiwan) and helping them facilitate the region's transition into the digital age. Just as how mobile and the internet completely transformed the status quo, we believe the current era of technology is currently being defined by major three paradigm shifts: AI, Blockchain, and Southeast Asia (ABS). 
As such, whether it's mentorship, investment, or talent, AppWorks has established a one-stop-shop for ambitious founders willing to bet against the consensus and drive the change they want to see in the world. We help startups build disruptive businesses from even an inkling of an idea into world-class enterprises through our three primary lines of service: Accelerator, Funds, and School.
More information: appworks.tw
About AppWorks Accelerator
AppWorks Accelerator is a launchpad for bold and ambitious entrepreneurs targeting Greater Southeast Asia (GSEA). Every six months, we take in startups with strong potential, equipping founders spanning all walks of life with the necessary resources, mentorship, and guidance to get their ventures off the ground.
There are now a total of 472 active startups and 1,522 founders in the AppWorks ecosystem. Collectively, all companies in the ecosystem generate annual revenue totaling US$15.2 billion (+9% YoY), and have created 23,390 jobs (+16% YoY). Altogether, the ecosystem raised a total of US$5.4 billion (+14% YoY), with an aggregate valuation reaching US$31.5 billion (+13% YoY). The AppWorks web3 ecosystem now has 106 startups and 221 founders. AppWorks web3 companies generate revenue totaling US$1.8 billion (+30% YoY), and raised US$1.1 billion (+49% YoY), with an aggregate valuation of US$14 billion (+33% YoY).
We're looking for founders working on web3, AI / IoT, and Southeast Asia to join AppWorks Accelerator. If you're interested in joining our community, you're welcome to apply. We look forward to seeing you showcase your team and the product on our next Demo Day!