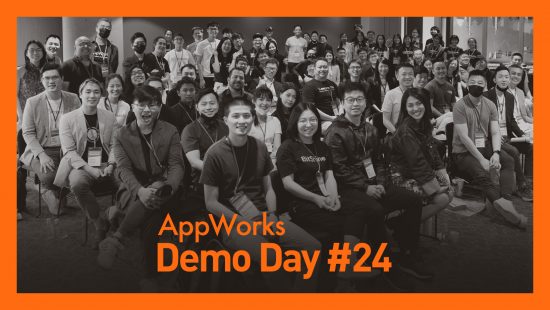 TAIPEI, TAIWAN—On June 28, 2022, AppWorks Accelerator held its 24th demo day virtually, unveiling 12 startups operating across the frontiers of AI/IoT, NFT/blockchain projects, and Southeast Asia-focused startups.
As one of Greater Southeast Asia's longest running independent accelerator programs, AppWorks Accelerator brings together founders building innovative businesses for Taiwan's digital renaissance, the global web3 revolution, and Southeast Asia's emerging digital economy. The event was broadcasted across the firm's YouTube channel at 09:00am Taipei Time (GMT +8) for VIPs (including investors, corporate partners, ecosystem-builders, and more). The video will be exclusively available to VIPs for two weeks after which it will be available for the public to view. With the gradual resumption of international travel and face-to-face operations, AppWorks Accelerator #24 ("AW#24") will feature a live in-person Demo Day on July 14 in Taipei.
AW#24 officially kicked off in March 2022, featuring 24 teams and 51 founders from 12 different home markets, including Indonesia, Thailand, the United States, Singapore, and Hong Kong—with 17 Taiwan-based teams. The batch included 10 female founders (20%) and 20 serial founders (42%). Half of the batch's founders are building projects for the web3 era.
For AW#24's global demo day, the accelerator will feature the following companies:
1. The Iterative Collective: Incubator, developer & publisher for games
2. Protico: Web3 chatting network
3. Labfront: AI tools for health research
4. PaperPlane by FlyingClub: NFT with IRL drinking utility
5. Envio: Full-service digital logistics & supply chain enabler for SMBs
6. BitShine: Fiat on-ramp and off-ramp for companies
7. Aibou: Helping SMBs grow and scale, with automation and data insights that matter
8. Alphalytics: On-chain data aggregator
9. Blueberry Tech: Business aggregator app
10. PreTeeth AI: AI tools for dental smile design
11. ZTO: Web3 social media
12. Storius: Geotagged audio sharing app
"As investors across historical cycles in traditional and crypto startups, we've seen the rise and fall of trends—as well as dramatic shifts that permanently alter the way founders and companies innovate and iterate products. With macro and geopolitical headwinds playing a dominant role in shaping market dynamics, we are now at the beginning of a new cycle, representing a shift in attitudes towards early-stage value creation across all market verticals and geographies," said Jessica Liu, Partner, AppWorks. "With AW#24, we're seeing many exciting innovations in web3 and traditional startups, creating powerful new ideas for the next cycle of innovation and entrepreneurship."
As one of Greater Southeast Asia's largest accelerator programs, AppWorks holds its Demo Day twice a year, welcoming investors and business leaders seeking partnerships with carefully selected digital innovators from across the region and around the world. With the addition of AW#24, there are now 457 active startups (+43 YoY) and 1,448 founders (+53 YoY) in the community. The AppWorks community now accounts for US$17.5 billion in annual revenues (+36% YoY), creating over 21,000 high quality jobs in the digital economy (+15% YoY). In the firm's rapidly growing web3 practice, the AppWorks ecosystem includes 93 active web3 startups, led by 181 founders from around the world.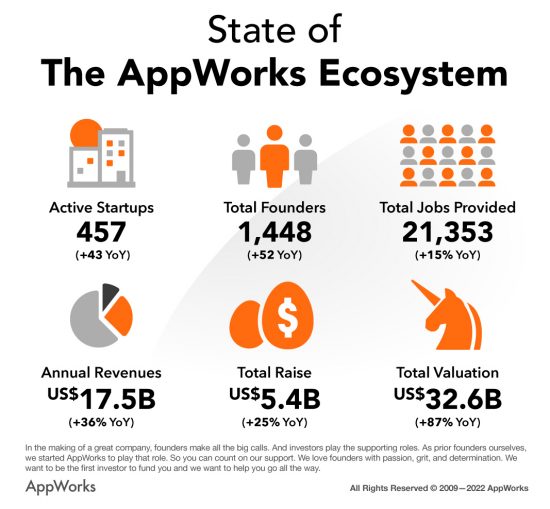 AppWorks is currently accepting applications for AppWorks Accelerator #25 ("AW#25"), which will feature founders working on AI/IoT, web3/DAO, and Southeast Asia-related startups–with decentralized autonomous organizations (DAOs) as a major focus. AppWorks believes that DAOs represent a new frontier that will disrupt the way people build organizations, and welcomes decentralized teams from around the world to join the accelerator. AW#25 will be held from September 2022 to January 2023. The accelerator is equity- and cost-free, providing practical and hands-on mentorship to guide founders in achieving better product-market fit, win key business partners, and become a better founder.
About AppWorks
Founded in 2009, AppWorks is a leading startup community and venture capital firm built by founders, for founders. We are committed to backing the next generation of entrepreneurs in Greater Southeast Asia (ASEAN+Taiwan) and helping them facilitate the region's transition into the digital age. Just as how mobile and the internet completely transformed the status quo, we believe the current era of technology is currently being defined by major three paradigm shifts: AI, Blockchain, and Southeast Asia (ABS).
As such, whether it's mentorship, investment, or talent, AppWorks has established a one-stop-shop for ambitious founders willing to bet against the consensus and drive a change they want to see in the world. We help startups build disruptive businesses from even an inkling of an idea into world-class enterprises through our three primary lines of service: Accelerator, Funds, and School.
More information: appworks.tw
About AppWorks Accelerator
AppWorks Accelerator is a launchpad for bold and ambitious entrepreneurs targeting Greater Southeast Asia (GSEA). Every six months, we take in startups with strong potential, equipping founders spanning all walks of life with the necessary resources, mentorship, and guidance to get their ventures off the ground.
There are now a total of 457 active startups and 1,448 founders in the AppWorks Ecosystem. Collectively, all companies produce a turnover of US$ 17.5 billion, an annual increase of 36% compared to the same time last year, and provide 21,353 jobs, 15% more than the year prior. Altogether, the Ecosystem raised a total of US$ 5.4 billion, an annual increase of 25%, with an aggregate valuation reaching US$ 32.6 billion, growing 87% YoY.
More information: appworks.tw/accelerator