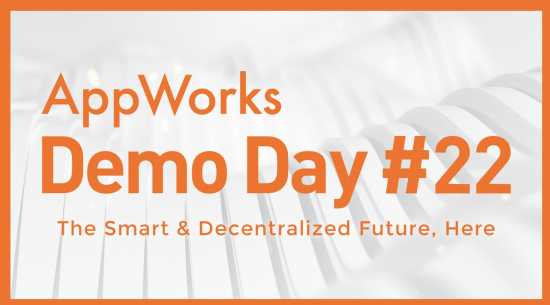 TAIPEI, TAIWAN — On July 14, 2021, AppWorks Accelerator held its 22nd demo day, unveiling 18 startups operating across the frontiers of AI, Blockchain, and Southeast Asia. In response to widespread lockdowns and social distancing measures across the region, AppWorks for the first time ever held a fully virtual Demo Day, broadcasting live across its Facebook page and YouTube channel with more than 1,000 collective viewers tuning in.
AW#22 officially kicked off in March 2021, featuring 24 teams and 40 founders, of which 33% are female and 43% serial entrepreneurs. Over 14 nationalities are represented in this batch, with more than two-thirds targeting markets outside of Taiwan including Indonesia, Vietnam, Singapore, the Philippines, Cambodia, Hong Kong, the US, and the Netherlands. Fintech was by far the most popular industry vertical, followed by ecommerce, logistics, foodtech, among others. A snapshot of the pitching teams are provided below:
1. ALIA: AI financial advisory app
Nadia Amalia | [email protected] | http://www.chatalia.id
2. AREA 02: Sneaker resell marketplace platform in Asia where users can easily buy, sell, and trade
Cory Chen | [email protected] | https://www.area02.com
3. Credidi: AI credit scoring service using transaction data
Vincent Liaw | [email protected] | https://credidi.ai
4. Fika: Asia's female-focused AI social & dating app
Denise Sandquist | [email protected] | https://keepfika.com
5. Find Recruiter: Recruiter marketplace for Asia talent
Lawton Lai | [email protected] | https://www.findrecruiter.com
6. Giftpack: AI-powered corporate gifting CRM
Archer Chiang | [email protected] | https://giftpack.ai
7. Homexin: Platform which solves problems for hospitalized families
Jonathan Hsiao | [email protected] | http://www.homexin.com.tw
8. KOLpass: MarTech platform for micro/nano influencers
Pierce Hung | [email protected] | http://www.kolpass.org
9. MedHyve: AI-powered procurement tools and dashboards for medical institutions
Gabriel Henry J. Lopez | [email protected] | https://medhyve.com
10. PillTech: B2B healthcare marketplace
Vireak Chea | [email protected] | https://pilltech.com.kh
11. Sendjoy: Cameo for Asia
LC Lim | [email protected] | www.sendjoynow.com
12. Sensay: AI-powered English speaking homework tool for educators
Caren Chen | [email protected] | http://www.sensay.tw
13. ShowHue: AI visual tool for eCommerce
Hannie Liu | [email protected] | http://www.showhue.com
14. Spaceship: Smart logistics platform
Wun Chi Lam | [email protected] | http://www.spaceship.hk
15. Swugo: The subscription service that makes any bike an electric bike
Samuel Ijsselmuiden | [email protected] | http://www.swugo.com
16. TANG app: International peer-to-peer payment app
Rebecca Kersch | [email protected] | http://www.tangapp.org
17. Waku: F&B and catering platform
Anthony Gunawan | [email protected] | http://www.wakuliner.com
18. WTH Foods: Plant-based meat alternatives
Stephen Co | [email protected] | https://www.wthfoods.ph
The startup ecosystem in Southeast Asia is now entering the next phase of development, with more and more companies like Carro and PatSnap entering the unicorn stable, while existing unicorns including GoTo (Gojek+Tokopedia), Grab, and Bukalapak all announcing their plans to go public. It was only a few years ago when the region experienced its very first public exit with Sea Group in 2017, resulting in many employees splintering off to start their own entrepreneurial endeavors. Now it's increasingly becoming the new norm, just as with the pandemic. Although AppWorks is in its 11th year running, our mission with events like Demo Day remains consistent—to continue facilitating the region's digital transformation by creating the strongest community of founders and fostering more opportunities for collaboration with and investments in startups.
The AppWorks ecosystem reaches new echelons of success
Traditionally, AppWorks has held its Demo Day twice a year, becoming one of the premier events for digital innovators across the region. Travel restrictions and physical limitations have only served to speed up digital adoption among consumers and businesses alike, clearly reflected in the growth of our ecosystem. With the addition of AW#22, there are now 414 active startups and 1,396 founders in the community. Both the total funds raised and valuation have more than tripled in the last year. The ecosystem's collective turnover also achieved a new milestone, crossing the US$10 billion mark, more than doubling from the year prior, while creating close to 20,000 jobs in the process.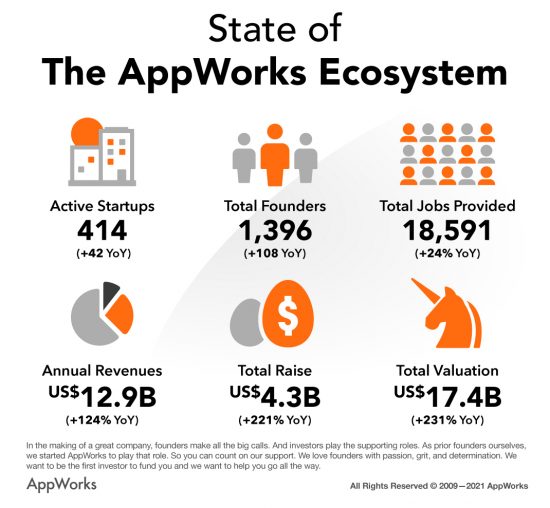 Although the pandemic has adversely impacted the global economy this past year, the AppWorks ecosystem has been able to accelerate in growth. The driving force behind this momentum stems from all the efforts of entrepreneurs, capitalizing on the latest paradigm shifts and technological innovations. "The four major paradigm shifts that we identified, namely AI, Blockchain, NFT, and rising Southeast Asia, are happening in full swing, and opening tremendous opportunities for founders. This new generation of technologies is evolving at higher speeds than its predecessors, implying faster and bigger disruptions, and endless vectors of applications. This is a once-in-a-lifetime window—there's simply no better time to be a startup founder," says AppWorks chairman Jamie Lin.
【We welcome all AI, Blockchain, NFT, or Southeast Asia founders to join AppWorks Accelerator】
AppWorks – Greater SEA's Leading Accelerator + VC
Founded in 2009, AppWorks is a startup community built by founders, for founders. We are committed to fostering the next generation of entrepreneurs in Greater Southeast Asia (SEA + Taiwan) and helping them facilitate the region's transition into the digital era. Just as how mobile completely transformed the status quo, we believe nascent technologies such as AI and blockchain will eventually redefine the global paradigm.
As such, whether it's mentorship, investment, or talent, AppWorks has established a one-stop shop for ambitious founders willing to bet against the consensus and drive a change they see in the world. We help startups build disruptive businesses from even an inkling of an idea into world-class enterprises through our three primary lines of service: Accelerator, Funds, and School.
AppWorks Accelerator
AppWorks Accelerator is the leading launchpad for bold and ambitious entrepreneurs targeting Greater Southeast Asia. Every 6 months, we take in startups with strong potentials, equipping founders spanning all walks of life with the necessary resources, mentorship, and guidance to get their ventures off the ground.
There are now a total of 414 active startups and 1,396 founders in the AppWorks Ecosystem. Collectively, all companies produce a turnover of US$ 12.9B, an annual increase of 124% compared to the same time last year, and provide 18,591 jobs, 24% more than the year prior. Altogether, the Ecosystem raised a total of US$ 4.3B, an annual increase of 221%, with an aggregate valuation reaching US$ 17.4B, growing 231% YoY. More information: appworks.tw/accelerator

AppWorks Funds

AppWorks manages three venture capital funds totaling US$ 212 million. We've attracted a diverse array of LPs who believe in our vision, including Taiwan Mobile, Fubon Life Insurance, Cathay Life Insurance, Taiwan's National Development Fund, Hungtai Group, The CID Group, Wistron Corporation, Phison Electronics, CDIB & Partners Investment Holdings, Far EasTone, UDN Group, and Axiom Asia Capital. We fund 10 – 15 deals a year, now with 60+ companies in our portfolio including leading startups in GSEA like Huolala, 91APP, KKday, ShopBack, Carousell, and iChef, while having produced 4 IPOs: (Uber, NetPublishing, KuoBrothers, Mobix, and 91APP) and 1 IEO (FLOW). More information: appworks.tw/investments

AppWorks School
Established in 2016, AppWorks School has strived to cultivate a pipeline of skilled labor to help our community meet the technical demands of tomorrow. Quality talent has always served as the bedrock of innovation, yet shortages still remain the foremost challenge that tech companies in GSEA face today.
Within four years, AppWorks School has now graduated 305 software engineers, 90% of these graduates went on to pursue successful software engineering careers in prominent companies such as 91APP, KKBOX, Line TV, Hahow, VoiceTube and WeMo Scooter. AppWorks School currently provides five courses: iOS, Android, Front-End, Back-End Development and Data Engineering. More information: school.appworks.tw