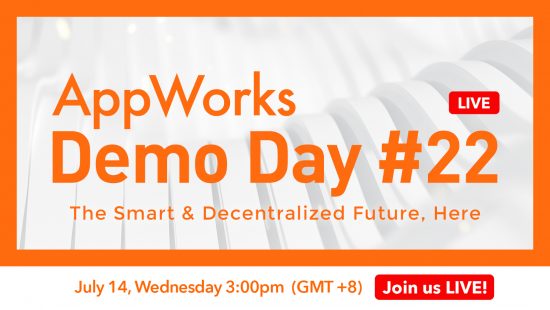 #漢文在下 AppWorks' highly anticipated demo day is ready to bring you once again founders who are working at the forefront of AI, Blockchain, and SEA. This time, we have decided to bring it online and present our first ever virtual demo day to make it more seamless and accessible for our guests across the region.
This particular demo day will feature 18 startups. Among these rising stars, we'll have founders joining us from across the region including Taiwan, Indonesia, the Philippines, and over 10 other markets represented. This batch is quite diverse with over 40% of them as serial entrepreneurs with some exits under their belts, and over 30% of them are founded or co-founded by women.
Please RSVP to receive a calendar invite with more info and join us live on AppWorks Demo Day #22 on YouTube or Facebook. Whether you're looking for opportunities to invest, collaborate, or stay abreast of the latest trends across AI, Blockchain, and SEA, this is an event you definitely don't want to miss!
*This is a public event, however to facilitate better connections with the founders we'll organize an invite-only post-campaign, dedicated to investors and corporate representatives. If you are one & need an invite, email us at [email protected].
半年一次,AppWorks Demo Day 帶您看見數位經濟最前緣,這一屆,我們將再次帶給您專屬於 AI、Blockchain、目標東南亞市場團隊的一場新創盛會。本屆,我們將首度移往線上舉辦,讓來自大東南亞各個國家的來賓,皆能同步參與。
本屆 Demo Day,將有 18 支優秀的新創團隊登場。在這群明日之星中,背景十分多元且國際化,共有來自台灣、印尼、菲律賓以及另外超過 10 個市場的創業者,其中超過 40% 為經驗豐富的連續創業者,另外也有超過 30% 由女性主導的新創。
無論您是想找投資機會、合作夥伴,或是想追上 AI、Blockchain、東南亞的最新脈動,這都是一場您不能錯過的盛宴。若想參加,敬請回覆報名,以獲得更多團隊資訊,也可直接前往 AppWorks 的 Facebook 專頁或 YouTube 頻道觀看線上直播。
* 本次 Demo Day 是對所有人開放參加的線上活動,但為了促進與創業者們有更密切的交流,我們將在活動結束後,針對投資人、企業代表另外安排一場限定邀請的交流,若您想獲得邀請並參加,請 email 至 [email protected]。
Date: Wednesday, July 14, 2021
Agenda (GMT +8)
15:00 – 15:15 Opening Remarks
15:15 – 16:00 Startups Demo
16:00 – 18:30 1-1 sessions with AW#22 founders (on-demand scheduling)
Want to pitch at the next AppWorks Demo Day or join the largest founder community in Greater Southeast Asia? Apply now >> AppWorks Accelerator #23