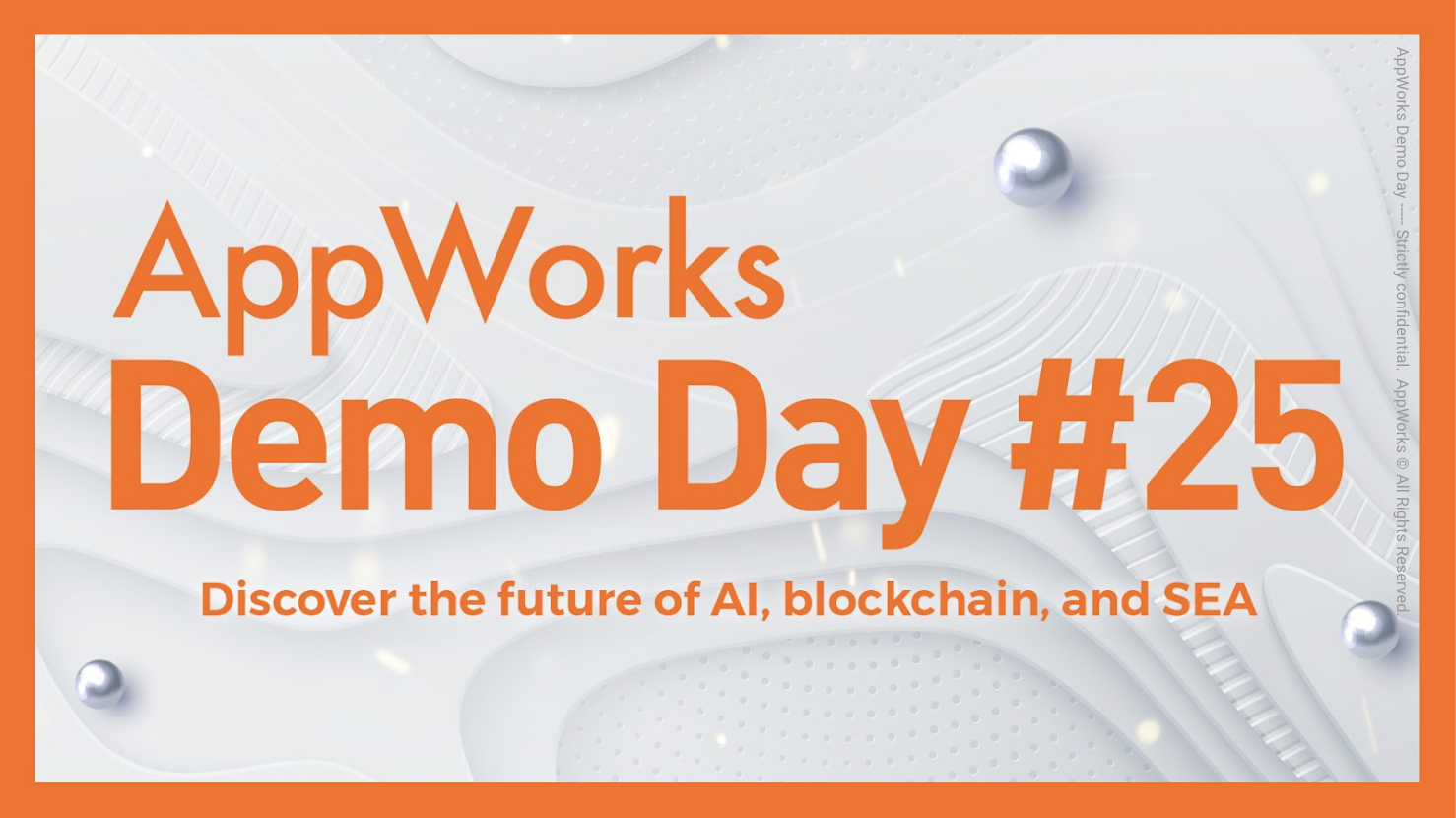 In mid-December, we will host an in-person Demo Day in Taipei, Taiwan, featuring startups that are facing the Taiwan market. It would be great for the founders facing the Southeast Asia Market to showcase their product and team to the wider startup community from across the region and our network through a virtual Demo Day. 
This past half year, AppWorks Accelerator recruited 31 teams across AW#25, with 76 founders from 15 different home markets, including the Philippines, Indonesia, Malaysia, Singapore, Kazakhstan, Hong Kong, the United States, and so on—with 9 Taiwan-based teams. The batch included 10 female founders (13%) and 29 serial founders (38%). 39% of the batch's founders are building projects in the web3 space. 
This particular demo day will feature 23 startups to give you a glimpse into our digital future, with 8 teams working on web3 solutions and 15 teams focusing on AI and SEA.
AppWorks Demo Day #25 will kick off on YouTube at 11 AM (GMT+8) on December 13th. To facilitate better connections with the founders, we'll organize 1-1 meetings with the founders dedicated to investors and corporate representatives with a 2-week campaign.
You can find a brief introduction to each pitching team and founder below:
1. Seasalt.ai: AI-powered omni-channel contact centers for cross-border businesses in Southeast Asia and the United States 
Xuchen Yao | [email protected] | seasalt.ai
2. KPay: Payment gateway and SaaS solution for SMEs
Davis Chan | [email protected] | kpay-group.com
3. Quest: Alternate income platform for GenZs
Evan Chow | [email protected] | quest-inc.co
4. CRUST Group: Sustainable upcycled beverages
Travin Singh | [email protected] | crust-group.com
5. Cast LMS: Canva for e-learning
Agno Almario | [email protected] | castlms.com
6. Seneca ESG: ESG workflow automation software for corporates and financial institutions
Jonathan Ha | [email protected] | senecaesg.com
7. ARTOGO: Immersive digital experiences for art, culture, and communities in the metaverse
Walt Chuang | [email protected] | artogo.tw
8. YesHello: Team inbox for WhatsApp
Carliff Rizal | [email protected] | yeshello.chat
9. AI Guided: AI/IoT-based visual guiding system for the visually impaired and elderly
Florence Chan | [email protected] | ai-guided.com
10. Fitscovery: Online marketplace for fitness activities
Michael Jiang | [email protected] | fitscovery.com
11. Skilio: Skills-based hiring platform for Gen Zs
Felix Tan | [email protected] | skilio.co
12. Dynacyte Biosciences: Next-generation bioreactors to democratize biotechnology
Alan She | [email protected] | dynacyte.com
13. BintanGO: Financial solutions, productivity, and monetization tools for creators
Jason Lee | [email protected] | bintango.com
14. Bee Prepared: Software as a career coach
Carmen Wong | [email protected] | beeprepared.info
15. CARFUL: Airbnb for car sharing
Ken Li | [email protected] | carful.asia
16. Hive Keychain: Non-custodial crypto wallet for gamers and content creators
Quentin Correa | [email protected] | hive-keychain.com
17. depub.space: Civic media platform for web3
Henry Oh | [email protected] | depub.space
18. Elite XP: GameFi platform for web2 and web3 games
Justin Wong | [email protected] | elitexp.io
19. PaxWallet: Virtual crypto card for daily life
Temerlan | [email protected] | smartportfolio.app
20. OlaWealth: Web3 trading intelligence app
Jason Chan | [email protected] | olawealth.io
21. Protoworld: Open metaverse for the next-gen creators
Ziii Kuo | [email protected] | protoworld.io
22. Nimbl: Web3 video-sharing social network
Adilkhan Rashit | [email protected] | nimbl.tv
23. Niomon: Crypto wallet for web3 gamers
Jay Leung | [email protected] | niomon.io
If you are an investor or corporate representative and need more detailed information about the teams or want to connect with AW#25 founders, please email us at [email protected].
We welcome all web3, AI / IoT, or Southeast Asia founders to join AppWorks Accelerator.