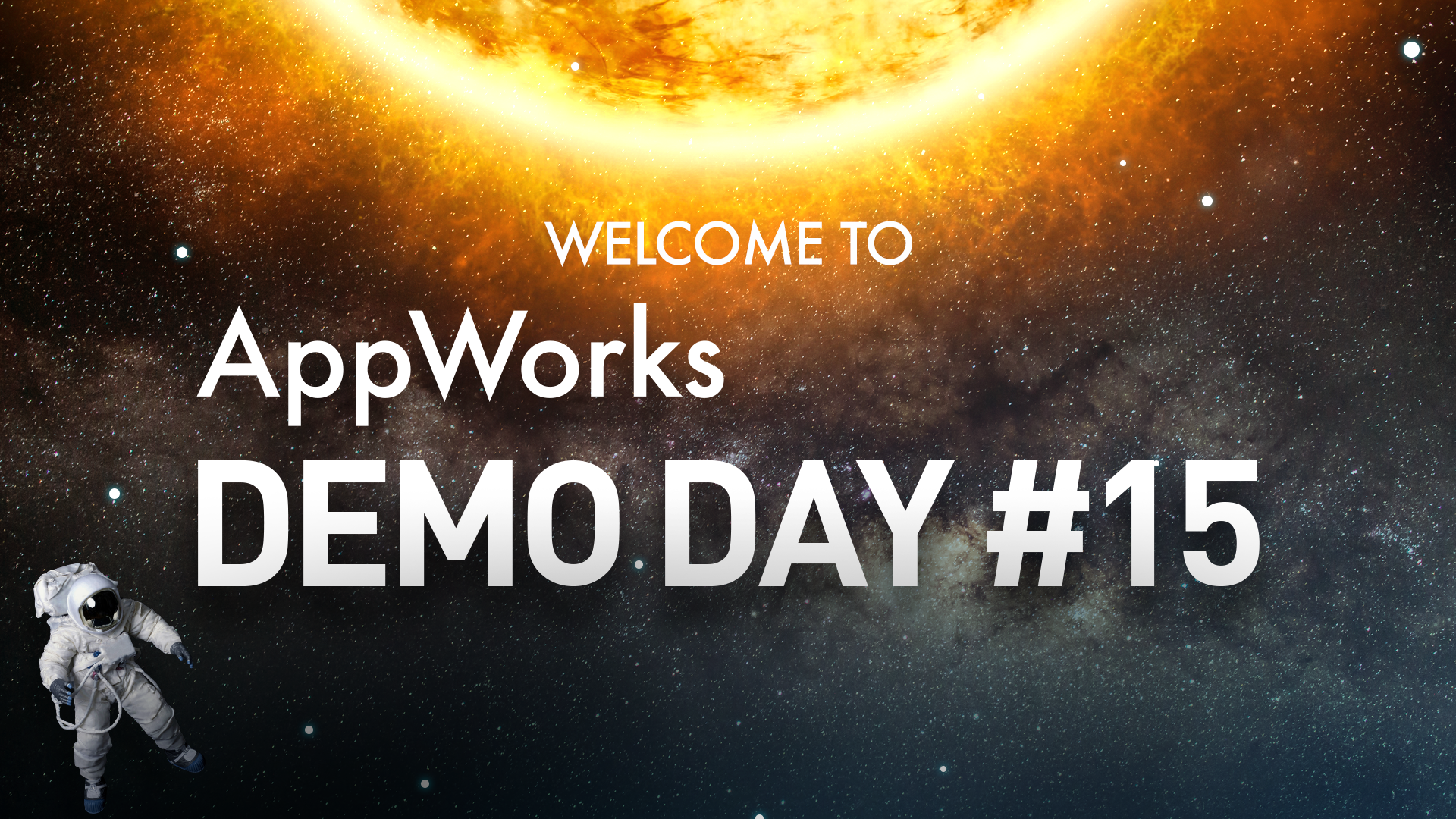 AppWorks Demo Day #15 將於今天下午隆重登場,無法親臨現場的朋友,可以到 AppWorks Facebook Page 觀賞本次活動的實況轉播。
若你也想登上 AppWorks Demo Day 的千人大舞台,展現自己的產品與商業模式,AppWorks Accelerator #16 現正開放申請,歡迎加入我們。
以下是將在 AppWorks Demo Day #15 出場的 25 支新創團隊簡介:
AppWorks Demo Day #15 will take place this afternoon. If you're unable to physically attend the event, you are welcome to join us on AppWorks Facebook Page for the live streaming of the event.
If you are also excited about the opportunity to pitch your product and business idea to over a 1,000 people on the AppWorks Demo Day stage, join us by applying to AppWorks Accelerator #16. We look forward to receiving your applications!
The following are brief introductions of the 25 startup teams at AppWorks Demo Day #15:
上半場 Batch I
1. Origami Labs
Origami Labs developed an IoT wearable device, smart ring "ORII", which puts voice assistants on our hand. As an IoT platform, ORII opens up new "real estate" for delivering enhanced voice AI capabilities in personal communications, B2B hospitality applications, telecom, and contactless payments.
Kevin Johan Wong | kevin@origami-labs.com | www.orii.io
2. FBbuy
FBbuy has created a order collection system on Facebook, painlessly bridging the social community with an e-commerce platform. Using their system, sellers operating e-commerce businesses with Facebook fan pages can easily collect orders through consumers' comments.
Ivy Yang | ivy@mi-go.com.tw | store.fbbuy.com.tw
3. Booqed
Digital marketplace connecting businesses and users needing a place to work, meet, or have an event, with space owners that have excess or unused spaces they can monetize. Mobile app combined with web platform for real-time booking, a management interface for "hosts" to manage their listings, and a secure payment gateway.
David Wong | david.wong@getbooqed.com | www.getbooqed.com
4. 樂居科技
樂居科技 focuses on real estate marketing. Their web platform organizes the government's open data and delivers real estate knowledge through articles and videos, while providing targeted marketing services based on user behavior data collected from potential buyers and sellers of houses.
李奕農 | yinong.li@gmail.com | www.leju.com.tw
5. Codibook
Codibook is an online customized shopping service that boasts the most members and content in South Korea's fashion sector. It painlessly bridges content and e-commerce allowing users to seamlessly stay on top of the latest fashion styles. They started international shipments in 2016, and will launch full-scale service in Taiwan in 2017.
Matthew Lee | core@ydea.co | codibook.net
6. JIBAO
JIBAO is an education platform, where teachers, experts, and textbook publishers can exchange teaching resources and learning materials, while sharing best practices. JIBAO optimizes the platform through data analytics, providing tailored recommendations for users based on their usage behavior and preferences.
Tony Hsieh | tony@jibaoviewer.com | www.jibaoviewer.com
7. Qourier
Qourier is an online platform that connects businesses or individuals to a network of crowdsourced freelancers for deliveries. We focus on same day local deliveries within Singapore, and also offer international deliveries (export from Singapore to anywhere in the world) by partnering with DHL Express. Qourier is available on iOS, Android, and web.
Elston Yee | elston@qourier.com | qourier.com
8. 阿諾標記
阿諾標記 is the one and only linguistics-based company in Taiwan that focuses on "semantic analysis" and provides "high quality annotations." Major products include sentiment API, chatbots with humanity, and a multi-quality control annotation platform. Through their technology, they aim to streamline natural language processing between humans and machines.
黃資勻 | averocksanne@gmail.com | www.anno.solutions
9. Gowifi
Gowifi provides travelers convenient Internet access services. By simply renting their wifi router, travelers can conveniently enjoy the world's 108 international Internet access services. Gowifi also integrates passengers' data and travel information to provide tailored recommendations for tourism products and related peripherals, with the eventual aim of creating a cross-border advertising marketing platform. Until now, they have served roughly 20,000 travelers monthly.
Bogi Huang | B@gowifi.com.tw | www.gowifi.com.tw
10. SHOUHAN
SHOUHAN is an online Korean language education service platform. It provides comprehensive video lectures (Drama, TV Show form) and 1-on-1 tutoring services (Native Korean tutor). Starting from language education, they are going to expand into a universal content platform for Korean culture.
Jason Hong | sungwoo@shoujihanyu.com | www.shoujihanyu.com
11. StickerHD 百變怪貼紙
StickerHD 百變怪貼紙 is a customized sticker printing platform. Using a simple online operation and minimum of 5 pieces per order, you can have high-quality, anti-UV, and waterproof custom stickers ready to be delivered within 7 days to customers all over Asia.
張育誠 | labrada@jungllle.com | www.stickerhd.com
12. WriteTime 手寫時光
WriteTime integrates e-commerce with social community, selling handwriting products including fountain pens, copybooks, and topic writing courses on their online marketplace. Their high-volume fan page "葉曄 X 夜夜寫字" boasts over 200,000 subscribers from Taiwan, Hong Kong, China, Singapore, and Malaysia.
竺佳慶 | ohyayeh@gmail.com | www.writetime.life
13. PPAV
PPAV is a porn search engine. With their service, consumers can can immediately find their favorite porn video simply by using an AV girl's name or image.
唐子軒 | rsyuan0422@gmail.com | t.me/PPAV_bot
下半場 Batch II
1. Micepad
Micepad is an event management and audience engagement platform, designed to deliver a great experience for every digital interaction. From pre-event to post-event, by increasing interactivity and making events more measurable, our users increase the productivity of their event stakeholders and demonstrate event ROI with data to improve all subsequent events hosted.
Tan Jie Hao | jiehao@micepadapp.com | www.micepadapp.com
2. Botimize
Botimize is designed to optimize human-bot conversation. With advanced Chinese and English NLP (Natural Language Processing) technology, we make machines understand human language, and let brands gain actionable insights of their own customers. We help acquire, grow, and retain users through optimizing conversational interactions in marketing, customer support, and sales targeting.
郭冠宏 | ggm@getbotimize.com | www.getbotimize.com
3. E-Record
E-Record has built an accounting software to help accountants, accounting firms, and bookkeepers improve the efficiency of filing taxes.
王建偉 | wade.wang@e-record.com.tw | www.e-record.com.tw
4. Mr.Reply
Mr.Reply offers a marketing chatbot platform, helping marketers/small business owners set up marketing chatbots on Facebook without coding to enhance leads generation and conversion.
Kenny Lim | limkamho@gmail.com | www.Mrreply.com
5. Tsai Tung
Tsai Tung is an online vegetable marketplace for restaurants and farmers. Restaurants purchase vegetables directly from farmers through Tsai Tung's platform. Once a transaction is made, Tsai Tung picks up the designated volume/variety at the farm site and delivers it directly to restaurants' doors.
李昱德 | yl@tsaitung.com | www.tsaitung.com
6. Cytron Technology
Cytron Technology provides an electronic components marketplace for makers. We provide online guides/tutorials and workshop for makers to learn how to build IoT products, and a shopping platform featuring a comprehensive offering of electronic components, IoT building blocks, and equipment.
Tan Eng Tong | engtong@cytron.com.my | www.cytron.io
7. Arisan
Arisan has built a cloud video IoT management platform named CLiO. CLiO is a B2B Management Platform for security service providers and system integrators. They can use the platform to serve their customers without having to worry about server and software maintenance.
唐國倫 | billt@arisan.io | www.arisan.io
8. 望月女子谷慕慕 Good Moon Mood
Good Moon Mood is committed to improving the menstrual life of Taiwanese women.
Already processing large volumes of business through their fan page, they are also
currently developing a special line of menstrual underwear for Asian women. By using
breathable, comfortable, and reusable materials, they aim to replace the traditional
disposable sanitary pad so every female in their menstrual period can maintain a good
mood.
史文妃 | fiona@goodmoonmood.com |www.facebook.com/GoodMoonMood
9. Growth Marketer Academy
Growth Marketer Academy is the 1st Growth Marketing School in Asia to provide actionable growth training and build a growth community. They offer offline workshops and online courses via web & chatbot.
Tim Chan | tim@growthmarketer.academy | growthmarketer.academy
10. 好痛痛
「好痛痛」provides information to remedy for your sports injury. Through collaboration with physiotherapists,「好痛痛」brings easy-to-understand, applicable sports concepts, as well as physiological knowledge to the public. They also integrate online medical information as to help sports lovers find suitable medical resources in no time and simultaneously connect the physiotherapy clinic to their customers via online.
黃威傑 | godspeedwch@gmail.com | painandtraining.blogspot.tw
11. CoverGo
CoverGo is an independent tech platform that helps insurance advisors manage their clients' policies and improve customer engagement and experience through a dedicated mobile app.
Allan Wan | allan@covergo.com |www.covergo.com
12. Flipweb
FlipWeb is the 1st shopping platform to buy and sell digital assets in Taiwan, providing a secure marketplace for buying and selling websites/domains/apps/fan pages, with the ultimate aim of removing frictions for sellers and buyers.
Tina Lin | tina@flipweb.co | www.flipweb.co
AppWorks Demo Day #15 感謝以下合作夥伴: