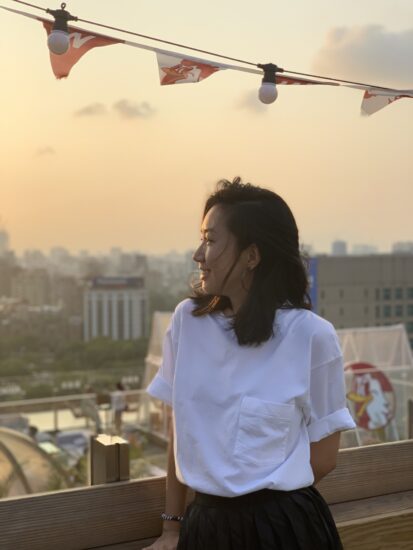 Alyssa Chen, Principal (陳敬旻 / 協理)

Alyssa is a Principal leading the Accelerator Arm of AppWorks, overseeing products including AppWorks Accelerator, Wistron Accelerator and management of communities ranging from accelerator alumni to mentors — "a lab that helps startups build their rockets," as she puts it. She interned at AppWorks for a year during university. After graduation, Alyssa started her career at Huashan 1914, Taiwan's pioneering cultural creative park. In 2016, she returned to AppWorks as an Analyst, became an Associate in 2019, and most recently assumed the role of Principal in 2022. She holds a Master of International Communications and a B.A. in German, both from National Chengchi University. On a personal basis, Alyssa is a strong advocate for female power, and has an undying passion for flowers and wine.
(English Below) 我是 Alyssa,今年 (2022) 在 AppWorks 工作滿第 6 年,最初由分析師開始,現在是加速器事業群協理。快速回顧這 6 年:在接下加速器負責人的任務之後,每年都迎接了不同的挑戰。過程中帶領加速器持續成長、區域化,2018 年重新定位為專注於 AI、區塊鏈加速器,2020 年起隨疫情轉型為 Hybrid 加速器,2021 年與緯創合作推出 Wistron Accelerator 垂直加速器,協助對接企業與新創的深度合作。
這些年來,AppWorks 的新創社群,累積已輔導超過 457 個來自大東南亞的活躍新創、將近 1500 位創業者,而這些新創公司,共為世界上創造了超過 2 萬個數位工作機會。
簡單介紹這些年我在 AppWorks 的工作內容,接下來我也想分享,我自己時常思考的問題:為什麼我覺得做這些事很重要?為什麼這是我的熱情所在?
從 20 代的開始,自由這個字彙時不時會在我心中浮現。當時的我,對所謂自由還沒有一個清楚的定義,只是在日常生活中,總有幾個片刻,我會突然感到好自由、好快樂。比如說,學生時代的我常泡在圖書館看學校才有的進口原文書籍,坐在政大圖書館,卻吸收著來自世界的文化、資訊與意識形態,這種能夠突破框架的體驗,讓我感到自由。又比如說,大學選擇念德文系,其實當時背後並沒有太深遠的想法,單純認為理解一個新的語言,有機會為我打開新的視角,帶我到更遠的地方,這種被賦能的力量,是我嚮往的自由。
而對自由的定義,在出了社會後,開始有了更清晰的輪廓。畢業後的第一份正式工作,我在華山文創園區,開發新銳設計師與藝術家,協助他們將作品商業化、策劃開立期間限定店,測試實體銷售表現。原本以為自己很藝文導向的我,在這段工作期間,回想起學生時期在 AppWorks 擔任實習生的經驗,意識到原來我更嚮往的,是能夠站在科技的最前線,協助創業者打造出可能改變下個十年人類行為的新產品 —— 對我而言,這是一種能夠形塑未來、顛覆現況的自由。
6 年下來,在 AppWorks 的工作歷程中,秉持著一樣的初衷,希望打造一個強大的創業者社群,協助創業者透過試錯、學習,突破自己變得更強更好,做出用戶喜愛的產品,打造有影響力的公司,每個人改變這個世界上的一小部分,聯合起來就是一股強勁的力道,推動許多價值的創造。
6 年不變,很幸運地,在我深信的理念之下,我同時擁有許多自由揮灑的空間。如文章開頭所舉例,這些年加速器的幾個改變與里程碑,其實都來自於平時與創業者互動所累積的觀察、討論,進而延伸出來的創新計畫與服務。
今年八月,睽違幾年在疫情後,終於又能再度親訪我們的重點市場之一印尼雅加達。我記得,那也是一個週間午後,和合作夥伴開完會,踏出商業大樓,想著未來可能促成的新計劃,自己一個人走在市中心準備去搭車的那個空檔,又一次的,在那個片刻,我深深感到自由且珍惜。
所以,關於我常常思考的問題,原來答案一直就在身邊:幫助創業者是一種賦能,陪伴每位創業者的過程到結果,其中有無限的可能性,這也是一種自由。
與創業者討論關於個人、公司的種種疑難雜症,協助梳理問題,引導適合的合作關係,是我的工作內容,也是我擅長且很有熱忱的事情。如果有相關議題想討論,以下方式可以找到我:
Email: alyssa[at]appworks.tw
Hello readers! I'm Alyssa, and it's my sixth year at AppWorks (2022). I started my career here as an Analyst, and now I'm the Principal of the Accelerator Arm. A quick review of the past six years: After taking over the task of leading the accelerator, we experienced different challenges each year. With a mission to scale up the accelerator and expand it across more regions, in 2018, we repositioned to focus on AI and blockchain startups. In 2020, we transformed into a hybrid accelerator due to the pandemic. In 2021, we collaborated with Wistron to launch a new vertical accelerator, facilitating in-depth cooperation between enterprises and startups.
Over the years, AppWorks has so far mentored more than 457 active startups and nearly 1,500 entrepreneurs from Greater Southeast Asia, and these startups have created more than 20,000 job opportunities in the digital world .
Having briefly introduced my experience at AppWorks, now I'd like to share something that I often reflect on by myself: Why do I think it's important to work with startups? Why is this my passion?
When I was in my 20s, "freedom" was a word that popped into my mind from time to time. Back then, I didn't realize how important it was to me. It's just that in my daily life, there are always a few moments when I suddenly feel free and fulfilled.
For example, in college, I often indulged myself by staying all day in the school library. I grabbed myself a pile of international magazines which could only be found in the school. Even though I was sitting in the library in Taipei, those publications could transport me to other parts of the world and let me immerse myself in different cultures. That made me feel free.
By the way, I majored in German (the language) back in university. To be honest, I didn't think too much when I picked this major (I was just 18!), but I knew that by learning a different language, it can open up a new world to me. It made me feel empowered, and I yearned for this kind of freedom.
I figured out a more clear definition of freedom after I started my career. In my first job, I was working at Huashan Cultural and Creative Park, one of the most popular tourist destinations in Taipei. I was in charge of scouting up-and-coming designers and artists, turning their artwork into consumer products, and opening up pop-up stores to test offline sales performance. I applied for this job because I originally defined myself as a romantic hipster who could publish magazines and open a flower shop in the future. But during that time, I recalled my experience as an intern at AppWorks when I was in college, and realized that what I yearn for is to be at the forefront of technology and help entrepreneurs create innovative products – products that could change human behavior in the next decade. Being able to foresee and shape the future is also a kind of freedom I crave.
Over the past six years at AppWorks, we always shared the same vision – build a strong entrepreneur community and help founders become a better version of themselves through trial and error. Encouraging founders to create products that users love and build impactful companies. When everyone can change a small part of the world, together, it'll create massive impact.
Fortunately, I still get to enjoy a lot of freedom while working towards AppWorks' vision. From interactions with founders, I accumulate my understanding about entrepreneurship, and then apply these ideas when we design products and services for founders – it then results in improvement and new milestones.
In August 2022, after travel restrictions finally loosened up, I was able to visit Jakarta again, one of our key markets. I remember that it was also a weekday afternoon. After a meeting with a partner, I stepped out of the office building, thinking about new initiatives we might kick-off in the future while walking alone in the city center. Once again, in that specific moment, I felt deeply free and gratified.
I realized that I feel free by empowering founders and helping them discover all the possibilities along the entrepreneurial journey. I feel free through building and creating with founders. This is where I find passion.
Note:
Founders often book my time to chat over their founder journey or business plans. I'm passionate about helping founders sort out their problems and connecting them with suitable stakeholders. If you have related topics in mind to discuss, you can find me through the following channels:
Email: alyssa[at]appworks.tw