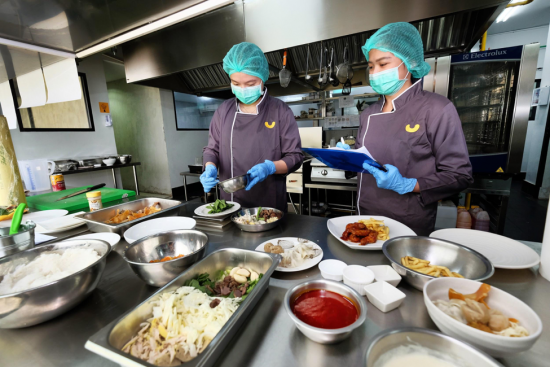 Yummy Corp, the largest cloud kitchen management company in Indonesia, today announced the company has raised US $12 million in their series B funding. The round was led by SoftBank Ventures Asia with the participation of Hongkong-based Vectr Ventures, AppWorks, Quest Ventures, Coca Cola Amatil X, Palm Drive Capital, as well as existing investors Intudo Ventures and Sovereign's Capital. Previous investors include Sinarmas Digital Ventures (SMDV) and East Ventures.
Yummy Corp's cloud kitchen business, Yummykitchen, is the only cloud kitchen service in Indonesia that positions itself as a full-service operator, where Yummykitchen not only rents out shared kitchen space, but also carries out operational procedures on behalf of their partner brands to help brands to accelerate their expansion and reach wider consumers.
Harris Yang from SoftBank Ventures Asia states, "Buoyed by the fast-growing food delivery market in Indonesia, Yummy has become the largest cloud kitchen management player in Indonesia. Given the Company's strong expertise in the F&B industry and unique value proposition to brands, we believe that Yummy will continue to be the leader in this space. We are excited to support the team and help them scale their business in this emerging sector."
Yummykitchen, launched in June 2019, now operates the largest cloud kitchen network in the Indonesian market. The company has a footprint of over 70 kitchens across Jakarta, Bandung, and Medan, and works in partnership with more than 50 food and beverage (F&B) brands, including veteran players Ismaya Group and Sour Sally Group, as well as emerging brands such as Padang Merdeka, Dailybox, and Hong Tang.
The year 2020 has been a relatively difficult year for many industries in Indonesia. Various restrictions placed in the effort to suppress the growth of pandemic cases have had many impacts across different sectors, including F&B. However, some F&B businesses — especially those who have focused on digital channels – have actually shown a positive increase.
Mario Suntanu, CEO of Yummy Corp states, "We have seen unprecedented growth for Yummykitchen. With this funding, we will focus on our mission to take an active role in helping the F&B industry grow their delivery business, especially during this pandemic. We invite all F&B entrepreneurs, both large and small, to partner with us, so that together we not only survive this pandemic, but can also expand rapidly." Yummy Corp has always emphasized the importance of food safety and hygiene, as evidenced by their HACCP-certified facilities and processes. By extending this operational standard across their kitchens, Yummykitchen aims to provide a food delivery experience that's guaranteed to be easy and safe for customers on their favorite food delivery platform.
About Yummy Corp
Yummy Corp is a cloud kitchen and online catering company, focused on using the latest technology to develop innovative solutions for corporates and F&B brands. The company has served over 5 million meals since its founding in 2017 and is now the largest cloud kitchen operator in Indonesia with over 70+ kitchens serving more than 50+ brand partners to manage their daily F&B operations.
【If you are a founder working on a startup in SEA, or working with AI / Blockchain, apply to AppWorks Accelerator to join the largest founder community in Greater Southeast Asia.】