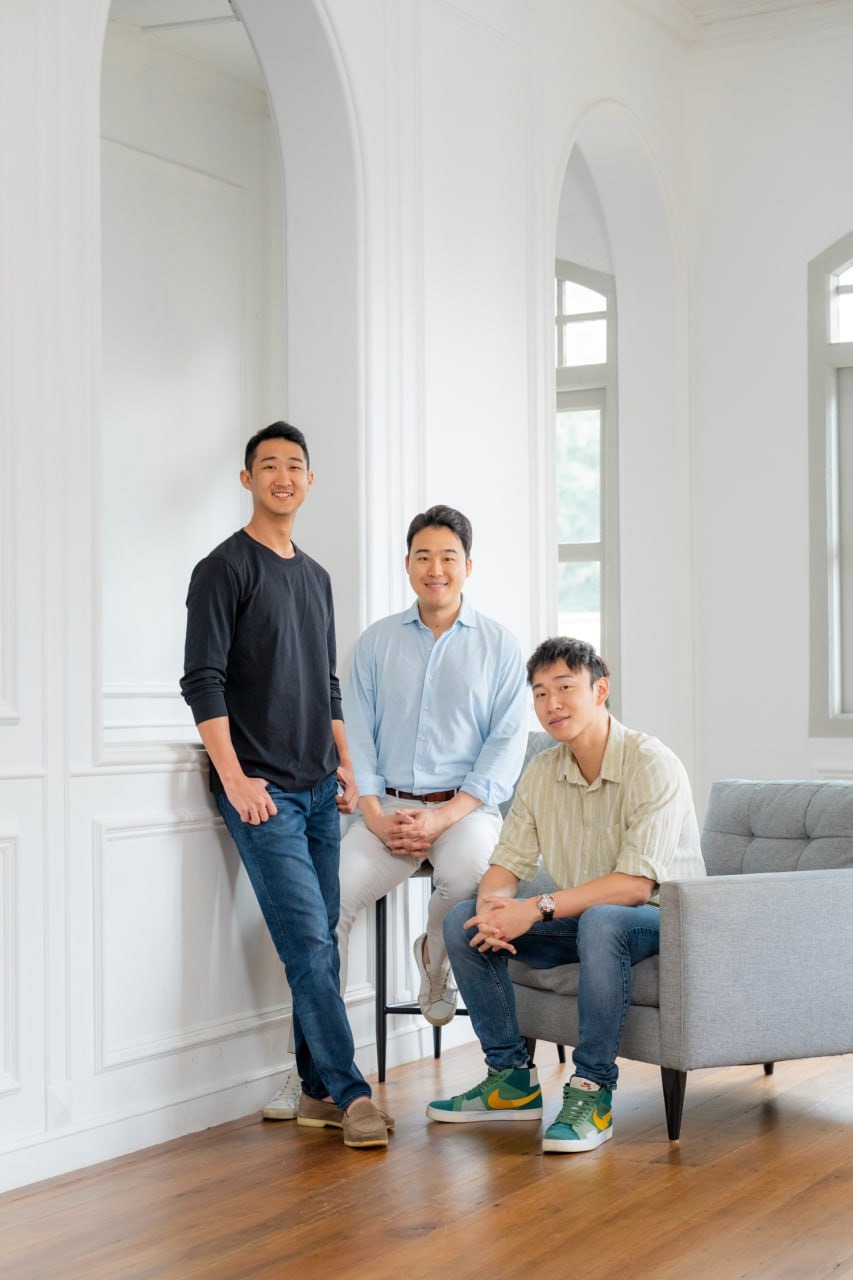 Johnny Chuang, Analyst (莊子揚 / 分析師)

Johnny is an Analyst covering web3 founders both in AppWorks Accelerator and AppWorks Funds portfolio. Before joining the team in 2023, he worked as a DeFi Strategist at Diamond Protocol, where he was responsible for portfolio management, protocol architecture design, and liquidity provision strategies backtesting. In this experience, Johnny successfully helped the protocol grow from zero to one.

Johnny graduated with a Bachelor's in Finance from National Taiwan University. During this time, he interned at AppWorks and a hedge fund, and was the captain of the basketball team of the finance department. Outside the realm of work, he enjoys shooting hoops, working out, and losing himself in sci-fi novels and movies.
Since their inception, crypto derivatives exchanges have experienced robust growth and adoption. Bitmex, a standout among early platforms, revolutionized the industry by introducing the concept of the "perpetual contract." This breakthrough dramatically simplified the use of leverage in crypto trading in eliminating expiries and rollovers, unleashing a surge in trading activities that has sustained its momentum to this day.
However, most trading activity has historically been confined to centralized exchanges. While platforms like dYdX aimed to be trailblazers in the decentralized derivatives exchange arena, their challenges in performance and complex user experiences, caused by the limitations of underlying blockchains and the need to sign every single transaction, has stymied the mainstream transition to decentralized platforms.
The limitations of centralized systems didn't fully register as a pressing concern until the watershed FTX event of November 2022. This incident served as an industry-wide wake-up call, highlighting the perils of over-centralization and reviving the old adage once ubiquitous in the crypto community: "Not your keys, not your coins." It became abundantly clear that the industry requires a more advanced form of derivatives exchange—one that mitigates the high counterparty risks associated with centralized finance (CeFi) while delivering a seamless user experience.
It is against this backdrop that we are elated to extend our support to Hong Gyu Yea, Matthew Quek, and Aaron Ong, the visionary trio behind GRVT. The GRVT team is pioneering a next-generation hybrid derivatives exchange built on zkSync technology, promising to offer the best of both worlds: the high-performance capabilities of a centralized trading engine, paired with the security of self-custody for users' funds. This innovative approach positions GRVT as a game-changer, poised to redefine the future landscape of crypto derivatives trading. 
The Mechanism of GRVT
The prevailing challenge confronting derivatives exchanges today is the difficult trade-off between low performance and high counterparty risk. Existing platforms often fall into one of four quadrants based on these criteria. However, GRVT disrupts this paradigm by implementing a hybrid model fortified with a comprehensive array of innovative features designed to elevate user experience. Let's delve into how GRVT is poised to be a transformative force in the industry.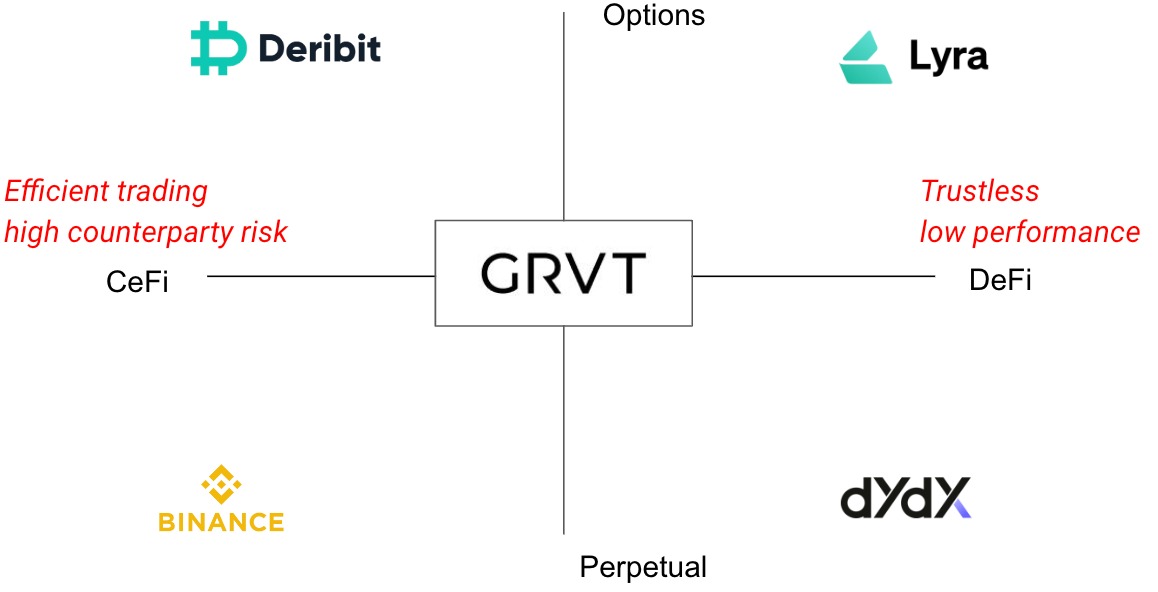 High-Performance Off-Chain Orderbook and Secure On-Chain Settlement
GRVT employs a cutting-edge off-chain orderbook matching system capable of processing an astounding 600,000 transactions per second, all while maintaining a latency of under two milliseconds. This high-performance engine is complemented by a secure on-chain settlement process facilitated by smart contracts deployed on zkSnyc Era. Users retain self-custody of their funds in their own wallets, significantly mitigating the risks associated with potential exchange failures. This dual-layer approach allows traders to operate with unparalleled speed and security, granting them peace of mind.
Comprehensive Financial Instruments in a One-Stop Shop
GRVT is not merely a derivatives exchange, but rather a comprehensive trading platform offering both options and futures contracts. Additionally, the platform supports Request for Quote (RFQ) trading for complex derivatives combinations and structures. Traders can now bypass the cumbersome experience of managing margins across separate options and futures platforms. Instead, they are able to execute a wide array of intricate trading strategies directly within the GRVT ecosystem.
Capital-Efficient Cross Margin Model
GRVT introduces a finely-tuned cross margin model that calculates the overall delta of a user's positions across both options and futures. This innovative approach significantly enhances capital efficiency, making the platform particularly well-suited to meet the sophisticated needs of institutional traders.
Robust Transaction Privacy
Leveraging Validium technology on the zkSync appchain, GRVT ensures that each transaction is encapsulated and shielded from visibility to other traders. This feature adds an extra layer of security and privacy, allowing users to trade with confidence.
In summary, GRVT's groundbreaking hybrid model and suite of advanced features positions it as a game-changer in the derivatives exchange landscape, offering a balanced solution for the industry's most pressing challenges.
Bringing expertise into crypto space 
The trio at the helm of GRVT brings a wealth of experience and expertise, uniquely positioning them to address the pressing challenges in the industry. Matthew, serving as the COO of GRVT, previously spearheaded the Blockchain & Payment team at DBS in Singapore, where he explored various blockchain initiatives in traditional finance (TradFi). His background equips him with the acumen needed to bridge the gap between conventional and digital asset trading.
Aaron, the CTO of GRVT, formerly held the role of tech lead for two data privacy frameworks at Meta. His transition to GRVT is strategic as he continues to tackle complex issues surrounding transaction privacy and trading efficiency. His deep-rooted expertise in technology and data privacy is invaluable in creating a secure and efficient trading environment.
Hong Yea, the CEO of GRVT, is a seasoned trading veteran with an impressive nine-year tenure at Credit Suisse and Goldman Sachs in Hong Kong. Known for his relentless ambition and determination, Hong Yea has consistently pushed himself to achieve greater goals throughout his career. With GRVT, he is seizing the opportunity presented by the industry's current challenges, aiming to revolutionize the way trading is conducted.
Together, these three founders have assembled a team of crypto-native professionals over the past year, each bringing their own specialized skills and backgrounds to the table. We believe this collective expertise makes them exceptionally well-suited to address long-standing issues in the crypto space. Armed with their combined knowledge and experience, the GRVT team is poised to navigate the complexities ahead and bring their visionary concept to fruition.
The ultimate form of derivatives exchange is GRVT
We are thrilled to hereby announce our support for Hong, Matthew, and Aaron as they embark on their journey to break new grounds in establishing a state-of-the-art derivatives exchange. We firmly believe that through their efforts, the future standard of trading platforms will be set. In an industry currently plagued by the opacity and credibility gap of centralized systems, they are in a unique position to reintroduce time-honored yardsticks of transparency and integrity, thanks to the innovative value proposition that GRVT brings to the table. 
At AppWorks, our mission is to identify and collaborate with exceptional founders who are driven to make a transformative impact in their respective domains. We couldn't be more excited to partner with Hong Yea, Matthew, and Aaron. Their relentless pursuit of greater solutions is not only pushing the boundaries of what a derivatives exchange can be but will also redefine the future landscape of trading in the web3 ecosystem.
If you are a founder working on a startup in SEA, or working with web3 and AI / IoT, apply to AppWorks Accelerator to join the largest founder community in Greater Southeast Asia.