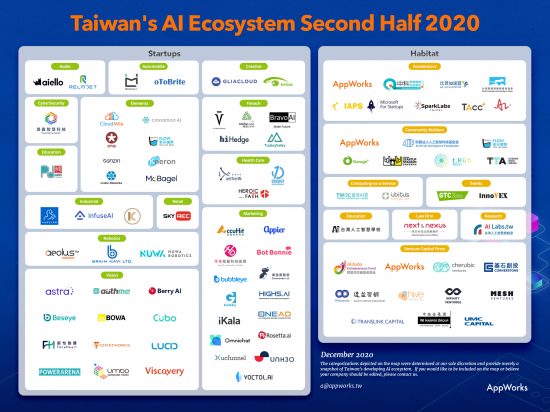 Natalie Lin, Analyst (林楓 / 分析師)

Natalie is an Analyst covering AppWorks Accelerator and Greater Southeast Asia. Before joining the team, she worked in the search engine marketing and email marketing teams at Zappos, America's leading shoes and fashion online retailer, where she primarily focused on KPI management, campaign optimization, and project management. Born in Canada and raised in the Middle East, Natalie returned to Taiwan for high school before moving to the US for college and work. She received her Bachelors of Marketing at Case Western Reserve University in Cleveland, Ohio. Outside of work she likes to read, travel, and play video games.
2020 has finally come to an end. Although the world is still shrouded in the shadow of the black swan event of COVID-19, the crisis has reached a turning point. As the pandemic continues to affect all parts of the world, many organizations, companies, and startups have turned to big data and AI to transform and optimize the efficiency of business activities, directly accelerating the overall development of the AI industry. According to IDC's report, the global AI market in 2020 will amount to US$ 156.5 billion, with a growth rate of 12.3%, of which 80% will be attributed to software. IDC also optimistically expects that the market size of the AI industry, considered by some as a blue ocean, will compound at an annual rate of 17% and exceed US$ 300B by 2024.
For various AI initiatives and applications to flourish, data centers must be fully developed to support the storage of data and training models, brain-like IaaS (information-as-a-service), and PaaS (platform-as-a-service) cloud services. After meeting the performance requirements of AI for cloud services, data in various fields such as finance and manufacturing can be used more efficiently to accelerate AI technology.
It should then come as no surprise that leading international cloud players such as Google and Microsoft have recently announced their intentions to deepen their investments in Taiwan's AI Infrastructure. Last September, Google unveiled that it would build a third data center in Yunlin, while Microsoft disclosed at the end of October that it would set up its first Azure data center in Taiwan. As Taiwan's future cloud infrastructure realizes, developers will no longer need to build services through overseas data centers, which will accelerate AI innovations and applications by local teams, especially in areas that are more sensitive to data sovereignty, such as finance.
Every 6 months, AppWorks releases an updated Taiwan AI Ecosystem Map, distilling the latest trends and developments while highlighting various companies leading the charge. In the process of reviewing the overall ecosystem changes, we have observed the following trends in the second half of 2020.
AI in healthtech has attracted investors' attention
Although the pandemic has negatively impacted economic productivity and overall investor appetite, it has unequivocally accelerated the adoption of AI innovation in healthcare. Despite the rather barren investment landscape in the first half of 2020, aetherAI, which provides medical imaging AI development services and AI digital pathology systems, managed to close a US$ 6M series A round led by Quanta Computing. In the second half of 2020, Deep01, which assists medical staff in interpreting computer tomography (CT) and provides an AI image interpretation system for cerebral hemorrhaging, successfully raised NT$ 80M (US$2.7M) in seed funding led by ASUS Capital. In addition, Heroic-Faith, which pioneered innovative medical devices such as an AI stethoscope and a smart respiratory monitoring system, also completed a US$ 4M series A round of fundraising in 2020.
Moving forward, the next step for Taiwan's healthtech and AI industry is to go global. As the main markets for medical AI-related products are still focused in developed countries like the United States, Japan, and Europe, Taiwan's visibility coupled with the impact of the pandemic will have an effect on an international scale. Whether these innovative startups can successfully go overseas to scale will become the focus of attention in the future.
Corporates are accelerating their search for transformation and collaboration opportunities in startup circles
For many traditional Taiwanese companies, big data and AI have been at the crux of their digital transformation initiatives and overall search for the next growth engines. In 2020, Commonwealth Magazine and Europe's IMD jointly released the first digital transformation survey between Taiwan and Europe. It pointed out that up to 52% of Taiwanese companies have not yet been digitally transformed, and only 4% of companies achieved or exceeded their digital transformation goals. Whether it's in-house big data and AI project teams or looking for partners in the startup world, it has become the newest goal for companies to innovate.
The most direct model is creating corporate venture capital (CVC) arms to invest in new ventures with strategic value. In addition to investment, Taiwan's major companies are also exploring other collaborative models. For example, one of the world's leading manufacturers of IoT systems Advantech worked with StarFab to establish an accelerator. Wistron, on the other hand, not only promotes upgrading the industry through partnerships with startups but also actively lays out future transformations. They collaborated with NCTU to establish embedded AI research centers, and jointly planned Wistron Lab @ Garage+ with Chia Hsin Cultural Foundation and Times Foundation to find growth opportunities in the next decade.
Taiwan's AI ecosystem is bolstered by the successful prevention of the epidemic
Due to the success of the Taiwan government and all citizens and residents in fighting the pandemic, Taiwan's AI ecosystem continued to flourish in the second half of 2020. On the startup accelerator side, AppWorks Accelerator has been recruiting specifically for AI startups since August 2018, fostering a total of 84 teams from both inside and outside of Taiwan. Other community partners such as Microsoft for Startups, SparkLabs Taipei, and Taiwan AI x Robotics Accelerator also recruited a number of AI-related startups to inject new energy into Taiwan's AI ecosystem. In the second half of 2020, due to the proper control of the coronavirus, it was relatively safe to host physical events in Taiwan. The largest startup event 2020 Meet Taipei showcased many startups using AI and big data to create more value-added services.
Taiwan AI Academy, Taiwan AI Labs, and the Artificial Intelligence Foundation are Taiwan's representative institutions in the field of AI education and research, and continue to inject talent and innovative technologies for the development of AI in Taiwan. With the support from the government, institutions, and overall ecosystem, Taiwan can continue to promote the implementation of AI in various industries and integrate innovation into traditional businesses. This gives an opportunity for startups to leverage the resources that Taiwan can offer and connect with players in the ecosystem that are upgrading Taiwan's AI capabilities.
Taiwan's AI Ecosystem Second Half 2020 is produced by AppWorks and is updated every 6 months. If you have any comments or suggestions, please send an email to [email protected].
【If you are a founder working on a startup in SEA, or working with AI / IoT, Blockchain / DeFi, apply to AppWorks Accelerator to join the largest founder community in Greater Southeast Asia.】