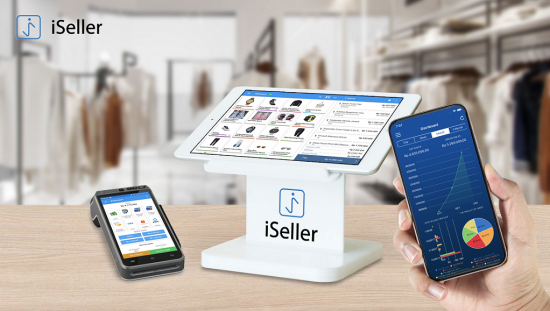 Sophie Chiu, Associate (邱敬媛 / 投資經理)

Sophie is an Associate in the investment team. Before joining AppWorks in 2020, Sophie had 10 years of experience covering public equities. She was part of the portfolio management team at Neuberger Berman, focusing on emerging market opportunities. Prior to that she served as a research analyst at Credit Suisse, JPMorgan, and London-based Autonomous Research. Sophie holds a Master of Finance with distinction from Warwick Business School and BS Finance from National Taiwan University. Her passion and expertise, however, extend far beyond just researching companies and industries. She is also an author of two published poetry books and holds a keen interest in human psychology and human behavior.
Today, we're proud to officially announce our investment in Jimmy Petrus, the founder/CEO of iSeller, and play a role in helping him digitalize Indonesian MSMEs through technology. When we first met Jimmy earlier this year, we were particularly enamored by his longstanding and obsessive passion for software products, clearly setting him apart in the market with superb founder-market-fit for the business SaaS world where relentless product iteration is critical.
Opportunities to build technical companies have long been overlooked in Indonesia. With nearly 60% of economic growth powered by private consumption, catering to individual consumers is understandably the lower-hanging fruit—evidently, five out of the country's seven unicorns are consumer tech companies. The pendulum however is swinging as the ecosystem matures.
iSeller is a rapidly growing technical startup that has been leading the charge. Its current form is a product of a key pivot that took place four years ago. Before that, iSeller was a decade-old software development house known as Intersoft Solutions, trusted by global names such as Citi, Intel, Philips, NASDAQ, Boeing, Microsoft, and others. Accumulating experience catering to top-tier international clients bestowed iSeller with a strong foundation and talent pool to capture much bigger growth opportunities. With engineering talent always at a premium in Indonesia, iSeller's global product development experience makes the company a gem.
An engineer by trade, builder at heart
Jimmy's dream is to make iSeller a household name just like Microsoft for PC—an ambition planted long ago when he was a computer science student at INTI College in Malaysia. Jimmy started to take on projects and build products for other college students, discovering the beauty in craftsmanship and that software development can be a powerful tool to decode and solve problems. After school, Jimmy gained experience as a software engineer in his hometown Medan. At age 25, Jimmy built his first company, Intersoft Solutions, in 2003.
At Intersoft Solutions, Jimmy built numerous products for enterprises from around the world. This hands-on experience equipped Jimmy with the ability to deliver high-quality software. The company bootstrapped until 2015 when Jimmy realized they could do more. Witnessing the success of Square and Shopify in the West (IPO in 2015), Jimmy saw an opportunity to bring similar solutions to Indonesia. iSeller was born the next year, becoming a first mover in the omnichannel SaaS space for retail and F&B merchants. More importantly, the entire Intersoft Solution team followed Jimmy, validating his leadership and buy-in of his vision.
As a product-obsessed founder, Jimmy has executed iterations at an unparalleled velocity, no doubt owing to his relentless focus on understanding and meeting user needs. Earnest feedback from customers has helped him prioritize key features and design future road maps at a nimble pace. Although Square and Shopify may have provided blueprints for success, Jimmy is designing his own playbook to cater to the unique needs of Indonesian customers.
A holistic solution for omnichannel demand
Unlike in the West, digital transformation in Asia doesn't happen gradually but suddenly. This is why iSeller, since day one, has prioritized the seamless synchronization between their online sales toolkits and offline POS system, with payments serving as a basic utility. In 2021, iSeller launched a new feature that integrates all of Indonesia's major marketplaces, such as Tokopedia, Lazada, Shopee, GrabFood, and GrabExpress. Merchants can manage and operate their offline and online businesses at the same time on one single platform. The upcoming new product, iSeller Go, brings ease to social sellers, integrating major social media platforms such as Google, Facebook, and Instagram. These product developments originate from having a product-obsessive founder who constantly observes user behavior and market demand with first-hand data. Jimmy is essentially proposing a holistic solution to all businesses in Indonesia, aiming to become a super app to empower merchants.
iSeller's obsession for customer satisfaction is reflected in the company's traction—seeing an increase of more than 300% year-on-year (YoY) in the number of merchant acquisitions and annual revenue in the past 12 months. The iSeller platform is trusted by more than 60,000 business owners in Indonesia, including several well-established brands such as SOGO, OMNILUXE, MOI, Damn! I love Indonesia, IT Gallery, United Bike, Asuransi Sinarmas, MOVI, HMNS, ASHTA, Lemonilo, and Peripera. iSeller achieved this remarkable traction with a fraction of the engineer headcount of their major peers, demonstrating iSeller's strong R&D capabilities.
Enabling Indonesia's next stage of e-commerce growth
According to Euromonitor, Indonesia boasts the highest e-commerce penetration rate in Southeast Asia at 18%, a rate often twice as high as other countries in the region. However, the majority of volume is generated by e-commerce giants such as GoTo, Shopee, and others. We see this as a signal of immense untapped potential in Indonesia's e-commerce industry. The next wave of growth is coming from the digitization of merchants. Indonesian merchants are highly internet-savvy and want to directly interact with and own their client base—helping improve customer service and business outcomes. We expect more independent merchants and sellers to embrace omnichannel solutions, setting up their own sales channels on top of leveraging network effects created by e-commerce platforms.
These tailwinds have given rise to many upstarts in Indonesia's SaaS and POS space over the past 36 months. iSeller is an early mover and the ultimate team we expect to best capture the overall market opportunity. Jimmy's experience, execution, and ambition are crucial factors for us in building such conviction. As AppWorks is also built by founders, supporting great entrepreneurs is our core investment thesis. We are proud to have this chance to back Jimmy and the iSeller team. Together with our ecosystem of 400 active startups, as well as our AppWorks School for engineers, we look forward to supporting Jimmy's vision and iSeller's road ahead.
【If you are a founder working on a startup in SEA, or working with AI, Blockchain, and NFT, apply to AppWorks Accelerator to join the largest founder community in Greater Southeast Asia.】