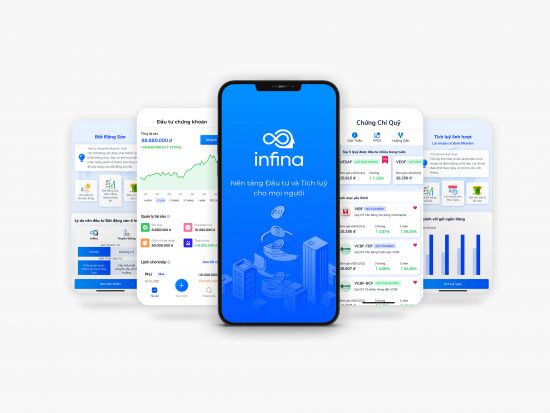 Editor's note: AppWorks is proud to be participating in Infina's Series Seed. Looking forward to collaborating with the team in the future. The press release from Infina as below:
・The funding round included Sequoia Capital India's Surge, Y Combinator, Saison Capital, Starling Ventures, Alpha JWC, AppWorks, alongside investors who have invested in Robinhood, Coinbase, and similar models in other markets.
・Infina, dubbed the "Robinhood of Vietnam" aims to democratize investing in Vietnam, making it easy for anyone to start investing from just US$22 with minimal risk.
Vietnam-focused retail investing app Infina today announced they have closed US$6 million in seed funding from investors such as Sequoia Capital India's Surge, Y Combinator, Saison Capital, Starling Ventures, Alpha JWC, and AppWorks. Additional investors who have backed Robinhood, Coinbase, and similar models in other markets also participated in the funding.
Infina joins the retail investing app revolution with companies like Ajaib in Indonesia, Groww in India, and Tiger in China that have enabled a new wave of avid retail investors around the world to access financial markets like never before. The Infina app is designed to make investing more accessible, easy, and safe for the young, tech-savvy Vietnamese who are looking to start their investing journey.
Vietnam has a young population of 97 million that is made up mostly of Millenials and Gen Z, many of whom are seeing increased incomes and have an appetite for investing. Vietnam's benchmark stock market index hit record highs last year, rising 28.1% year-to-date1 in December 2021 and outperforming many of its Southeast Asian equity markets. Vietnam also registered more than 1.3 million new stock trading accounts in 2021, which was more than three times the number for 2020. The number of Vietnamese participating in crypto and NFT is even greater, estimated at around 6 million. Off the back of the surge in retail investing in Vietnam, Infina has seen hyper growth in its users, clocking a compound monthly growth rate of 64% in funded accounts in 2021.
Infina aims to democratise investing by making investing accessible for everyone, regardless of income group, and caters to young and first-time investors whose needs have not yet been well-addressed by existing solutions in the market. Through Infina, users can choose from a wide range of asset classes, from fixed-income products to mutual funds, and more recently stock trading. Expensive investment products are fractionalised, so users can now invest in a diverse portfolio of assets with low minimum amounts. Infina is also making investing widely available to everyone by growing its presence across third party 'super' apps. For example, users can now access Infina's investing products via the popular e-commerce app Tiki.
"Infina's mission is to empower the rise of retail investors to participate in existing and emerging asset classes so that everyone has a real stake in the economy and prosperity of the country. We'll be using the funding to continue to build out a world-class team that can develop great technology, deliver the best experience to our users, and drive even faster growth so that we can serve a large portion of the new investors joining the market in the next three years." said James Vuong, founder and CEO of Infina.
"We are excited to be a part of Infina's journey because at YC, we love to back founders who are building something people want. The need for a new generation of retail investing apps like Infina is clear, not just for Vietnam but globally," said Gustof Alstromer, Group Partner at Y Combinator.
Infina is part of Surge's sixth cohort of 20 companies that build fresher, smarter solutions to help consumers and businesses adapt to a changing world.
Infina was founded by James Vuong, a Silicon Valley engineer turned SE Asia VC investor, turned serial entrepreneur. He previously founded Lana Group, which was acquired by LINE Corp. Prior to that, James was VP of Investment and Kauffman Fellow at IDG Ventures. He received his MBA in Technology Management from UC Berkeley Haas School of Business and BSc in Electrical Engineering and Computer Science from UC Berkeley.
About Infina
Infina, dubbed the "Robinhood of Vietnam", is a leading retail investing app for a young population of close to 100 million. It's mission is to make investing more accessible, frictionless and safe. The "one-stop shop" mobile app currently offers numerous investment products including stocks, securities and real estate. Infina's platform fractionalises high-minimum investment products to smaller amounts, as little as $22. The app is available for both Android and iOS devices. Infina also allows users to invest in their offerings via other e-wallets and e-commerce platforms.
For further information, please visit https://infina.vn/ or follow us on LinkedIn and Facebook.
【If you are a founder working on a startup in SEA, or working with AI, Blockchain, and NFT, apply to AppWorks Accelerator to join the leading founder community in Greater Southeast Asia.】