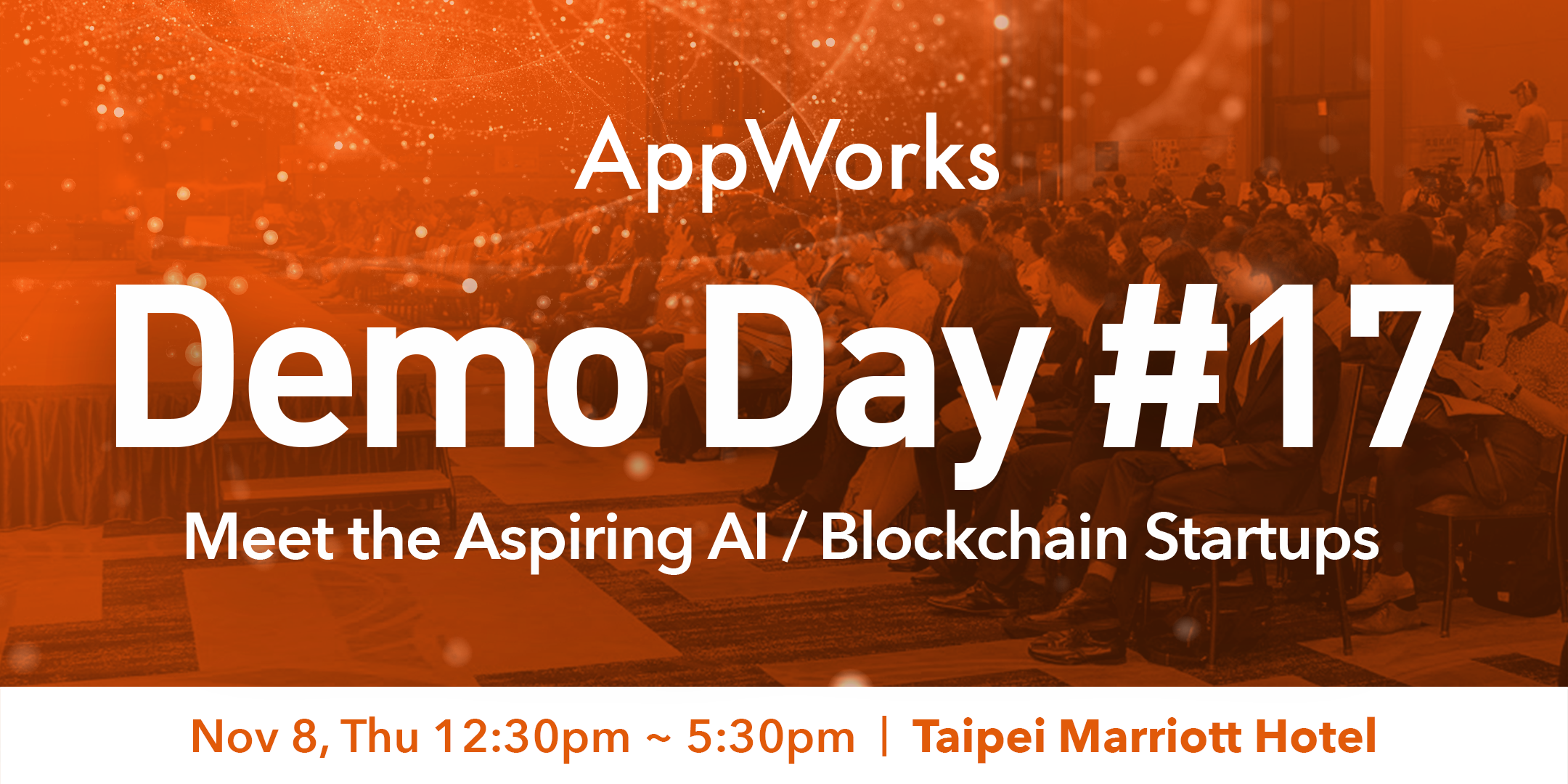 AppWorks Demo Day #17 將於今天 (11/8) 下午隆重登場,無法親臨現場的朋友,可以到 AppWorks Facebook Page 觀賞本次活動的實況轉播。
若你也想登上 AppWorks Demo Day 的千人大舞台,展現自己的產品與商業模式,AppWorks Accelerator 現正招收 AI / Blockchain 團隊,歡迎加入我們。
以下是將在 AppWorks Demo Day #17 出場的 25 支新創團隊簡介:(下載完整版)
AppWorks Demo Day #17 will take place this (11/8) afternoon. If you're unable to physically attend the event, you can catch the livestream on AppWorks Facebook Page.
If you are an AI / Blockchain startup and also excited about the opportunity to pitch your product and business idea to over a 1,000 people on the AppWorks Demo Day stage, join us by applying to AppWorks Accelerator. We look forward to receiving your application!
The following are brief introductions of the 25 startup teams at AppWorks Demo Day #17: (Download for full version)
1.ANIWEAR
AIoT platform for Veterinary Cardiology / Advanced animal health data analytics.
Joe Mak | joe.mak@aniwear.io | www.aniwear.io
2. oToBrite Electronics
Developer of AI-powered technologies, such as Advanced Driver Assistance Systems (ADAS) and Automatic Parking System (APA), that help make driving easier and safer.
Lotus Chen | lotuschen@otobrite.com | www.otobrite.com
3.
Ocard
A CRM and marketing SaaS using big data and AI to help offline business retarget their customers through chatbots.
Vinek Chen | vinek@olis.com.tw | www.ocard.co
4. Fitz
Live & on-demand interactive fitness classes.
David Liu | david@fitzchannel.com | www.fitzchannel.com
5. XREX
A blockchain-focused technology company offering Cryptocurrency Exchange-as-a-Service.
Jordan Forssman | jordan@xrex.io | www.xrex.io
6. Chicken Park
A developer of blockchain-powered games.
Xixi Huang | superdcc@progressing.today | chickenpark.io
7. Set Sail
SaaS Chatbot platform with a live chat that learns how top customer service agents interact with customers.
Jovian Ling | jovianling@setsailsoftware.com | chatbot.com.hk
8. RelaJet
Developer of software technology that separates and distinguishes between different voice streams.
Blue Chen | blue.chen@relajet.com | www.relajet.com
9. FundersToken
Blockchain Infrastructure provider with modularised solutions for products and information enhancement.
Darren Goh | darren@fstk.io | www.fstk.io
10. Pointree
A blockchain-powered CRM system built for consumers and retailers.
KJ Chan | eric556640@gmail.com | www.pointree.com.tw
11. OxygenAI
Empowering surveillance cameras with AI to provide insights for businesses and governments.
Ren Huang | pisuth@oxygenai.com | www.oxygenai.com
12. decodes
AI & Big data powered cross-border e-commerce platform.
Louis Hui | louis@de.codes | de.codes
13. Rovilus
A new-age energy system for lightweight electric vehicles.
Gigi Huang | jonason@vt.edu | www.rovilus.com
14. Nceno
Social market for trustless fitness challenges: workout for a payout on the blockchain.
Joe Nance | joe@ethersection.org | www.nceno.app
15. frm.ai
FRM, Fan Relationship Management, is a SaaS CRM platform making social media personalized.
Keegan Huang | keegan@unh3o.com | www.frm.ai
16. Alakazam
Digital marketing assistant that helps small businesses on social media marketing.
Dulitha Wijewantha | dulitha@getalakazam.com | alakazam.ai
17. AI4quant
AI system integration company that provides consultations and helps partners build AI system in-house.
Jason Chuang | jason_chuang@ai4quant.com | ai4quant.com
18. INNAWAY
A chat based communication platform that help standalones & small hotel chains to run in-house customer service and retarget existing customers.
CK Ha | ck@innaway.co | www.innaway.co
19. Mobile.Cards
A mobile CRM solution that helps retail and F&B businesses to build their own branded membership system.
Jeffrey Lam |  jeffrey.lam@mobilecardspro.com | mobile.cards
20. M2CommElite
Wireless MCU platform with Sigfox connectivity.
Charles Lee | cylee@esmt.com.tw | www.esmt.com.tw/zh-tw/Products
21. BizWitcher
A blockchain-secured online platform that facilitates the purchase and sale of businesses.
David Chang | davin@bizwitcher.com | www.bizwitcher.com
22.
Facial Labs
A social network application on top of facial recognition and "nearby" features.
Katherine Lo | katherinelo@facialapp.io | www.facialapp.io
23. Anker
The world's first social investing platform for cryptocurrency.
Denny Yang | r98941085@ntu.edu.tw | anker.xyz
24. ibo.ai
An AI-powered scheduling assistant.
Ray Chao | apw@ibo.ai | www.ibo.ai
25. Aimm
A tech-enable matchmaking service with the highest match success rate and the global scalability.
Tilaine Wang | tilainewang@aimatchmaker.com | aimatchmaker.com
AppWorks Demo Day #17 感謝以下合作夥伴: