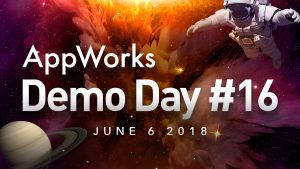 AppWorks' highly anticipated semi-annual Demo Day brings you to the cutting edge of the region's rapidly developing tech industry.
At the upcoming AppWorks Demo Day #16, 30 startups from Taiwan, Hong Kong, Singapore, US, and Belgium will be showcasing their groundbreaking new products and services in verticals such as AI / IoT, Blockchain / FinTech, e-commerce, and O2O.
Whether you're looking for opportunities to invest, to collaborate, or to stay abreast of the latest trends in digital technologies, this is an event you definitely don't want to miss.
半年一次,AppWorks Demo Day 帶你看見數位經濟最前緣。
本次 AppWorks Demo Day #16 將有超過 30 支團隊輪番登台,這群優秀的大東南亞創業者分別來自台灣、香港、新加坡、美國、比利時等地,開發的服務內容則涵蓋了 AI / IoT、Blockchain / FinTech、電商、O2O 等垂直領域。
無論您是想找投資機會、合作夥伴,或是想掌握數位經濟的脈動,這都是一場不能錯過的盛宴。當天台上的 30 支潛力新創團隊,極可能是未來主宰全球經濟舞台的要角,想提前掌握未來局勢的你,務必持續關注這股新興勢力。
AppWorks Demo Day #16
[Date] Wednesday, June 6th, 2018

[Venue]

台北萬豪酒店 Taipei Marriott Hotel

, 5F Grand Ballroom (台北市中山區樂群二路 199 號 No. 199 Lequn 2nd Road, Taipei)

[Agenda]

12:30 – 13:00 Opening Remarks

13:00 – 14:30 Demo Batch I

14:30 – 15:00 *Break*

15:00 – 16:30 Demo Batch II

16:30 – 17:30 Open Floor