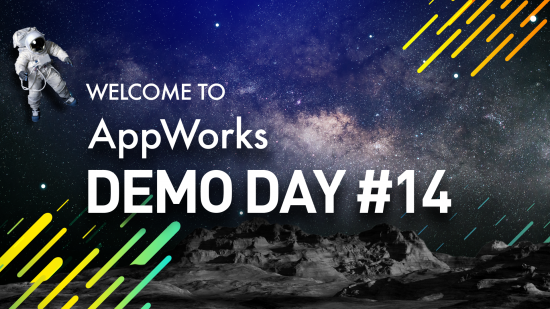 AppWorks Demo Day #14 將於今天下午隆重登場,無法親臨現場的朋友,可以到 AppWorks Facebook Page 觀賞本次活動的實況轉播。
若你也想登上 AppWorks Demo Day 的千人大舞台,展現自己的產品與商業模式,AppWorks Accelerator #15 現正開放申請,歡迎加入我們。
以下是將在 AppWorks Demo Day #14 出場的 27 支新創團隊簡介:
上半場
1. ReCactus
ReCactus is the Instagram of Reaction / Response videos. A full-fledged social media platform that allows you to connect, share, find and record your reactions to media content.
Bernard Tan|info@recact.us |www.recactusapp.com
2. HairMap 美髮地圖
HairMap helps hair stylists attract new clients, manage their schedules and work more efficiently. Also, HairMap facilitates the decision-making process of beauty services for customers. It helps users get the latest trends, find recommended stylists and salons nearby, and instantly get connected with stylists they are interested in.
Hanping Cheng| hanping@hairdodo.com|www.hair-map.com
3. BookFun365
With BookFun365, you can browse and book your favorite massage service anytime & anywhere in only 30 seconds, it's that easy!
Victor Su| victor@bookfun365.com|www.bookfun365.com
4. 團圓堅果
團圓堅果由三位大學生創立,期待天然、健康的堅果,喚起大家對食物最原始的記憶。
Samuel Liu| tuanyuannuts@gmail.com|www.tuanyuannuts.com
5. HIGH5
HIGH5 delivers Mandarin chatbots to companies in less than 5 minutes. By reducing the response time between businesses and their customers, HIGH5 has helped companies increase their customer satisfaction and sales revenue. In the eight months we launched, over 1,000 companies have installed our chatbot on their Facebook pages, and communicating to thousands of individual customers every day.
Nelson Chu| nelson@high5.ai|www.high5.ai
6. ballers 球咖
We aim to solve a problem that people are hard to find enough ballers to play full court basketball.
Danny Chen| danny@ballers.com.tw|www.ballers.com.tw
7. Pokeguide Limited
Pokeguide App 利用數據資料及 VR 技術,為捷運乘客提供全面性指引,讓他們不會在車站內迷路,平均每趟旅途可省下多達 10 分鐘的轉乘時間。此外,我們也提供目的地附近的休閒資訊,讓乘客只需 3 分鐘,便可規劃好一整天的行程。Pokeguide App 在香港的下載量已突破 12 萬次,並奪得去年香港 ICT 智慧城市金獎,合作的廣告商包括香港兩大商場、寶礦力、7-UP 及上千家零售商及餐廳。
Brian Hui| brian.hui@pokeguide.com|www.pokeguide.com
8. qollie 求職天眼通
qollie is a job review service which helps users to better understand the companies / jobs they are interested in, and let users find the most suitable job.
Denny Ku|denny.ku@qollie.com|www.qollie.com
9. Boutir 掌舖
Boutir is a mobile solution for social sellers to build and manage their online shops.
Eric Ng|ngkaka@boutir.com|www.boutir.com
10. MOFILY
MOFILY是一家由從美國、歐洲等地留學歸國的中國與台灣留學生,共同創辦的跨國科技創業團隊,主要提供物聯網光學產品、配套軟體服務及資料採擷應用。
May Chan| may@wocase.com|www.mofily.com
11. Cloudbreakr
Cloudbreakr is Asia's first intelligent platform for influencer discovery and ranking. With a unique analytics engine, we match marketers with trustable content creators in different industries. The platform currently has 2,000+ users covering HK, TW & SG with over 100 global brands & agencies.
Edwin Wong| edwin@cloudbreakr.com|www.cloudbreakr.com
12. Fundpark
Purchase Order and Invoice Marketplace for SMEs.
Anson Suen| ansonsuen@fundpark.com|www.fundpark.com
13. Markedshot
Everyday Consumers: A photo challenge platform and marketplace for consumers to earn money and be rewarded for their actions & photo testimonials.
Brands & Businesses: A platform for Brands to crowd-source customer-generated contents to display happy customer stories.
Darren Chua| darren@markedshot.com|www.markedshot.com
14. HITA
HITABOX by HITA, is a Music-Technology total solution aiming to help retail businesses to grow with customized music that can fit seamlessly with their business nature and operating hours.
Eddie Lin| eddie@hita.me|www.hitabox.me
下半場
15. Bookbook Bot
Take reservation via Facebook Messenger! We help restaurants create their own chatbots, connect to Facebook page and take reservation with Messenger. Set up in 3 minutes. No coding skills required.
Ryan Cheng| ryan@bookbookbot.com|www.bookbookbot.com
16. CakeResume
CakeResume is a hybrid between a personal website and a resume. Users can drag and drop multiple snippets to compose a unique and vivid online self introduction in minutes.
Trantor Liu| trantor.liu@cakeresume.com|www.cakeresume.com
17. Signature Market
Signature Market is an own brand eCommerce (VIP Model) selling natural & organic products. Our members get 30% – 50% off retail prices for wholesome products. We own a direct to consumer brand Signature Snack. Signature Snack is famous for it's premium & delicious products at wholesale price.
Edwin Wang| edwinwang79@gmail.com|www.signaturemarket.co
18. Cyberbiz
Cyberbiz provides integrated solutions of digital economy platform, including EC platform, WMS service and O2O solution. Cyberbiz's solutions help customers to improve efficiency of business operation so that they can have more time on developing their competitive advantage matters.
Jimmy Su| jimmy.su@sinlead.com|www.cyberbiz.co
19. Avrio
eSchoolPad: mobile device management for Education. Provide schools and parents a tool to setup, install and manage education mobile devices.
Zorro Cheng| zorro.cheng@avrio.hk|www.avrio.hk
20. PhoneBot 風保科技
PhoneBot aims at developing an affordable home robot focusing on pet care, elderly care, security, and companion. Main product combines the AI-based App with a simple vehicle to form a home robot.
Jonas Tsai| c.jonastsai@gmail.com|follower.aiphonebot.com
21. FindDoc
FindDoc provides an intuitive platform for patients to search for information on doctors and efficiently book their services in all over Asia.
Ivan Ng| ivan@finddoc.com|www.finddoc.com
22. archiparti
archiparti is a new mode of business to empower an international network of experienced — many times award winning — designers to work independently online, and form teams with other talents on project basis. We are currently looking for strategic partners and seed investors.
Karbi Chan| k@archiparti.co|www.archiparti.co
23. DeVita
DeVita is a bounty platform especially for blockchain applications. Smart contract and cryptocurrency on blockchain enables a low-cost and transparent fundamental. Compared to oversee bank wire transfer, DeVita only takes a few minutes to be credited to account with only 0.1 – 0.2% transaction fee.
Kevin Hoo| kevin@devita.io|www.devita.io
24. Aimazing
Aimazing developed a SDK that is designed to be easily integrated into applications, such as Mobile Wallet or Bank Application, etc, to enable close-proximity transactions to be done with SoundWaves. Without depending on NFC and with no operating systems requirements. Aimazing's SDK compatible with IOS, Android, Window PC, etc.
Jun Ting| jun@aimazing.sg|www.aimazing.sg
25. BidLend
BidLend.io wants to create a P2P lending platform that is trustworthy, transparent, and most importantly, fair to both borrowers and lenders. Loans on BidLend will be securitized and partitioned for lenders to bid, in order to maximize the benefits to both lenders and borrowers.
David Tang|david@icoinvestment.club|www.bidlend.io
26. Guru Guru Go
Guru Guru Go 是一個為數位產業工作者與創業者而設的知識社群,透過產業大神的互動問答、知識影音、讀書會等方式,每天為用戶提供有價值的知識。 2017 年 4 月底,我們規劃了一篇名為《引發驚人的爆炸力! Elon Musk 知識軍火庫中最強殺傷力的武器:「第一性原理」(First Principle)》的數位知識文章,上線短短 48 小時內,便獲得 100 萬次的線上曝光及超過 8000 次的臉書分享。
Sophie Mo| sophie.mo@gurugurugo.com|www.gurugurugo.com
27. Lovenuts
Lovenuts is a quirky sex toy and flashlight that's ready to help you in ANY kind of emergency. The flashlight works as a disguise so that it only becomes a vibrator when you connect it to your phone via Bluetooth.
Donald Hsu| donald@turnmeon.me|www.lovenuts.co
AppWorks Demo Day #14 感謝以下合作夥伴