Turbocharging Top Founders since 2010
State of The
AppWorks Community
AppWorks Community
A Community to Help Solve Problems, Cross-Promote, and Connect with Investors & Business Partners
Once you join AppWorks, you are immediately connected to our extraordinary alumni network of over a thousand founders. Within the AppWorks Ecosystem, you'll have the opportunity to meet talented alumni founders including: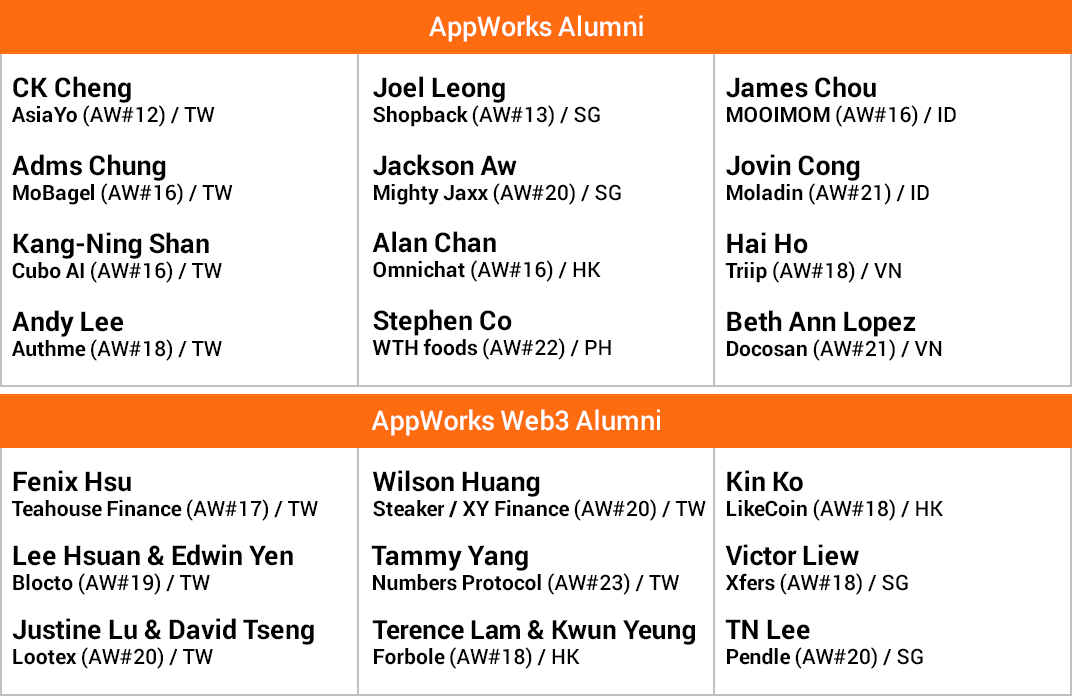 Together, you'll find the community extremely powerful when:
You run into problems and need advice from those who have done similar things.

You want to engage with web3, AI / IoT, and regional communities to find support.

You need an intro to someone.

You are looking for cross-promotion or collaboration.

You want to check references on an investor or a potential business partner.
In terms of scale, AppWorks is one of the largest communities of its kind in Asia. But more importantly, our culture of "paying-it-forward" and helping each other out is the real reason why it's so valuable.
AppWorks is a startup for startups. Young, energetic, flexible, efficient and "customer" centric, prioritizing startups' needs before anything else. One thing unlike a startup, however, is the resourcefulness of AppWorks. Strong alumni, full team of masters in various aspects, space and hardware, referral network, support on paperwork and even free lunch. Service level is so high, sometimes it feels surreal.
Kin Ko, founder of AW#18 LikeCoin
AppWorks Mentor Networks
You
r Mentors =
AppWorks provides incredibly supportive mentorship to startup founders. All their partners and staff maintain tight-knit relations with founders that went through the accelerator program and can provide advice and guidance specific to the problems (e.g. finance, HR, PR, fundraising) faced by startups.
Kevin Chan, co-founder of AW#11 TaxiGo (acquired by LINE and is now known as LINE TAXI)
Connect with the Right Coach, Acquire the Right Mindset, Become the Best Founder You Can Be
Our mentor network spans more than 80 successful startup founders that you can connect and build lifelong coaching relationships with including Steven Ho of 91APP, who had an outstanding IPO in addition to successfully exiting previous startups to Yahoo! and eBay; Ming Chen of KKday, who successfully completed 2 IPOs and 1 M&A exit; Jerry Kuo of Kuo Brothers (創業家兄弟) who sold his company to Groupon and later built 2 companies from the ground up to IPO; together with Mike Jiang of GameSofa, Joseph Phua of 17LIVE, Siu Rui Quek of Carousell, Son Tran of Tiki Corporation, and Leontinus Alpha Edison of Tokopedia. We also have a growing list of web3 mentors such as Mik Naayem and Roham Gharegozlou of Dapper Labs / Flow and Yat Siu of Animoca Brands.
We'll Help With Your Next
Joining the AppWorks Accelerator was a pivotal decision for Docosan. Through the program we connected with other founders of companies further along than us who gave great advice and guidance. We received technical help in improving our marketing. And of course, the mutual understanding of how both Docosan and AppWorks operate gained during the accelerator led to them leading our Seed Round. AppWorks are value-add investors who are actual partners in problem solving and use their accelerator and network to truly help rising founders.
Beth Ann Lopez, founder & CEO of Docosan (AW#21)
Terms, Structures, and Syndicate, Tailored to Your Needs
Venture capital is a sophisticated and complex ecosystem filled with firms specializing in different segments for various startup stages. It is also brimming with a slew of complicated terms and game rules. First-time founders often find the learning curve difficult to overcome and getting to the right investors a daunting task. That is why AppWorks is also a VC firm ourselves so we can better help you on the fundraising end, including equity / SAFE / token and SAFT fundraising. Founders who enter our accelerator are encouraged to talk to us about their capital needs at any time, either during or after their accelerator experience. We're always open for a chat. After all, who knows our startups better than us? On top of that, we can often act as the bridge between our startups and the venture capital community by leading financing rounds and putting together a syndicate tailored to your needs. Most importantly, we can connect you with alumni who have successful fundraising experience and invite them to share their valuable stories with you. 
A Spacious Space
2,200 Square Meters / 665 坪
Lots of Meeting Rooms
You'll always find one
AppWorks Lounge
A dedicated space for your next event or a place to eat / hang out
AppWorks Cafe
All-day hand-crafted Italian coffee made with love from our baristas
Great Location
In the heart of Taipei and only a heartbeat away from every scene
Superb Productivity
Top-speed Wi-Fi / Printers / Fax
Demo Day
Pitch to hundreds of investors, potential partners, and media from across the region

Mentor Month
Gain feedback and build relationships with 80+ AppWorks Mentors
Office Hours
1-on-1 strategy discussions with Mentors, AppWorks Partners, and Masters
Fireside Chats
Learn from the experiences and tactics of successful founders
Founders Exchanges
Peer updates & feedback sessions
Batch Retreat
A weekend getaway with your batch mates
Landing Pod
Explore the Taiwanese market via site visits and sharings from local champions
Alumni Meetups
Meet and engage with AppWorks Alumni in Taiwan and abroad
Specialist Support
Acquire fundamental skills in finance, accounting, legal, recruiting, and PR from our team of masters
Recruiting Events
Connect with top engineering and startup talents